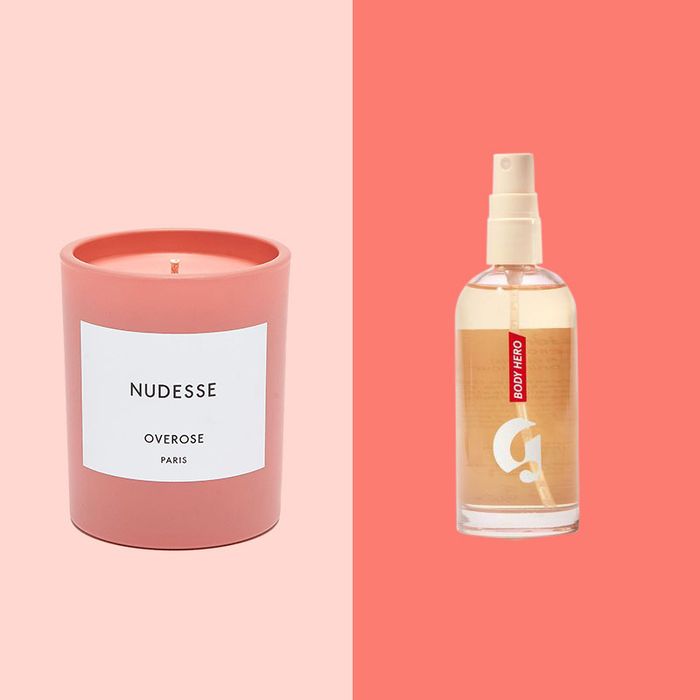 Photo-Illustration: Courtesy of the vendors
February is here, which means Valentine's Day is suddenly upon us. Now you have only a few weeks to track down the perfect swoon-worthy gift. If your valentine happens to be a skin-care or makeup obsessive (or someone who appreciates cozy loungewear), I'm here to help. I've compiled a big list of Valentine's Day–appropriate beauty gifts at different price points (cheap and splurgy) so you can find the right present, in your budget, that will arrive before V-day.
You can never, ever go wrong with a gift from Buly 1803. Yes, all of the brand's packaging is absolutely gorgeous, but its formulas also totally hold their own. The soaps in particular are some of my favorites; they're aromatic and rosy, and really gentle and nourishing on the skin. My mom is the world's most knowledgeable soap connoisseur, and she agrees with me — which is all you really need to know.
RMS's lip2cheek is a real cult-favorite makeup product, beloved by celebrities like Kate Bosworth and Miranda Kerr. This particular shade, "Beloved," is a true red that gives a beautiful sun-kissed flush on the cheeks or a cherry stain on the lips. It's what makeup artist Fara Homidi used on Hailey Bieber in this Pop magazine shoot, which is so beautiful. This is a great gift for any no-makeup makeup obsessive, or anyone who likes a quick-and-easy, low-fuss beauty routine.
Robes are always a great gift, in my humble opinion. Not only do they make stepping out of the shower into your cold apartment just a little bit less painful, they're also great for lounging around the house. This one from Parachute is my personal favorite — it's cotton, supersoft, and pretty.
I wrote last week about how obsessed I am with this expensive-looking, extremely effective Jillian Dempsey Gold Bar dupe. A perfect cheap-yet-very-luxurious gift that I think most anyone would love.
This mask from Klur is an excellent gift for any skin-care obsessive. Not only is the packaging elegant and sleek, the formula itself is stellar. This mask uses a blend of green tea, aloe, centella, panthenol, and kaolin clay to soothe and calm the skin while giving it a gentle exfoliation. This is great for anyone with stressed, tired, or breakout-prone skin.
Note: This is available for preorder and will ship in two weeks, just in time for Valentines Day.
The key notes in this candle are "rain" and "roses," which make for a beautiful, fresh, floral scent that's perfect for any season or time of day. This candle really fills a room, which is why I find myself buying it as a gift for friends and family again and again. Plus, the packaging is adorable and very Valentine's Day appropriate.
Photo: Retailer
Glossier's new body oil "Body Hero" is equal parts fragrance- and moisture-driven. The formula uses a blend of antioxidant-rich oils like sunflower seed, grape seed, and oat to moisturize the skin and lock in hydration. And the scent is orange blossom neroli, which is a fresh, clean, flowery scent. This product is great for anyone who loves florals and a good skin quench after the shower.
This liquid lipstick (which, again, I would argue has dethroned Mac's Ruby Woo) is not only one of the most beautiful blue-red shades I've ever worn, it also simply does not budge. I've eaten full meals with it on, worn masks, you name it. Rihanna also claims that it's "make-out proof," if you'd like to put it to the test this Valentine's Day.
For anyone who takes comfort in long, relaxing, end-of-the-day showers, this might just be the perfect gift for them. It's incredibly exfoliating — it quickly removes all of the dead skin and sweat from your body — but it's also really nourishing and hydrating on the skin, so you don't step out of the shower feeling dry or stripped. It smells amazing (lightly coconutty) and the jar it comes in is recyclable as well!
Photo: retailer
Slippers are one of my favorite gifts to receive and give! These adorable, faux-fur pink slippers from Madewell are perfect for cozy mornings and loafing around (or working) at home.
I would argue that this gentle, milky cleanser from Versed is a dead-on dupe for Biologique's cult favorite, pricey Lait VIP 02 cleanser (down to the smell!). It's a wonderful hydrating and soothing cleanser (good if your valentine has dry or sensitive skin) that washes away dirt and SPF from the day without stripping.
This vanilla-y, shea, and murumuru-butter rich formula is one of my very favorite hydrating lip balms for combating lip flakiness. It's one of those great-for-everyone gifts because who doesn't have chapped lips these days?
I think we're all struggling with cracked, dry hands from constant washing and frigid temperatures. This rose-scented hand cream from Aussie brand Grown Alchemist uses hyaluronic acid and a blend of botanical oils to hydrate and lock in moisture.