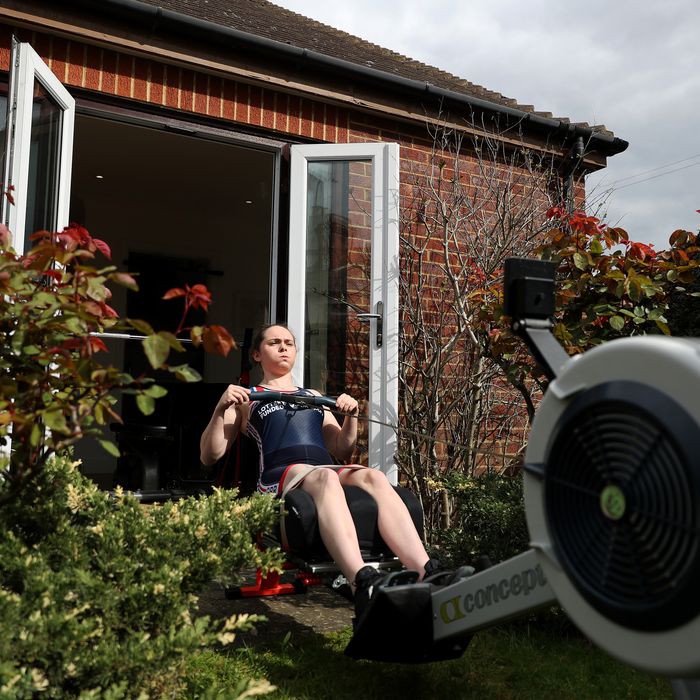 Photo: retailer/Getty Images
Here at the Strategist, we know that finding the "best" product really depends on exactly whom you ask, which is why we've devoted a new series to squeezing in as many informed, trustworthy opinions as possible. And we've come up with dozens of ways to do this, among them: surfacing reader reviews from across the internet, taking quick polls (among our most insane friends and fellow shopping-obsessed Strategist editors), and partaking in some advanced internet snooping.
With that, we're rounding up the best rowing machines you can buy online. Our picks range from a smart rowing machine that offers Olympian-led classes and scenic rides to a stylishly designed water rower you can store standing up.
Snooping: Jason Statham's rowing machine
In addition to an IG endorsement from actor Jason Statham (and his action-movie abs), the Concept 2 is the most highly recommended rowing machine we could find. Everyone from Olympic rowers and CrossFit trainers to Reddit users and a handful of our own colleagues say it's by far the best. That's because it's relatively affordable, has a high resale value, and is sturdy and large enough to accommodate taller and heavier bodies. (Many other rowing machines can only handle up to 200 pounds where the Concept 2 can handle up to 500.) It uses the air resistance of a flywheel (as opposed to water or magnetic resistance) and comes with a damper lever so you can dial up or down the drag to intensify your workout. And it has a no-nonsense monitor that lets you track stroke rate, calories, distance, pace, and watts. Because the Concept 2 is such an industry standard, one Reddit user points out that buying one grants you access to a huge community of rowers and gyms, making it easy to "race" other rowers by comparing times and speed, get tips on workout routines, and troubleshoot any problems. Another Reddit rowing enthusiast recommends the C2 for its durability. "I still have one my dad got almost 20 years ago," he says adding that older machines can easily be updated with new monitors, handles, and more.
Demand is high for Concept 2 rowing machines so they can be hard to track down without a significant wait (and there's currently a waitlist to buy one on Concept 2). But if you're willing to do some digging, you can find one used and in good condition on eBay, Craigslist, or even from a gym or college team looking to downsize. Laura Holder, a designer working for Vox Media, says she and her husband found theirs almost new on Craigslist for a hundred dollars less than retail price.
Expert-approved: A Pilates instructor's favorite rowing machine
Marlene Kadin, owner of Nucleo Pilates & Rowing, a studio in Toronto that combines Pilates mat classes with rowing, says she first came up with the idea after realizing that the motion you use on a rowing machine is exactly the same as what you use to on a Pilates reformer. Her rowing machine of choice is the Water Rower. Kadin likes that the brand has been building their rowers with high-quality materials — frames come in powder-coated aluminum, American black walnut, maple, or cherry wood — in Rhode Island for several decades. Since lockdown, she has sold all but one of her Water Rowers to her most die-hard students and begun teaching classes online. "They are very practical from a space perspective," she says. "My studio is very small and I need to be able to push the rowers out of the way when I'm not using them. Pre-COVID I could put 11 machines in a row in a class and then move them all out of the way for a floor mat class." But it's more than just the ease of storing them standing up that makes it her go-to. She says it's the closest thing to actually rowing on the water, and she likes that, from a trainer's perspective, it helps that the resistance is set by each individual rower's effort. "I can teach a class to a variety of fitness levels and they will all get their best workouts," she says. Finally, she says that because they have very few mechanical parts, there's very little that needs repairing. "I occasionally have to change the batteries on the monitor, top off the water in one of the tanks, or clean dust off of the rails that the seat goes up and down on. But that's it."
[Editor's note: This rowing machine is currently out of stock, but it's expected to be back in stock on April 26.]
Strategist-tested: Senior writer Karen Adelson's pick for all-in-one rowing at home
Photo: Courtesy of Vendor
If you're looking to build a simple home gym with rowing as your main form of cardio, Strategist senior writer Karen Adelson recommends the Hydrow. After testing it out this fall she describes the Hydrow as "a commercial-gym-grade rower with adjustable resistance levels and a 22-inch touchscreen for viewing prerecorded workouts or a "just row" mode where you get a scenic view of the water without any instruction." In addition to hundreds of on-demand and live rowing classes, you can also take yoga and Pilates classes to complement your cardio. According to Adelson, the screen swivels easily so you can follow along on a mat next to the rower. The Hydrow uses magnetic resistance, meaning there's a magnet that can be shifted closer or farther from a metal flywheel to increase or decrease tension. One advantage of magnetic resistance is that it's almost completely silent, depending on the quality of the machine, and the motion is smoother and more consistent than water or air resistance.
Overall it's the visual experience that sets this rower apart. "Instead of watching an instructor in a blank space or inside a studio, they're all out on the open water (the classes I took were filmed in Miami), which made me feel less cooped up, even though I was inside my apartment on a cold winter day," Adelson says.
Men's Health editors' pick
The NordicTrack RW900 (a Men's Health editors' pick) has a lot of the same features as the Hydrow. It comes with a 22-inch touchscreen, offers on-demand cardio, yoga, and strength training classes, and uses magnetic resistance with 26 different settings. Since it's connected to the internet, during classes the RW900 can automatically adjust your resistance according to the trainers' preferences. Plus, you get the confidence of a buying from a well-known established company, along with a ten-year frame warranty, two-year parts warranty, and one-year labor warranty. It doesn't have as sleek a design as the Hydrow, but it does fold in half for easy storage. Another difference is the weight capacity: The NordicTrack can hold up to 250 pounds, and the Hydrow can hold 375.
Chloé Olman, a production manager at Vox Media, got hers back in October, right after moving to upstate New York. Though it wasn't her first choice (she wanted a Concept 2 but they were all sold out), she's very happy with her decision. "The NordicTrack came with a 12-month iFit membership, and it includes rowing workouts that aren't just in a studio," she says. "I did one this morning on the English Channel! It's been kinda cool to virtually row all these beautiful places during COVID because otherwise, it can be a little repetitive."
Self editors' pick
If you're on a budget and looking for a machine that you can adjust for multiple family members, this magnetic-resistance rowing machine (recommended by Self magazine editors) is an excellent choice. With 16 different resistance settings, you can easily switch between users, ensuring everyone gets a satisfying workout. Magnetic resistance also means that this machine won't bother your roommates or downstairs neighbors with the sound of wooshing water or wind. It has an extra-long slide rail to accommodate taller rowers and an LCD monitor that displays time, count, calories, and progress. Plus it folds in half for easier storage.
Strategist family poll: The rowing machine I bought my dad for Christmas
Before the pandemic, my father was going to the gym on a daily basis. So when he had to abruptly stop his workout routine, his physical and mental health suffered. I hated to hear him talking wistfully about getting back to the gym one day, so for Christmas, my brothers and I surprised him with a rowing machine. We couldn't afford to spend upward of a thousand dollars, so after a lot of research, we landed on the Sunny Health & Fitness rowing machine. It was incredibly easy to set up, and for the price we paid, it's everything we were hoping it would be. I am an amateur when it comes to rowing, but I have used machines at the gym in the past, and when I tried the Sunny Health & Fitness rower, I was impressed. It uses magnetic resistance so it's very quiet and once I got the form down it felt smooth and intuitive.
My father, George Corsillo says, "The frame is heavy and solid so I don't feel like I'm on a cheap machine, and the seat and foot straps are so comfortable I don't even think about them. I turn on the TV and the next thing I know I've finished my workout and feel all pumped up."
People's Choice: Best water rowing machine on Amazon
If you like the idea of working out to the meditative sound of wooshing water but can't afford the Water Rower from House of Cards, this is the rowing machine for you. Amazon reviewers love that the Sunny Health & Fitness water rowing machine "has the sound and feel of being on the water." For a machine that's easily half the price of the Water Rower, it is a very good option with many of the same features, including dynamic water resistance, a sturdy frame that can hold up to 300 pounds, and a monitor that tracks your time, distance, and strokes per minute. And according to one positive reviewer, the low cost "reflects the lack of bells and whistles (which is all crap that people who don't actually exercise think matters IMHO), it's not a reflection of cheap construction." It may not match your Donald Judd design aesthetic like the Water Rower does, but it can be stored standing up and rolled out of view thanks to its high-density non-marking wheels.
The Strategist is designed to surface the most useful, expert recommendations for things to buy across the vast e-commerce landscape. Some of our latest conquests include the best acne treatments, rolling luggage, pillows for side sleepers, natural anxiety remedies, and bath towels. We update links when possible, but note that deals can expire and all prices are subject to change.