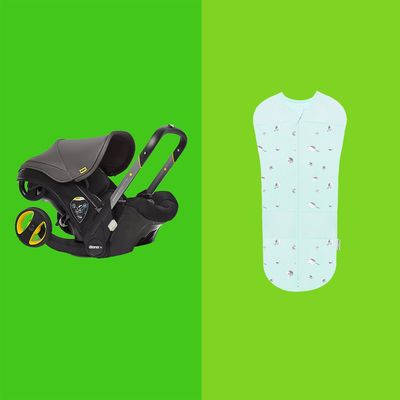 Photo-Illustration: The Strategist; Photos: Retailers
Registries are often wasted on soon-to-be-parents. In this series, cool new(-ish) moms and dads tell us about the stuff that's actually worked for them in the time since they had a kid. In other words: If they could do their baby registry all over again, here are the items that would top the list.
A couple of years ago, Samantha Shipp Warrick told the Cut about planning her wedding that included custom attire by Dapper Dan and a DJ performance by her personal friend Questlove. Since then, alongside her job as an attorney who leads partnerships for a lifestyle brand, she's had to focus on planning for life with two kids — a son named Wolfe, who's now 20 months, and a daughter, Wylde, who arrived back in October. "Efficiency," says Shipp Warrick, has been her guiding principle for baby products.
Some of her big-ticket registry items proved more efficient than others: The SNOO bassinet, for example, consistently rocked both her kids back to sleep in the early months of their lives; the Mamaroo swing, on the other hand, didn't really soothe them at all. Ultimately, she found the most on-point recommendations came from Myleik Teele's baby list, she says. And these days, she's also a fan of the Big Little Feelings Instagram account — "communicating without spazzing," as she puts it, is of course the eternal parenting challenge.
This looks like a ping-pong paddle, but it creates this vibrating motion that soothes the baby. We took Wolfe on a trip to Martha's Vineyard when he was about 2 months, and he was a raving lunatic; the travel crib was not working. And so the second day we were there, I got on the internet and was like, "What can I do about this? Because this is going to be a miserable trip if he will not sleep." And I found this tricky little vibrating mat; I overnighted that shit to the Vineyard and put it under the travel-crib mattress and it was a go. I was like, "Oh. Thank God." The next time we traveled I forgot the mat, of course, but that's how I found the [cheaper] paddle-shaped version, which you put right under the mattress, too.
I would do free advertisements for this product. If you've never seen the Doona, picture a car seat on wheels. The legs of the stroller collapse (the conversion is super easy), and then it's a car seat — just thread the seat belt through the hooks and pull it tight and you're ready to go. We've used this in a thousand Ubers — from Suburbans to Camrys and everything in between; we got it down to a two-minute science. We were sad when Wolfe grew out of it by a year old, but now we've passed it down to Wylde and use it as both her car seat and stroller.
The Nanit has great picture quality, and it has amazing sleep insights — like, "Wylde woke up at this time, Wylde went back to sleep at this time, somebody attended to the crib at this time, somebody put Wylde to bed at this time, somebody picked Wylde up at this time." And you can use the built-in microphone to communicate with people in the room no matter where you are: My mom was babysitting and I'd be like, "What are you doing? No, don't do that." The camera also clips off and has a small stand for use during travel.
Wolfe used this from a month old until he was 11 months old. We used it for tummy time, practicing movement, and general playtime. It's got a little mirror that he would look at during tummy time; he's a very vain boy. It also has toys that hang down that he would try to grab and a ball that he would try to swat once he started getting a little more coordinated. And then we used it for story time once he was sitting up on his own.
This sound machine is small, inexpensive, has great volume, and has a clip, so you can clip it onto your stroller, car seat, or travel crib. It was one of the products that was recommended by Myleik — so easy to carry.
Acid reflux has been an issue for Wylde, and we've used a wedge pillow for that. I've had other parents tell me that the wedge was super helpful for them, too. I bought this one because it had a strap-in situation for the baby — so they stay on the wedge.
Even if you don't use the SNOO, the Happiest Baby swaddles are great — they're so much easier than any other swaddles; when I put Wylde in one, she immediately calms down.
I had two C-sections — the only workouts I could do was walk. So it's like, "Okay, I can go for a walk; I probably got to take this fucking baby, so …" You just keep these gloves attached to your stroller and you don't have to worry about forgetting your gloves.
If you have diastasis recti postpartum, you need a program to repair your separation, and Julie Tupler is the best. My OB/GYN recommended her, I've heard a physical therapist mention her — I've seen her name come up anytime people are discussing this issue seriously. Her exercises target your transverse muscles; it's all these sort of contracting exercises to try to bring your abs back together. The hardest part is probably that she wants you to wear this splint for 23 hours a day, every day for 18 weeks, or however long it takes for your diastasis to close. If you work with her privately one-on-one, it's $1,700 for the 18 weeks, but there's also online courses that you can sign up for that are much more reasonable. And she offers products on her site as well, like the splint — it's supposed to help you when you do the exercises to make sure that your muscles are where they're supposed to be.
The Strategist is designed to surface the most useful, expert recommendations for things to buy across the vast e-commerce landscape. Some of our latest conquests include the best acne treatments, rolling luggage, pillows for side sleepers, natural anxiety remedies, and bath towels. We update links when possible, but note that deals can expire and all prices are subject to change.