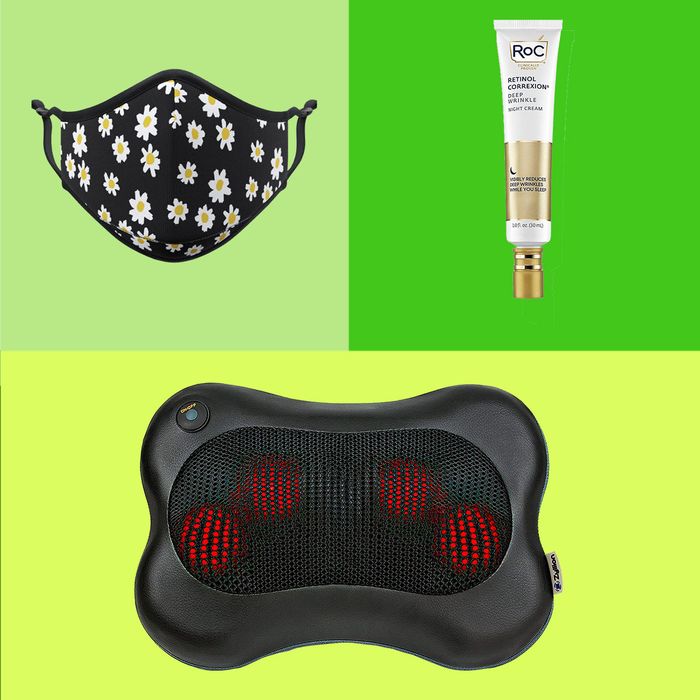 Photo-Illustration: The Strategist; Photos: Retailers
Welcome back to Your Shopping Cart, where we break out the top ten products that you, devoted Strategist readers, all bought in droves. Think of this as the tl;dr of the Strategist. If your like-minded brethren are buying these items, maybe you'd like to, too.
By the looks of it, Strategist readers had three priorities in February: Stay hydrated, get a good night's sleep, and keep healthy by wearing a mask or two. With five different masks on this list, it seems our readers were getting serious about double-masking this month. (The same cannot be said of last February, when our readers were stocking up on stylish lube, design-y vibrators, and matte lipstick for Valentine's Day.) There were some recurring favorites that popped up this month, too, including heavy-duty moisturizers, top-rated, gel-infused pillows, and the crowd-favorite heated Shiatsu massager — a 12-time reader best-seller — for some much-needed self-care.
While any mask is still better than no mask at all, KN95 masks have become one of the most popular types of disposable masks among non-health-care workers, and, as of last month, Strategist readers. And according to Jacob Cohen, a second-grade teacher in Brooklyn, this KN95 from Powecom fits more snugly than KN95s from other brands he's tried and doesn't move while he's talking. They're also "soft on the skin and create a tight seal all the way around," writer (and resident mask expert) Liza Corsillo reports. These Powecom masks are also breathable enough to layer under a cotton mask — without forgoing any protection — so they're a great option for doubling up.
Another great option for layering are these disposable face masks — a Black-Friday favorite — that we found to be "very comfortable and fit pretty well without much need for adjustment." Even when worn alone, they pass the candle test, one of the easiest ways to determine the efficacy of a face mask, with flying colors.
A good night's sleep has never been more important — or more impossible — to get, which could explain why so many of our readers have been upgrading to these hotel-style, gel-infused pillows ever since we crowned them the best-rated pillow, according to hyperenthusiastic Amazon reviewers, back in June. According to one such reviewer, "this pillow works in every position," even though they "roll around about as much as a pig in mud," while another calls them "magical" for those suffering from insomnia. And if you aren't yet convinced, there are over 61,000 five-star reviewers (and hundreds of Strategist readers) who can speak to their comfort.
There's something about a black disposable mask that feels "less medical while still delivering the benefits of being medical," one daily WeCare mask wearer told us back in December. And while celebrities, DJs, and photographers were all spotted wearing them, it wasn't until last month, when the three-ply masks made their way into our roundup of best disposable masks, that they took one of the top spots in your shopping carts. Besides being just plain cool, they're "perfect for keeping in a bag or jacket pocket as a backup mask," we write, and great for layering under fabric masks, too.
This Vistaprint mask became a favorite among Strategist writers and readers back in June, and it's still the go-to fabric option nearly nine months later. It's got "adjustable ear loops, a bendable wire nose strip, stretchy fabric, and an added lower section that hugs your chin," we write, which means "this mask fits several different face shapes securely and comfortably." When she tested them, writer Liza Corsillo told us that they are "made to ensure proper filtration, breathability, and comfort," so it comes as no surprise that they were recommended as a top layer for double-masking, too.
New York received over 20 inches of snow last month, and in the spirit of braving below-freezing temperatures — and humidity-zapping radiators — Strategist readers picked up this CeraVe Moisturizing Cream, an expert-recommended option that also made its way into your shopping carts last summer. (Perhaps as a sunburn soother?) According to dermatologists we've spoken with, it's particularly good for dry and mature skin, thanks to the trio of glycerin, ceramides, and hyaluronic acid. Plus, it's fragrance-free, so it's suitable for even the most sensitive skin types.
This one is another top choice from our list of best disposable masks, and a favorite of Stephanie Downes, Strategist associate director of audience growth, as well as Hailey Bieber. The masks from Evolvetogether are made with three layers — a water-resistant outer layer, a melt-blown center, and a water-absorbing inner layer for maximum protection — and are made in an FDA-registered PPE factory. Designed specifically for New Yorkers, this style is marked with New York City's global coordinates, to match your New York City merch.
While we don't know if our readers purchased this Shiatsu massager as a Valentine's Day gift for a loved one or simply as a midwinter pick-me-up, we do know that this is the 12th time it's made this list — and for good reason. With over 22,000 five-star Amazon reviews, many say this electric massager is better than (or just as good as) their massage therapist, including one such reviewer who says that it makes them feel "like a noodle when I get done, often so relaxed I sometimes catch myself dozing off."