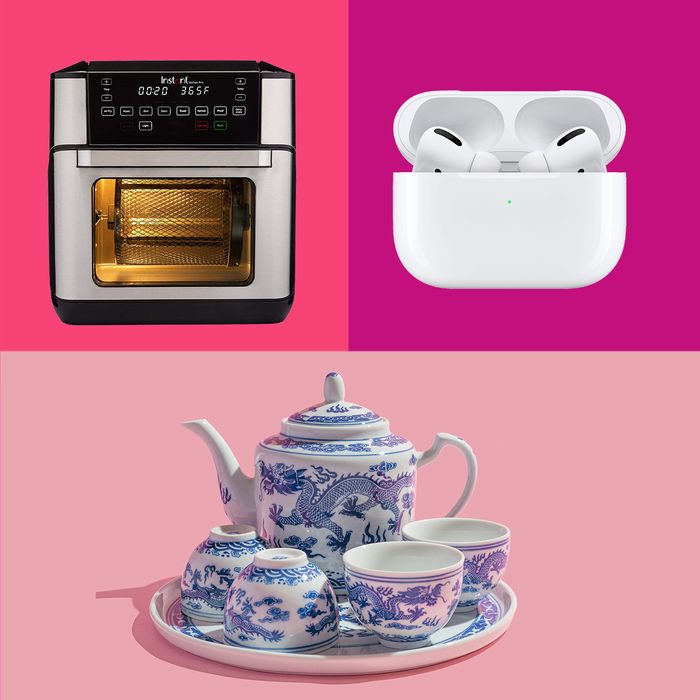 Photo-Illustration: retailers
We write about hundreds of products a week. Here, in our version of the Sunday circular, we've plucked out some of our favorites — expert-recommended essentials, life-changing stuff you didn't know you needed, newly launched gizmos, and the very good deals we uncovered while trolling through the vast online-shopping universe this past week, including rapper Big Freedia's (allegedly) hangover-free tequila, a high chair that grows with your growing baby, and 61 ways to donate in support of Asian communities.
A high chair that grows with your growing baby …
When Jason Morrison and his husband put together their baby registry, they were sure to add products that "would not clutter our lives or our landfills." One such item was this Stokke high chair, which Morrison "always admired" from a design perspective, "especially due to its ability to grow with the child," meaning it wouldn't end up in a landfill after a few months or years of use. And over three years later, "Our daughter uses it multiple times a day, and it has additional components that you can buy for different stages of the child's development."
… and one that can be used (almost) anywhere
Photo: retailer
Unlike Morrison, who knew what highchair he wanted before his baby arrived, contributor Kelsey Osgood figured out a lot of things that would have been helpful after having two kids in under two years — like this Inglesina table chair. "When you have two kids who need help sitting up straight at the table, it's good to have an extra seat lying around," and this one is excellent for latching onto dining tables easily (as long as your table isn't too thick). It's also highly portable since it "comes with a carrier bag, so you can take it out to restaurants (when that's a thing we can all do again)."
Cherie Chan's most sought-after wedding registry item
Though her wedding registry has picks from luxury European brands like Dolce & Gabbana and Yves Saint Laurent, Bling Empire's Cherie Chan told us that the item she wants most is an InstantPot air fryer. In fact, "I don't know why I haven't bought it yet," she told us, since "we love fried food, and we fry food in my kitchen." She's excited to cook up "sweet-potato fries, a salmon recipe my friend gave me, and wings. I think about it all the time."
A sweet and salty (and healthy) Oatly alternative
Strategist writer and "longtime Oatly enthusiast" Dominique Pariso has started making space in her fridge for Táche. It's a non-dairy milk made from pistachios, and though it's not green, it "delivers a delicate, lovely hint of its star nut's flavor to anything you put it in" and "froths like nobody's business." It also has some health benefits, since both the original (sweetened) and unsweetened varieties are "made without any oils, is lower in calories, and contains some protein per serving." Dominique notes that the original flavor is her favorite, "because I find the sweetness of the cane sugar pairs nicely with the sea salt in the milk — and it means I don't need to add any extra sugar to whatever I put it in."
Big Freedia's (allegedly) hangover-free tequila
"I used to be heavy on peach-flavored Ciroc, but now I'm on Patron," the rapper says of the tequila she can't live without. "The Ciroc gave me hangovers, and the Patron doesn't." And though Big Freedia enjoys Patron margaritas — especially ones made by her manager, who "knows just how I like them" — "I also drink this straight. I keep a bottle in my cabinet at all times."
A low-maintenance houseplant that will arrive with two-day shipping
Though Amazon has been called the everything store, there's something about buying live houseplants from Amazon that seems too good to be true. But we've found that buying plants on Amazon is "the most convenient and cost-effective way" to order a plant online, and to help you make the most of the wide selection, we found over twenty different types of houseplants — from floor plants to window hanging plants — that are available now on Amazon. This snake plant is "very tolerant of low light and infrequent watering," making it great for those that don't possess a green thumb, and "ideal if you want something that doesn't take up too much air space in your living room," since it grows up rather than out.
A tote that provides fresh produce for Asian elders
"Heart of Dinner, a nonprofit that supports Asian elders through thoughtful care packages of fresh food, has partnered with Brooklyn designer Andrew Teoh on two totes," we write in our latest Don't Dillydally column. This one features a rendering of bok choy "which is often included in the care packages — and symbolizes wealth, luck, and prosperity." The first batch sold out within 24 hours, but you can preorder their second (and final) run of the limited-edition bag now, which is said to arrive in two weeks.
The best refurbished AirPods Pros (at the best prices)
As many have confirmed, including our tech columnist Jordan Bowman, "AirPods are great." And you don't need to pay full-price to get a pair if you keep an eye out and use his guide. Sales might be few and far between, one way to get a deal on AirPods Pro is to look into refurbished models, but as Jordan warns, "Refurbished means something different to every company." He found that at Best Buy, most refurbished products come with a minimum 90-day warranty, and one commenter even said they received a set of still-sealed AirPods Pro that had simply been returned.
On-sale pimple patches for the 'meanest of zits'
Soko Glam is having a sitewide sale that includes plenty of Strategist favorites — like these dermatologist-recommended pimple patches that are used by our resident beauty exert Rio Viera-Newton. It's a two-step process that works to attack a zit "from the inside out" with "serious bacteria-fighting ingredients (the tea tree and salicylic acid in the wipe) and a dose of intense moisture (hyaluronic acid microneedles in the patch itself), which will make even the meanest of zits relax."
A timeless tea set from the oldest store in New York City's Chinatown
"Wing On Wo & Co. has been open since 1925, making it the oldest store in New York City's Chinatown," and a longtime purveyor of beautiful porcelain, and we think this timeless tea set would make for a perfect housewarming gift for the tea lover in your life. But if you're looking for something a little different, check out writer