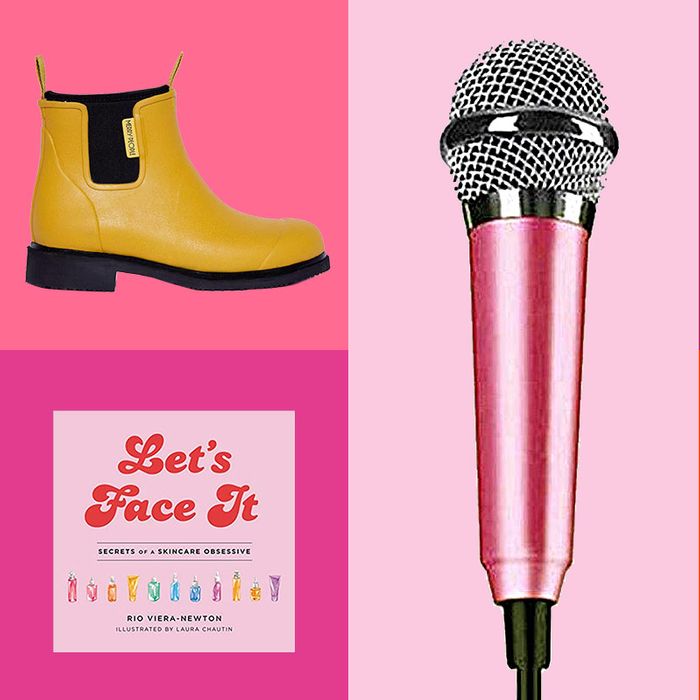 Photo-Illustration: retailers
We write about hundreds of products a week. Here, in our version of the Sunday circular, we've plucked out some of our favorites — expert-recommended essentials, life-changing stuff you didn't know you needed, newly launched gizmos, and the very good deals we uncovered while trolling through the vast online-shopping universe this past week, including Georgia May Jagger's go-to tie-dye, a beautiful baby bouncer, and stylish rain boots for gardening.
A gentle gel cleanser that treats 'chicken skin'
Those rough bumps on arms, legs, or cheeks that are often called "chicken skin," might be keratosis pilaris, caused by a buildup of keratin in pores — and according to seven dermatologists, it's very treatable with a "one-two punch of exfoliation and hydration." And according to dermatologist Dr. Ainah Tan, less is more when treating KP on the face. So instead of using physical exfoliants — a "a major no-no for the more sensitive skin of your face" — both Tan and Dr. Annie Chiu recommend using a gentle, exfoliating facial cleanser like Glytone Mild Gel Cleanser. (Just don't forget to moisturize after.)
Dog-friendly (and chef-approved) peanut butter
Peanut butter is a very good snack for humans, but dogs like it too — and one option that's good for both canine and human palettes is Peanut Butter & Co. It comes recommended by chef Max Zumwalt of Hachi Maki, who likes its "consistent, rich peanut-y flavor and smooth texture" and the fact that it "isn't as sticky as some other major brands." That texture makes it dog-friendly, too, so he serves it to his Shiba Inu, Monica. "When she is well-behaved I give her some as a treat, and when she's being a major pain and drama queen, as most Shiba's are, I give her even more to occupy her, so that I can get some peace and quiet," he says.
A beautiful — and functional — baby bouncer
When former Curbed editor Kelsey Keith built her baby registry, she looked for products that appealed to her on three levels: "price, looks, and function." One such item that checked all of those boxes is this Bloom baby bouncer that helped her and her husband "make time for adult dinner — we'd just plop her in it with a blanket and a stuffed animal and sit her near our feet, beside the kitchen table." And even better, unlike most other baby stuff, Keith says, "This bouncer is beautiful; it's nice to look at them in something that looks so cozy and something you don't hate."
A mini-microphone that's "survived every lick, sniff, and chomp"