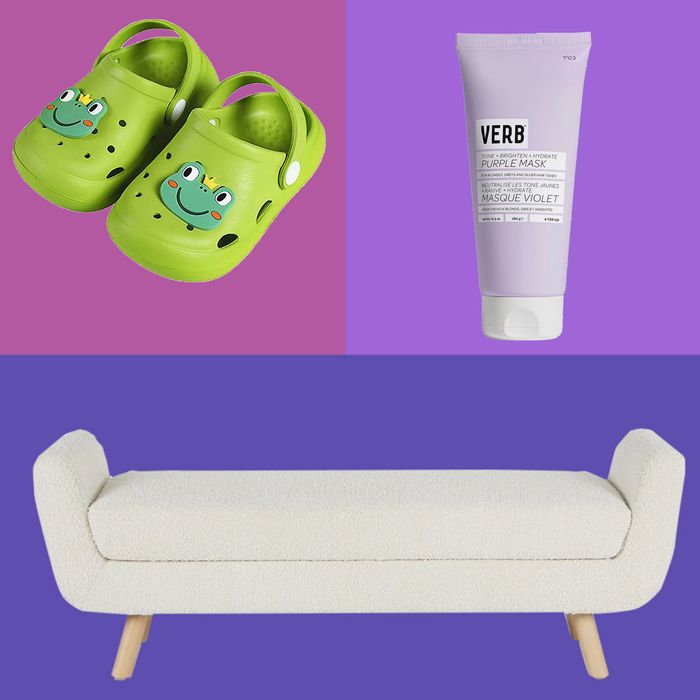 Photo-Illustration: retailers
If you follow our monthly feature "Your Shopping Cart," you know we have some eerily good intel on what you all are buying. Which led us to think that, as Strategist editors, we could turn the tables and highlight all the things we've been buying for ourselves. As you'll notice, it's both a blessing and a curse to be a Strategist editor; we're picky, but sometimes we just have to get on with it. (It's online-shopping expertise meets IRL needs.) Below, what we all bought in March.
Chloe Anello, writer
I tried everything I could to not have to buy a new planner — lots of apps, random sticky notes, even just a plain notebook — because I just didn't want to spend the money anymore, but nothing stuck, and I really missed handwriting my daily to-do lists. So I bit the bullet three months late and just bought a planner. I bought this one because it was weirdly so cheap (probably because it's three months into the year), and we ranked it as one of the best weekly planners. I like it a lot and truly regret not getting it back in January.
Every month, I say I won't buy more of this cereal because it's honestly really expensive, but every month I cave and buy it. It really is as good as it's hyped up to be, and I miss it when I don't have it. I probably should fully give in at this point and sign up for the subscription.
Karen Adelson, senior writer
I started running in these shoes last year, and they quickly became one of my favorite pairs. They're super soft and bouncy, and even though they look really thick, they're actually surprisingly lightweight. My old ones were starting to feel a little worn down, so I recently got a new pair in this really pretty, neutral "almond milk" color with metallic bronze accents.
I actually bought two pairs of running shoes this month. I wear the Hoka Cliftons (above) for easy runs and long runs, but if I'm doing speed work, I want something a little more responsive — meaning less cushy so I can feel the ground beneath my feet. I had a few pairs of Kinvaras years ago, and I remember really liking them, so I ordered a pair of this newer model. Since the even newer Kinvara 12s just came out, I was able to get a deal on the 11s, and fortunately I enjoy running in them! It's a zippy little shoe in a bright, fun colorway.
Maxine Builder, deputy editor
It's that time of year, when I think, Yes, I will start running, even though I am not a runner. See my Christmas list from 2018, as well as this Strategist Haul from September 2020 for additional proof of this delusion. And though I'm still not running marathons (or half-marathons or even 5ks), I have been wearing those same Nike Frees that I was gifted back in 2018. So for this latest attempt, I decided it was time to upgrade my footwear to some Hoka Cliftons, and I am very pleased with the deal I finagled (and delighted to see that Karen, our resident running expert, made the same sneaker choice). They were not on sale, but I used my REI member coupon for 20 percent off the list price, on top of which I applied $10 in credit. That made the final price just $94. Will the Cliftons make me enjoy running? Given my actual track record, maybe not — but check back in six months, when I probably get the urge to buy some more running gear!
Tembe Denton-Hurst, writer
As usual, the books. This month, I bought an impressively small number of them — two of which I found while browsing at my local McNally Jackson: 88 Names by Matt Ruff (the same guy who wrote Lovecraft Country), How Beautiful We Were by Imbolo Mbue, and Honey Girl by Morgan Rogers The last one was the most out-of-the-ordinary pick of the three. I tend to stick to literary fiction with a dash of speculative fiction thrown in, but this is a full-on romance novel, which I almost never read. It follows straight-laced 28-year-old Grace, who gets drunk and marries a random woman — and as a lifelong fan of What Happens in Vegas, this feels like it'll be right up my alley.
I've also been trying to reinvigorate my fitness routine, and since I still refuse to go to the gym, I've turned to other forms of cardio instead. I recently started experimenting with step workouts, which I like because I get to pretend I have some rhythm while working up a sweat. After some very light research, I settled on The Step, makers of the OG aerobic step. I got the health-club size (the larger one) because I figure I can use it for other workouts too.
Peter Martin, senior editor
A good friend bought a pair of these toddler-Crocs knockoffs for our daughter for her second birthday last summer. Our daughter celebrated by excitedly running over to her stuffed gorilla, shaking its shoulders, and saying, "Monkey see new shoes." (We'll teach her the difference between apes and monkeys when she's older.) We bought this second pair as house shoes. They're a lot less slippery than her socks, and hopefully they'll add a little downstairs-neighbor-mollifying cushion to her very heavy gait when she's running back and forth in the kitchen.
Jessica Silvester, contributing editor