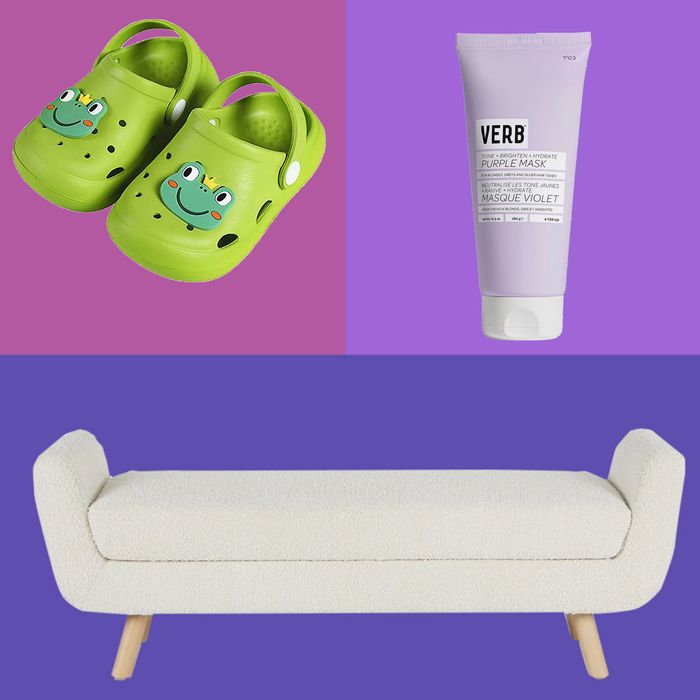 Photo-Illustration: retailers
If you follow our monthly feature "Your Shopping Cart," you know we have some eerily good intel on what you all are buying. Which led us to think that, as Strategist editors, we could turn the tables and highlight all the things we've been buying for ourselves. As you'll notice, it's both a blessing and a curse to be a Strategist editor; we're picky, but sometimes we just have to get on with it. (It's online-shopping expertise meets IRL needs.) Below, what we all bought in March.
Chloe Anello, writer
I tried everything I could to not have to buy a new planner — lots of apps, random sticky notes, even just a plain notebook — because I just didn't want to spend the money anymore, but nothing stuck, and I really missed handwriting my daily to-do lists. So I bit the bullet three months late and just bought a planner. I bought this one because it was weirdly so cheap (probably because it's three months into the year), and we ranked it as one of the best weekly planners. I like it a lot and truly regret not getting it back in January.
Every month, I say I won't buy more of this cereal because it's honestly really expensive, but every month I cave and buy it. It really is as good as it's hyped up to be, and I miss it when I don't have it. I probably should fully give in at this point and sign up for the subscription.
Karen Adelson, senior writer
I started running in these shoes last year, and they quickly became one of my favorite pairs. They're super soft and bouncy, and even though they look really thick, they're actually surprisingly lightweight. My old ones were starting to feel a little worn down, so I recently got a new pair in this really pretty, neutral "almond milk" color with metallic bronze accents.
I actually bought two pairs of running shoes this month. I wear the Hoka Cliftons (above) for easy runs and long runs, but if I'm doing speed work, I want something a little more responsive — meaning less cushy so I can feel the ground beneath my feet. I had a few pairs of Kinvaras years ago, and I remember really liking them, so I ordered a pair of this newer model. Since the even newer Kinvara 12s just came out, I was able to get a deal on the 11s, and fortunately I enjoy running in them! It's a zippy little shoe in a bright, fun colorway.
Maxine Builder, deputy editor
It's that time of year, when I think, Yes, I will start running, even though I am not a runner. See my Christmas list from 2018, as well as this Strategist Haul from September 2020 for additional proof of this delusion. And though I'm still not running marathons (or half-marathons or even 5ks), I have been wearing those same Nike Frees that I was gifted back in 2018. So for this latest attempt, I decided it was time to upgrade my footwear to some Hoka Cliftons, and I am very pleased with the deal I finagled (and delighted to see that Karen, our resident running expert, made the same sneaker choice). They were not on sale, but I used my REI member coupon for 20 percent off the list price, on top of which I applied $10 in credit. That made the final price just $94. Will the Cliftons make me enjoy running? Given my actual track record, maybe not — but check back in six months, when I probably get the urge to buy some more running gear!
Tembe Denton-Hurst, writer
As usual, the books. This month, I bought an impressively small number of them — two of which I found while browsing at my local McNally Jackson: 88 Names by Matt Ruff (the same guy who wrote Lovecraft Country), How Beautiful We Were by Imbolo Mbue, and Honey Girl by Morgan Rogers The last one was the most out-of-the-ordinary pick of the three. I tend to stick to literary fiction with a dash of speculative fiction thrown in, but this is a full-on romance novel, which I almost never read. It follows straight-laced 28-year-old Grace, who gets drunk and marries a random woman — and as a lifelong fan of What Happens in Vegas, this feels like it'll be right up my alley.
I've also been trying to reinvigorate my fitness routine, and since I still refuse to go to the gym, I've turned to other forms of cardio instead. I recently started experimenting with step workouts, which I like because I get to pretend I have some rhythm while working up a sweat. After some very light research, I settled on The Step, makers of the OG aerobic step. I got the health-club size (the larger one) because I figure I can use it for other workouts too.
Peter Martin, senior editor
A good friend bought a pair of these toddler-Crocs knockoffs for our daughter for her second birthday last summer. Our daughter celebrated by excitedly running over to her stuffed gorilla, shaking its shoulders, and saying, "Monkey see new shoes." (We'll teach her the difference between apes and monkeys when she's older.) We bought this second pair as house shoes. They're a lot less slippery than her socks, and hopefully they'll add a little downstairs-neighbor-mollifying cushion to her very heavy gait when she's running back and forth in the kitchen.
Jessica Silvester, contributing editor
Fellow Strategist editor Tony Rotunno just inadvertently reminded me I needed to order more of this stuff, when it came out in Slack conversation that he uses Splenda. "You're still a Splenda guy??" I wrote. He replied, "I have been using Stevia a lot more lately, but only because the shop near me doesn't carry Splenda." I went on to send him the link to this liquid sweetener. Individually, I cannot bear stevia or monk fruit and gag at the first hint of either of them, but for whatever reason, combined as they are here, the effect is so pure tasting, it's like you're drinking straight from an agave plant (and as it turns out, organic agave is the other main ingredient). I don't know why the bottle jumped out at me at the grocery store, but I decided to try it on a whim last summer, and it instantly became my secret cocktail ingredient. Add the slightest squeeze to a glass of Casamigos Blanco with fresh lime juice and a lot of ice, and it creates the sort of alt-margarita that will prompt friends to text you the next day asking for the recipe. (It doesn't give you a sugar hangover, either!) I like it in my coffee, too.
I have a smaller-than-average coat closet, and when I decided to do some spring cleaning and order an over-the-door shoe organizer, it was hard to find one with the right width. This one was mentioned in reviews as being great for tight spaces, and it really is — and it's also very well made and sturdy enough for other kinds of storage besides shoes. And each of the fabric shelves has a clear window, so you can easily see and grab whatever you need.
Arielle Avila, junior writer
One of my favorite novels is Ocean Vuong's On Earth We're Briefly Gorgeous, which has brought me to tears more than any other book I've read. It's tender and heartbreaking, and I've yet to find another book quite like it. So I was happy to see it recommended in our round up of books on Asian American identity along with Vuong's debut poetry collection, Night Sky With Exit Wounds, which tackles issues like war, memory, and family. I ordered it immediately, and while I haven't read it yet, if it's anything like his novel, I'm sure it'll easily become another all-time favorite.
I also re-upped on my purple mask from Verb, which has been a mainstay in my shower for as long as I've been blonde (about a year and a half now). Not only does it get rid of brassiness, it leaves my damaged and dyed hair feeling so soft and nourished.
Jordan Bowman, writer
I'm officially a part of the Crocs wave. I gave into peer pressure when I saw a friend rocking them outside in early spring. They look kind of terrible, and they have this wonky design with large ventilation hole, but I would be lying if I said I didn't love them. I wear them during dog walks and backyard hangouts, and they are quite possibly the perfect lounge slides. They also weigh next to nothing which makes them feel even more relaxed. And when you really need to add some extra oomph, you can slide the little heel strap on and go full X Games mode.
I'm a big consumer of water. Keep that Diet Coke, no-sugar nonsense away from me, please. And I've been on the search for the perfect bottle for years. Last month, I spoke to Hanif Abdurraqib about how much water we can drink when we have a straw, and I was considering picking up a traditional tumbler, but I settled on the CamelBak Eddy+ because of the spill-proof function. You have to kind of bite on the valve to get the water out, but it's great for hikes or if you're like me and carry you water everywhere and don't want to think about spilling anything. I've tried so many water bottles, but I've officially turned into a CamelBak believer. You won't see me using anything else anytime soon.
Alexis Swerdloff, editor
Hilary Reid, a beloved former colleague of ours, mentioned this book to me in passing as something my two-and-a-half year old might like, and of course I got it immediately. Written by Karla Kuskin in 1986, it has wonderful illustrations by Marc Simont (and for all you Thurber heads out there, he illustrated the Wonderful O and the Thirteen Clocks). As its name implies, it tells the story of how all 104 members of the philharmonic get dressed before an evening performance, which, for a two-year-old whose primary interests include buttons and zippers, is deeply fascinating. (It was also exciting to teach him about cummerbunds.) It is very New York–y and cozy.
We wrote about this tote designed by Andrew Teoh in a recent "Don't Dillydally" – 100 percent of proceeds benefit Heart of Dinner, a nonprofit that delivers weekly hot lunches, fresh produce, and food supplies to elderly Asian New Yorkers in need — and, well, I dillydallied. Which means that my delightful bok choy tote has not arrived yet, but I eagerly await its delivery. (It also comes in white with an illustrated persimmon.)
Leah Muncy, junior writer
I was in need of an early-March pick-me-up, so I bought The Book of Delights by poet Ross Gay, which is exactly what the title says it is: A book about all of the small, wonderful things we can encounter — like being waved at by a stranger, for instance, or watching a praying mantis crawl along an empty glass — by just being present in our daily lives. Gay is a poet first and essayist second, and it certainly shows. His writing is curious, warm, and buoyant, and the very act of reading his work is (dare I say it?) a delight!
I had a gift card to Mejuri left over from the holidays, so after much deliberation, I decided to put it toward these 14k gold hoops — and I'm so glad I did. They turned out to be everything I've ever wanted in a pair of earrings: They hold their shape, they're easy to put on, and they're super lightweight. The other night, I actually forgot to take them off — they're that comfortable! — and I may or may not have woken up with a circular indent on the side of my face.
Kelsie Schrader, editorial coordinator
A framed print has never spoken to me more than this one of a woman cradling a large margarita.
I wanted a second lamp in my bedroom for the vibes, but I didn't want to spend a ton of money on it. This $27 one has pleasantly surprised me. It was half the price of similar lamps on Amazon and other sites, but it's proved plenty sturdy, stylish, and effective for my needs.
Jenna Milliner-Waddell, writer
I fully intended to buy this bench new to pair with my dining table and two chairs, but it had been on backorder for what seems like months, so I started checking resale sites. A quick search for "article boucle bench craigslist" brought up a listing just a few miles away for one in mint condition that had only been used for decoration. I didn't get a steep discount (I paid $300 for it), but I had it the very next day and saved on the delivery fees and the 12 weeks it would take to ship.
Dominique's story on sex-toy storage finally convinced me that the very-indiscreet-shaped pouches lining my window sill weren't the best solution for my own toys. I got this colorful crate to put them all in neatly and hide under my bed.
Casey Lewis, senior editor
I'm gearing up for a move, so I'm trying really, really hard not to buy anything. And while I'm mostly doing a good job, I can't begin to explain to you why I caved and bought, of all things, a new eyeshadow. I've worn hardly any makeup this last year and didn't even wear eyeshadow pre-COVID, but neither of those truths stopped me from buying Charlotte Tilbury's cream shadow in this beautiful bronze shade. The texture is super blendable, and the shimmer is subtle. Before errands or Zooms, I'll smudge a little on my eyelids and look (or, at the very least, feel) a little more alive.
Dominique Pariso, writer
As an early birthday present, my family bought me a pair of honeydew green Moxi Lolly skates that I've been drooling over for a very, very long time. Since these are obviously a much bigger investment compared to the more affordable skates I've been using for the past year, I bought a pair of toe caps to try and keep the suede in tip-top shape for as long as possible. (They fasten onto the toe stop and help protect the front of the skates from scratching.)
I don't even really like chocolate, but these lavender rose "cocoa truffle" bars from Portland-based company Honey Mama's have become a new snacking obsession. In addition to Dutch-processed cocoa, each bar has both unrefined coconut oil and coconut meat in them, which creates this super-creamy, almost half-melted texture. While I've liked all the flavors I've tried, this one is my favorite because it has lavender oil and dried rose petals, which just feels very decadent during my 3 p.m. snack break.
Kayla Levy, junior writer
Consider me one of the many New Yorkers who fell even further into the Zizmorcore rabbit hole this month, after Stella Bugbee's piece on the hyperspecifcally New York trend itself inspired me to finally buy Susan Alexandra's "I Heart NY" card holder. It's a message I'm proud to display every time I buy a seltzer from the bodega, and it matches the T-shirt that I first got when I visited the city as a 10-year-old. I'm clearly not the only one to succumb to the beaded slogan, since the card holder is currently sold out, but for the same price you can still buy this Broadway-themed wallet. Or, if you have (much) more to spend, consider the beaded bag from Susan Alexandra's same I Heart NY line.
There's a lot to celebrate about warmer weather (picnics! Seeing friends again! Mister Softee!), but for me, the best thing of all is the official beginning of stooping season. And as a self-described expert at finding freebies, this is really my time to shine. So far, I've stooped a vegetable-themed clock, a copy of "Slouching Towards Bethlehem," a five-tiered Ikea shelf, and a framed, handmade print of some brownstones, which I securely hung with one of these picture hangers. I got mine at R & A hardware, but you can buy them almost anywhere online.
Louis Cheslaw, writer
Because tennis experts told me the best beginner racket depends on the buyer, I want to spotlight something else I bought that anyone can enjoy: Nike's Dri-Fit Stealth wristband. It's comfortable, helps me clear sweat from my brow while playing and running, and because it's moisture-wicking, it's pretty much as dry when you finish as when you started.
I'd been looking for a good pair of chinos for a while, and chose to go with a pair from Hertling this month for a few reasons. First, they made our list of the best men's chinos, according to cool guys. Second, they're cut slim with a high rise, which I like. And finally, the company has made long-lasting clothes here in the United States for almost a century (and supplied a bunch of more famous brands with their fabrics in that time), so it felt like a sound investment.
Crystal Martin, senior editor
I use this body wash on treat-myself days. The scent and texture are really special. Over the years, I've gotten sensitive to heavily perfumed products— so many body washes just smell like chemicals to me. But this one gives off a beautiful, natural citrus. The formula is an oil-gel-to-milk, which means it doesn't lather, but leaves my skin really hydrated. After my shower, my skin has a very light, fast-absorbing layer of oil.
My acne-prone skin breaks out cyclically. At the beginning of my last breakout in October, I started taking this Zitsticka supplement, and I think it has really helped get my skin under control over time. It's certainly shortened the course of this most recent breakout cycle. Skin Discipline is a blend of probiotics and minerals like copper, zinc, and selenium that have been shown to prevent acne and help your skin heal from breakouts. Bonus: The capsules are minty, which sounds like a small thing, but when you're in the middle of a massive breakout, a little delight goes a long way in keeping you invested in your own treatment.
Rio Viera-Newton, writer
Throughout all of quarantine, I lived in this pastel sweat suit from Sweetness Tie Dye, a small, female-owned business based in Brooklyn. Their sweats are the perfect size — not too tight, not too baggy — and make me feel the perfect balance of put together yet cozy. I happily loaf around my house in it, but it also makes me feel put together enough to go for a quick walk around the neighborhood with pals. I love these sweat suits so much, I actually bought another set the other day. This "Kiwi Dragon" color is so fun — it's a mix of lime greens, pinks, oranges, and this cool lightening effect that's really special and incredibly vibrant. I adore it!
Anthony Rotunno, senior editor
My husband and I recently inherited a record player from my brother, who works in the music business. For the first time in a long time, it has made me excited to play — and actually shop for — music. As my brother explained to us, record players are really meant for listening to albums in their entirety, which means you aren't necessarily going to buy an album for one track. This got me thinking about those albums that I love from start to finish. Paul Simon's Graceland is one of them — and likely more of a crowd-pleaser than other favorite albums from acts like the Indigo Girls and Steve Miller Band, which is why I went with it first.
My sister is expecting her first kid in April, so I have been following our new "Now That I Know Better" series quite closely for thoughtful gifts that are a step removed from the basic stuff showered on first-time parents. I was delighted when Jessica tapped Catbird's Leigh Plessner, a Strategist contributor with whom I work a lot, for an installment. Leigh always seems to know how to make life a bit more enchanting, which is more or less what this Santa Maria Novella cleanser she wrote about promises to do for bath time.
Audrey Lee, intern
I actually picked up this lipstick — and a bag of my favorite sour-watermelon gummies — on a whim because I had a CVS coupon that was about to expire. Wet n Wild has a reputation for being cheap, albeit reliable, but this lipstick was, in my opinion, next level. The finish is semi-matte but feels surprisingly moisturizing and does, in fact, last. (There are even internet rumblings that the shade Bare It All is a really good dupe for MAC's best-selling Velvet Teddy). And even if you don't have any CVS coupons about to expire, at less than $3 a tube, it's still a colossal bang for your buck.
I also ran out of concealer this month, so I got this one from Urban Decay that has a really nice matte finish. It spreads super evenly on the skin and isn't heavy at all — two things I always look for — and it comes in a wide range of shades that I imagine would make it good for contouring and highlighting, too.
The Strategist is designed to surface the most useful, expert recommendations for things to buy across the vast e-commerce landscape. Some of our latest conquests include the best acne treatments, rolling luggage, pillows for side sleepers, natural anxiety remedies, and bath towels. We update links when possible, but note that deals can expire and all prices are subject to change.