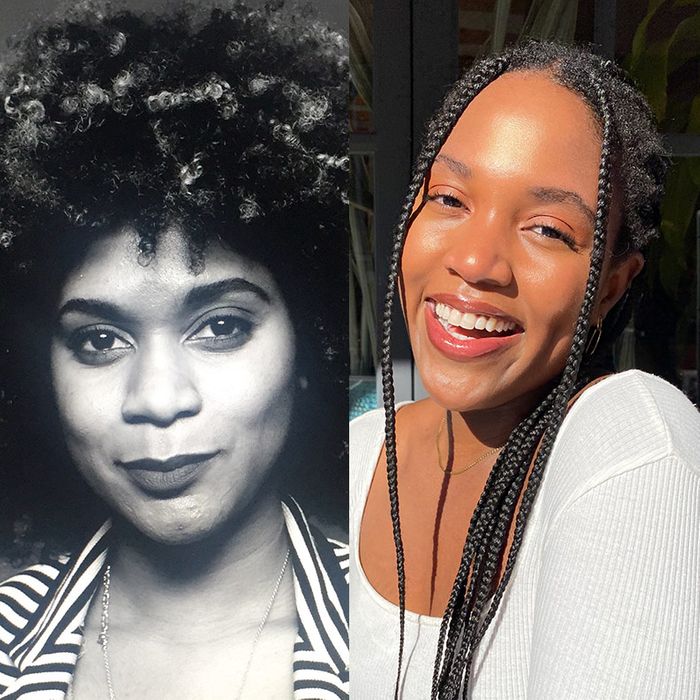 Photo: Courtesy of the subjects
This conversation initially appeared in our email newsletter, but we wanted to share it with all of our readers. Senior editor Crystal Martin sat down (or rather, Zoomed in) with writers Jenna Milliner-Waddell and Tembe Denton-Hurst to discuss how the Strategist's Natural-Hair Week came together, their favorite stories, and what it means to be Black editors and writers sharing a piece of Black culture. Read on for their full discussion, and be sure to check out their stories on our Natural-Hair Week hub. And if you want more behind-the-scenes insight from our writers and editors, sign up for our newsletter.
Crystal Martin: Jenna and Tembe, this project is your brainchild. How did this come together?
Tembe Denton-Hurst: Nikita [Richardson, former staff writer] and I were talking about themed weeks, and one of us said, "Why don't we have a natural-hair week?" Nikita then called Jenna in the middle of a workday and was like, "Jenna, what are you doing right now? Do you want to do a natural-hair week?"
Jenna Milliner-Waddell: I think that was my first Slack call. And we all thought it was a great idea, especially for the Strategist, because everything here is so expert-driven. Natural-hair content is in a million different places online with no central hub, so having a themed week and making our own hub page definitely felt like the best way for us to tackle this.
TDH: When I started at the Strategist, there wasn't a ton of natural-hair content. I remember getting lunch with Jenna in the Before Times and talking about how we need to write about more Black stuff on the site — Black people like to shop, too. So last summer we pitched it and created a huge doc of all the different stories that we wanted to see during a natural-hair week. And at some point everyone arrived at the conclusion that we need to have a specific editor for this.
CM: So you're working on stories, all the reporting, and then I show up in November. I knew when I started that this was the thing that needed to happen.
JMW: We were like, "Here we go. This is what we'd like to do and we're ready to throw it into your hands."
CM: And then I made a lineup and started reaching out to additional writers. For me, the most interesting piece to work on has been this story on the business of braiding hair. I had braids with synthetic hair once in my life and it was immediately after Poetic Justice was released. I had them for literally four days, and my dad was like, "Take those out, you're 8 and that's too grown." That was the end of my braided hair, so while I have a cultural sensibility of what this stuff is, I don't know the intricacies or details of it. So I got into this story's reporting with the writer, Baze [Mpinja], and learned about how this Japanese company is basically dominating the market. We tried to get down to the bottom of what it is that we Black folks, all over the world, are putting on our heads. And there's no Black involvement in this brand — except maybe at the end, with marketing. We got as far into it as we could because the company, Kanekalon, they're still pretty opaque. And we found some Black-owned brands that are doing braids, like Rebundle.
What about the stories that you guys worked on? Any cool stuff you found or learned?
TDH: My story on gold packaging is something I had pitched a while ago and had been thinking about for a while, but it's a complicated thing to nail down. I think it's so interesting when you're trying to write something and it's like, How do I translate this feeling I have? How do I turn this sense I have about something into a piece of information? It's been challenging, but in a good way. It's been a really exciting story to work on.
CM: Can you talk a little bit about what the story is?
TDH: I wanted to investigate the prevalence of the color gold on Black hair-care-product packaging, alongside all this messaging of "queen," "crown," all of that royalty stuff. Why does this branding continue to be a thing, especially with mass hair-care brands? Head & Shoulders has Royal Oils and Pantene came out with the Gold series and it's like, What is all of this gold? If you look on Twitter, there're so many women who feel this is so tired, asking why companies keep speaking to us like this. And so the story both addresses why the packaging is gold and looks at the cultural sentiment around it.
CM: This idea you mentioned about being a writer and translating a feeling that you have into a story, I think that is one of the more interesting things that we get to do as writers and editors. I feel very privileged to be able to do that, particularly as a Black woman. There are all types of little weird things you notice like, What is this? Then to turn that little feeling into something tangible, explaining it, researching it — it's very difficult. But I think it's one of the most gratifying things about what we get to do.
TDH: To your point too, Crystal, I think what's additionally challenging about this is as Black writers, a lot of times, the things we're noticing and feeling can't necessarily be codified. Sometimes I feel Black culture isn't documented in the same way as white culture and that creates a particular challenge, because things like braiding hair don't have well-trodden journalistic paths with tons of research. I think there's a lot of things in Black culture that are very word-of-mouth — I can say something about a thing or product and everyone will nod like, Yeah, for real. But I can't point to a well-known article or story to help explain and underline my thoughts. Trying to make tangible the things that we're thinking about is a specific challenge. But like you said, very gratifying.
CM: That's really a great way to articulate it: In writing about these products and the things we notice about them, we're elucidating Black interiority. We're documenting the things that we'd otherwise discuss in code, like we would if we went to brunch together and I was like, "What is with all the crowns?" We almost assume a sense of knowing when we're around each other. Not everything has to be explicitly said, so again it's the challenge of, as a professional writer and as someone who's a part of Black culture, making explicit these concepts and ideas that are otherwise implicit.
TDH: Yeah, exactly.
CM: Jenna, your collection of Black-hair art, I love that story.
JMW: That was really fun to work on. At the onset, I thought people would have like one or two things to recommend and they'd all be the same pieces, but I was wrong. There's just so, so much cool shit out there. The story really runs the gamut from prints to clothing to sculptures and puzzles and plant pots, and everything represents our hair. It's very beautiful. I think one of the people who I enjoyed talking to the most is the founder of this organization called Young, Gifted & Broke. She was so knowledgeable about every artist she recommended and spoke about such a wide variety of objects and pieces.
TDH: All I hear is poverty from my wallet. The Black-owned jewelry story that you updated, Jenna — I was like, Oh my God, that Jamaican necklace, I need that. There's so many things that I'm like, Oh, I need this, I need that. I bought so many coffee-table books from my story.
CM: I already bought the Rihanna Essence cover. I was literally reading the draft copy and was like, I can get this right now. That ain't no problem, it's Rihanna.
JMW: I love your story about where natural hair is now, Crystal.
CM: So in my preparations for that, I spoke to Aeleise and Aishia from Black Curl Magic. I think of them as benevolent provocateurs: They're shit-starters, but it's from a good place. What they're telling us, fairly controversially, is that all the things that we're doing and have been doing with our natural hair are kinda crazy and wrong. Stop with the butter, stop with the coconut oil, it's not healthy for your hair. Keep it simple instead of the laborious methods that are destroying your scalp and hair. But what I thought was most interesting is how pissed off people get about being told that. And I think it's partially because people — Black people and Black women in particular — invest so much energy and time into their hair. They've put so much work into figuring out these processes, and then you've got these two women saying, "Nah, that's stupid."
Aeleise and Aishia also talked a lot about curl typing, and how there are more important characteristics of your hair other than just your curl pattern. It's so counter to what we have come to believe. Personally, I never felt like my curl was the defining trait of my hair. My hair is really fine, it's very porous, it's frizzy. I never felt like the actual curl was the main thing about it, so it was great to hear them validate this feeling. But then there's also what I mentioned at the end of my introduction: Curl typing still matters in that we definitely need more visibility for particular types. We need more representation of 4C, type 4 curls. That's what I feel is the nowness of what's happening in natural hair.
JMW: Something that's come up for me recently with curl typing is that I feel like more people than I thought have used texturizers to get a desired curl pattern, but are passing it off as if that's their natural hair.
CM: This is blowing my mind. Jenna, please, you have to write this story about people getting texturizers and pretending they're not because they want looser curls.
TDH: That to me is literal proof that hair discrimination is a real thing. Because people really act like it's not that serious: "We're all one big natural community." I'm like, "We're not."
CM: We got to talk about all of it — these things are kind of tragic parts of the natural-hair culture, and also the reason we have to keep writing these stories.
TDH: My hope is that the stories we write spark conversations and awareness. I feel like in this natural-hair week, we have a mix of cultural stories and straight-up how-tos. And all these stories have been long overdue. If we're going to say the natural-hair movement started in the early 2000s, then it now has a history. It's been 20 years, and now that it has its own cultural moment, I think it's exciting for us to be able to dig into it and talk about it, and criticize it, and look at all the different pieces of it all together. I'm excited that we're doing that.
The Strategist is designed to surface the most useful, expert recommendations for things to buy across the vast e-commerce landscape. Some of our latest conquests include the best acne treatments, rolling luggage, pillows for side sleepers, natural anxiety remedies, and bath towels. We update links when possible, but note that deals can expire and all prices are subject to change.