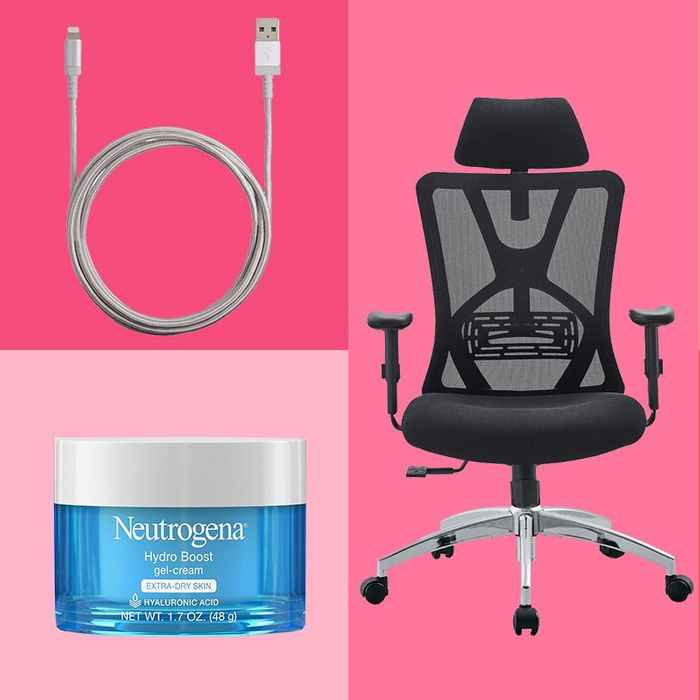 Photo-Illustration: retailers
Welcome back to Your Shopping Cart, where we break out the top-ten products that you, devoted Strategist readers, all bought in droves. Think of this as the tl;dr of the Strategist. If your like-minded brethren are buying these items, maybe you'd like to, too.
This March marks a year since the start of the pandemic, and — by the looks of this month's cart — Strategist readers are still prioritizing face masks and work-from-home necessities over the electric toothbrushes and planners that once topped this list in the "before times." As we've learned more about masking, and more recently, double masking, disposable masks remain among four of the top six items purchased this month. And those aren't the only products that are repeats from the past few months. Top-rated, gel-infused pillows and ergonomic office chairs popped up again, too, along with a certain reader-ubiquitous moisturizer that's been on this list a dozen times.
For the past 12 months the most-purchased item in readers' carts has been a face mask. And over the past six months, as the global supply chain caught up to new demands for personal protective equipment and the CDC began recommending double masking, disposable masks specifically have topped readers' carts month-to-month — with this month being no exception. While the gold standard of disposable masks, N95s, should still be reserved for health-care workers, their Chinese and South Korean equivalents — KN95s and KF94s, respectively — have become some of the most popular disposable masks among non-health-care folks (including Strategist readers, who bought one teacher-approved KN95 in droves last month). The data on which of these two highly effective masks is more effective isn't conclusive, so the deciding factor comes down to which one seals to your face better: For Strategist senior vice-president of e-commerce Camilla Cho — and apparently many Strategist readers — that's this KF94 mask from LG Health Care, which has adjustable ear loops and a tight enough seal to not cause any fogging on her glasses.
These hotel-style, gel-infused pillows have been in readers' carts every month since the start of 2021, when we first crowned them the best pillows according to hyperenthusiastic Amazon reviewers. While we can't guarantee that this pillow alone will solve coronasomnia, it is beloved by over 68,000 five-star Amazon reviewers, one of whom said it was the solution to her restless nights: She woke up after 11 hour of sleep "and was SO comfortable and the pillows were still soft and fluffy. And I was so cozy, I could have fallen right back to sleep."
Another disposable face mask that we've seen on this list before (as recently as last month) is this expert-approved three-ply mask from EcoGuard. When we first tested the masks in November of last year, we described these as "very comfortable," adding that they fit "pretty well without much need for adjustment." Plus, they passed the candle test — which was first popularized by Bill Nye on TikTok — with flying colors: "No matter how hard we tried to blow out the flame of a lighter, it wouldn't even budge."