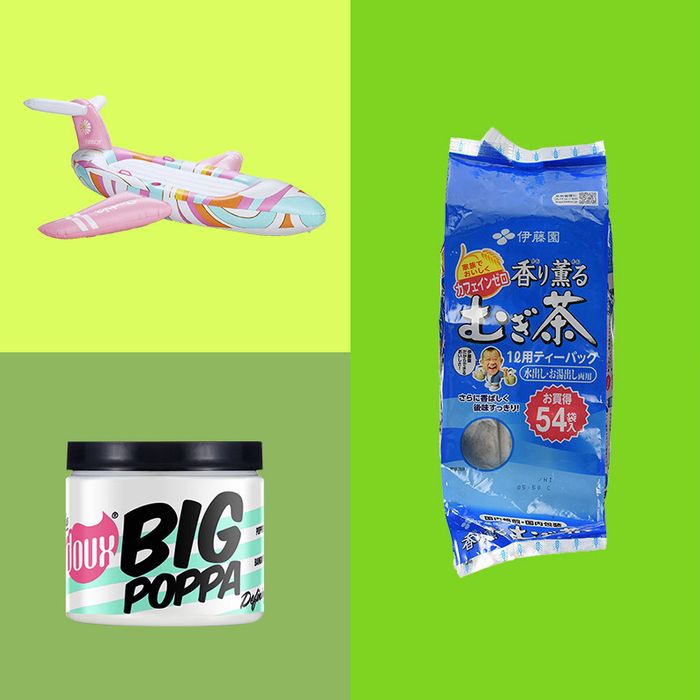 Photo-Illustration: The Strategist; Photos: Retailers
We write about hundreds of products a week. Here, in our version of the Sunday circular, we've plucked out some of our favorites — expert-recommended essentials, life-changing stuff you didn't know you needed, newly launched gizmos, and the very good deals we uncovered while trolling through the vast online-shopping universe this past week, including the bug-repelling socks that "kill ticks in their tracks," a defining gel for touchable twist outs, and some sensible (yet stylish!) clogs for Mom.
Better braids in a box
This past week was Natural-Hair Week on the Strategist, where we covered everything from four-in-one edge-control brushes to actually silky silk presses. Strategist contributor (and longtime braid-wearer) Baze Mpinja even took a deep dive into the (surprisingly secretive) world of synthetic braiding hair, finding that hair from popular brands, like Kanekalon, likely contains skin-irritating chemicals — that may or may not have lasting consequences for skin and scalp health. In her weeks-long dive into braiding hair, she didn't uncover an exact ingredients list, but she did find some "necessary optimism: Black women are slowly changing the braiding-hair world by demanding safety and taking product development into their own hands," she writes. One such brand is Latched & Hooked, which was founded by Tiffini Gatlin "after her daughter had a bad experience with Afro Beauty Collection synthetic hair (her scalp felt like it was 'crawling with tiny bugs')" explains Mpinja. "Gatlin's braiding hair is entirely nontoxic, and in addition to classic blacks and browns, it comes in two-toned and even three-toned color combinations."
Defining gel for touchable twist outs
As far as natural hairstyles go, twist outs "are the easiest to achieve, but the most difficult to perfectly execute," explains writer Tembe Denton-Hurst. "There's nothing worse — absolutely nothing — than putting time and precious product into a twist out only for it to turn into a puffy, definition-less mess." In order to achieve her "luscious, bouncing-looking" type 4A curls, she uses this holding gel in the final step of her twist out. "I want touchably soft curls, which means [a gel] can't give me too much hold, which will leave my hair crunchy. This defining gel from The Doux is a happy medium," Denton-Hurst writes. "It can be used alone without any products layered underneath (in fact, that's what the brand recommends), but it plays well with my other products and won't pill or turn white."
A staffer's favorite (non-beer) barley beverage
There are two seasons in Strategist staffer Mia Leimkuhler's mom's house: hot-tea season and cold-tea season. The latter is always caffeine-free mugicha — a kind of barley tea — brewed in a pitcher and poured over ice. "Made of roasted barley, mugicha's flavor is deeply toasty, a little sweet, and a little bitter," writes Leimkuhler, who adds that it tastes sort of like "coffee-brown crust on a loaf of chewy artisanal bread." It can be paired with anything from honey to lemon, but her family drinks it at its most refreshing: plain, with lots of ice. "A tall, chilled glass is just the thing on a hot day because it quenches thirst much like another grain-based beverage you may be more familiar with: beer," she writes. It doesn't taste like beer, but "a long sip of iced mugicha just hits the inside of your mouth in the same satisfying way as a swig of beer can."
A dupe for the wool jacket worn in Wild Mountain Thyme
In our latest installment of Ask the Strategist, writer Chloe Anello tracked down several convincing dupes to Emily Blunt's jaunty red jacket in Wild Mountain Thyme — an ideal layering piece for these seasonally transitional times. "In my hours-long internet sweep, this is the absolute closest thing I could find to Blunt's jacket — however, it will cost you," writes Anello. "This fancy option from AMI Paris is 100 percent virgin wool, so it will be warm yet easy to layer under, like Blunt's, and it even has the same pocket detailing." But if you're looking for something a bit easier on the budget, there are lots of other, more affordable options to be found here.
Artist Shantell Martin's multi-surface markers
If you're looking for a new DIY project (or just want to up your drawing game), artist Shantell Martin told us that these nontoxic markers from Krink are one of the items she can't live without. "I mostly use black, and I really like the shade of this black — the consistency of it and how it flows," she says. "You can draw on anything with them. The smoother the surface, the better, obviously, but I've used them for drawing on paper, objects, walls, floors — anything that's not super-bumpy."
Bug-repelling socks that 'kill ticks in their tracks'
Warm weather — which, of course, means tick season — is upon us, so last week, we spoke to 11 experts about how to prevent tick bites on your next outdoor excursion. Along with good ol' bug spray, several experts recommend wearing clothing that's been treated with insecticide permethrin, like these cushioned, bug-repelling crew socks. "The weave of the sock makes it difficult for the smaller ticks to navigate, which increases their time exposed to the permethrin, which kills more of them," explains Dr. Scott Williams, who works at the Connecticut Agricultural Experiment Station's Department of Forestry and Horticulture. And since ticks start low and crawl high, permethrin-treated socks are a good first line of defense because the chemical can kill ticks in their tracks.
Some sensible (yet stylish!) clogs for Mom
With social-distancing measures still in place, most of us won't be able to hand-deliver our Mother's Day gifts this year. Not to mention, "whether you live down the block, in another state, or across the world, most people move out of their childhood homes when they grow up. So most moms, in a way, are long-distance moms," writes Strategist writer Louis Cheslaw. To help you find a thoughtful gift that goes the extra mile, we rounded up 22 gifts for every type of long-distance mom, including these podiatrist- (and fashion designer-) recommended Merrell clogs. "When it comes to comfort and arch support, Merrell shoes are a cut above the rest. These slip-on Merrell mocs would be the perfect thing for her to step into for her regular walks to your place to wave hello," writes Cheslaw. And for an even cozier option, designer Sandy Liang told us about a similar style that provides extra warmth and cushioning via a cozy fleece lining.
A private jet for the pool
If you survived the Great Inflatable Pool Shortage of 2020, you'll be pleased to know that we found lots of in-stock (albeit limited-edition) options from Funboy, which has partnered with Barbie just in time for the summer. "When we were on the hunt for inflatable pools last summer, we surfaced options from Funboy, which makes an eye-catching pool float shaped like a convertible car," we write. The Barbie collection "has a '70s Malibu beach vibe" and includes floats, towels, kiddie pools, and this highly Instagrammable, under-$100 private jet — all of which are sized for both kids and adults.
A flowy, floral (and highly discounted) minidress
"With warm weather on the horizon — and the potential of having places to go and people to see increasing with every vaccination — it's time to retire the quarantine sweats and replace them with a new spring dress (or three)," we write in our latest roundup of the best on-sale, under $100 spring dresses. Picks range from cotton minis to tie-back maxis, but we particularly like this semi-sheer smock dress from ASOS, which, according to Strategist writer Jenna Milliner-Waddell, "has the three key F's: flowy, flirty, and floral."
Bluetooth-powered TikTok tech