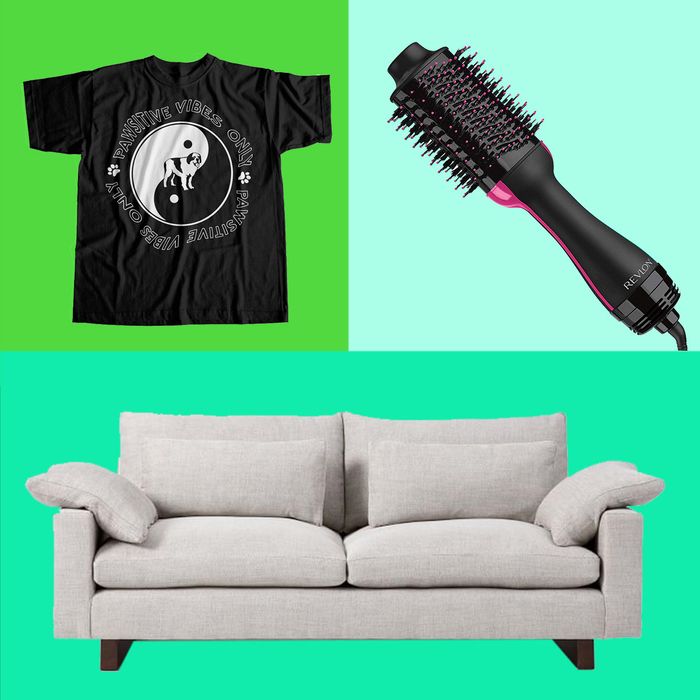 Photo-Illustration: retailers
If you follow our monthly feature "Your Shopping Cart," you know we have some eerily good intel on what you all are buying. Which led us to think that, as Strategist editors, we could turn the tables and highlight all the things we've been buying for ourselves. As you'll notice, it's both a blessing and a curse to be a Strategist editor; we're picky, but sometimes we just have to get on with it. (It's online-shopping expertise meets IRL needs.) Below, what we all bought in April.
Maxine Builder, editor
This month, I learned that my wonderful, one-eyed dog, Harmony, can only open her jaw about a centimeter. (Our hunch is that it's a complication from the emergency surgery they did to remove her eye.) Fortunately, this doesn't seem to cause her any pain or slow her down much. Harmony eats full meals and takes treats out of our hands and runs around on the beach like a maniac. But it does explain why she has never liked chewing on bones or picking up toys or playing fetch. So in a final attempt to find something to keep her entertained, I bought a two-pack of lick mats, something I didn't know existed until our junior writer Arielle told us about it — and like Maggie, Harmony loves it. It's the first toy I've ever seen her "get." I spread a couple tablespoons of peanut butter on it and put it down in front of her, and over 30 minutes later, Harmony will still be happily licking away, with no signs of slowing down.
Arielle Avila, junior writer
I've been testing a new mattress for our guide to mattresses that you can buy online, and after a few mornings waking up with a sore neck, I was about ready to give up. But after realizing that my pillows were extremely deflated, I figured they were more likely the culprit. Since these Beckham pillows are raved about by nearly all types of sleepers, a favorite among Strategist readers, and don't cost a fortune, I gave them a chance. I have to say, they really do live up to all the hype, and I've been waking up more comfortable and refreshed as ever.