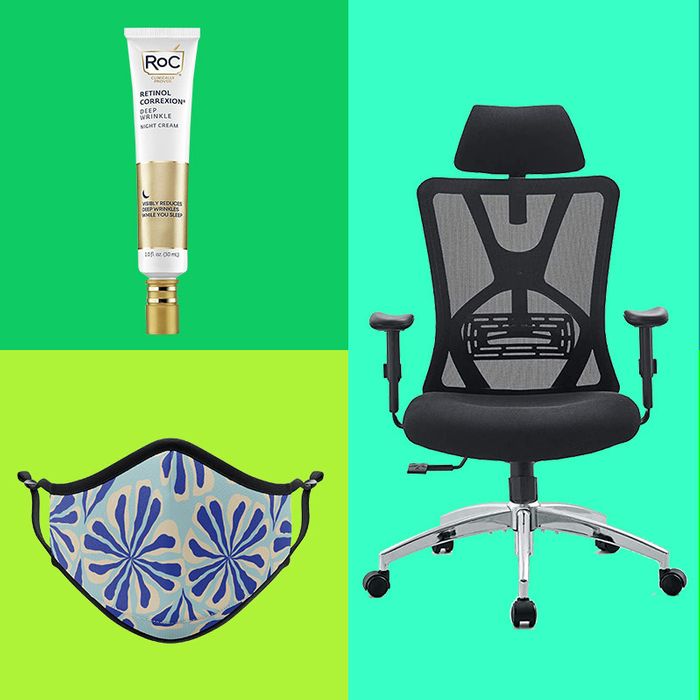 Photo-Illustration: retailers
Welcome back to Your Shopping Cart, where we break out the top-ten products that you, devoted Strategist readers, all bought in droves. Think of this as the tl;dr of the Strategist. If your like-minded brethren are buying these items, maybe you'd like to, too.
A post-vaccine summer is (finally) in sight, and Strategist readers stocked up accordingly this month: Face masks were swapped out for immunization-card holders, and a reader-favorite, dermatologist-approved sunscreen made its annual reappearance — signs, we think, of better times to come. But even with more and more people now eligible for the vaccine, experts still recommend masking (and double-masking) while indoors, so it's no surprise that both fabric and disposable masks remained among your top items purchased. And those aren't the only things that are repeats from the past few months. Top-rated, gel-infused pillows and ergonomic office chairs popped up again, too, along with a reader-favorite charging cable and the lightweight moisturizer that's made this list dozens (upon dozens) of times.
All New Yorkers age 16 and older became eligible for the COVID-19 vaccine this month, and if your shopping carts are any indication, Strategist readers are baring arms. In order to keep your (unfortunately rather flimsy) card protected, experts told us that one of the best ways is with this immunization-card holder — which just so happens to be the first non-mask item to take the top spot in your shopping carts since April of last year. "When I get my card next week, I will be putting it in a Melinex or Mylar sleeve — the clear plastic choice of conservators because it will never harm the paper," says Carolyn Frisa, owner and head conservator at Works on Paper. She likes this one because it's sealed on three sides, rather than four, so it's easy to remove for verification or potential booster shots.
[Editor's note: This card case is shipped and sold from a third-party seller, but these ones, which are shipped by Amazon, are nearly identical.]
Even if you're fully vaccinated, you shouldn't give up your masks quite yet, especially while indoors. These expert-recommended disposable masks — their third consecutive appearance on this list — have long been a favorite of Strategist readers ever since we first tested them in November of last year. We described these as "very comfortable," adding that they fit "pretty well without much need for adjustment." Plus, they passed the candle test — which was first popularized by Bill Nye on TikTok — with flying colors: "No matter how hard we tried to blow out the flame of a lighter, it wouldn't even budge."
If you're in the market for a new set of pillows (perhaps in preparation for a day of rest after your second vaccine shot), these hotel-style, gel-infused pillows have been in readers' carts every month since the start of 2021, when we first crowned them the best pillows according to hyperenthusiastic Amazon reviewers. While we can't guarantee that this pillow alone will solve coronasomnia, it is beloved by over 76,000 five-star Amazon reviewers — and most recently, Strategist writer Arielle Avila. Speaking to its actually supportive, down-alternative fill, "they really do live up to all the hype," she says. "I've been waking up more comfortable and refreshed as ever."