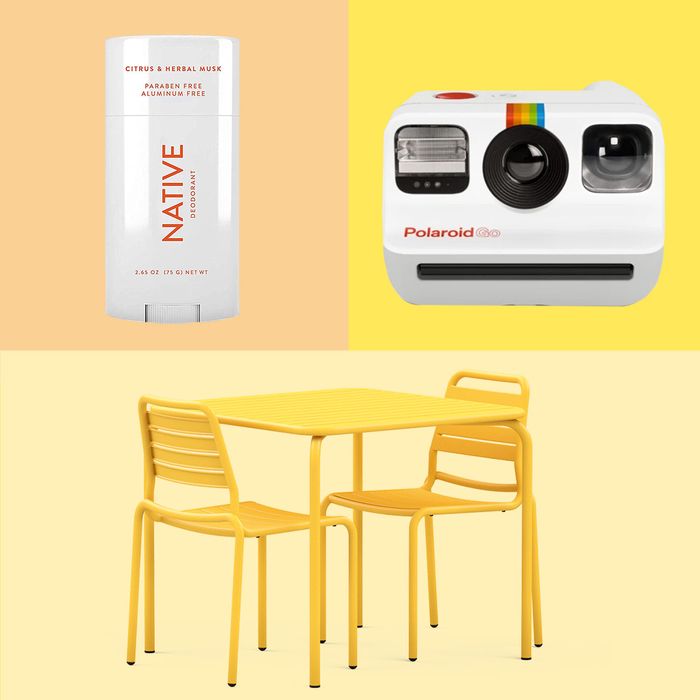 Photo-Illustration: retailers
We write about hundreds of products a week. Here, in our version of the Sunday circular, we've plucked out some of our favorites — expert-recommended essentials, life-changing stuff you didn't know you needed, newly launched gizmos, and the very good deals we uncover while trolling through the vast online-shopping universe. This week, that included a stackable, sunshine-yellow patio set, "stupidly comfortable" walking sneakers, and a fisherman-recommended fillet knife.
A sleeping pad for the outdoorsy dad
While spending the day hiking or rafting with him may be the best Father's Day gift you can give an outdoorsy dad, the right piece of gear can come in a close second. We consulted 14 dads who love to hike, fish, kayak, and camp about the stuff they think would make great gifts for Father's Day, which is just about a month away. Last week, Rob Urry, a father of four and grandfather of 11 (and Utah-based hiker), recommended this packable and inflatable pad for any dad whose sleep suffers while camping. "The best pad ever: It blows up with just a few breaths and is lightweight and super-comfortable," he says, adding that the pad "works great on the ground or in a hammock."
A stackable, sunshine-yellow patio set
Floyd makes some of our favorite affordable furniture, and we think the brand's new aluminum-steel patio furniture — which we wrote about in our latest Don't Dillydally — should also live up to our very high expectations. The collection is made up of outdoor furniture basics "that could work in spaces of all sizes," we write, and includes two types of tables, a bench, and stackable chairs. All of the items are available in four summery shades, including the citrine-yellow above. They can be purchased separately or in a set, with the smallest configuration — two stackable chairs and a rectangular table — starting at $1,055.
An even-better instant camera
The Fujifilm Instax Mini camera has long been considered the crown jewel of the mini instant-camera market. (Several photographers, in fact, have touted its "foolproof" design.) But Strategist writer Jordan Bowman says Polaroid's new mini instant camera, the Polaroid Go, might be even better: "After using the Go for a month, I prefer its shape over the Mini, which is a bit more bulbous and clunky. The Go's viewfinder is larger and brighter and lets in more light, too, and it feels more stable and less plasticky," he wrote last week. "The true joy of the Go, however, is that it takes care of everything for you. With only three buttons — power, flash, and shutter — it's hard to overthink things and mess up." And while Fujifilm's camera offers a range of apertures, he finds the Go's automatic settings to be "frequently" better, especially when capturing darker skin tones.
"Stupidly comfortable" walking sneakers
There are three things we love at the Strategist: A sale, a dupe, and a comfortable shoe. Last week, Strategist writer Tembe Denton-Hurst tipped us off to these classic (and somewhat dadcore) New Balance sneakers in the latest update to our guide to comfy shoes. "For a DMV girl like me, New Balances are a rite of passage," Denton-Hurst says. "They're a staple basic shoe, like what AF1s are to NYC." Plus, she says, they're "stupidly comfortable" — so much so that she's worn them for 12 hours at a time without complaint. "I toss them on with jeans, biker shorts, and dresses — they're stylish in a normcore sort of way and remind everyone that the pandemic has turned me into a comfy-footwear evangelist. They make everything more pleasant and are the one shoe I absolutely have to have with me, no matter where I go."
Caffeine-infused (and Asian-owned) mints to gift
Photo: Courtesy of the Vendor
"Gift-giving in Asian culture is not just reserved for the big moments," SuChin Pak, the co-host of the shopping podcast Add to Cart, wrote last week. That's why she's been sending her loved ones care packages during the pandemic — it's a small yet meaningful way to reconnect and express her appreciation. Among the books, chocolates, and drawings by her daughter, Pak "always" makes sure to include an item or two from Asian American brands and makers, whether it's a bag of Vietnamese coffee or a hand-thrown ceramic bowl. One of her favorite gifts to give are these caffeinated mints from Neuro, which was founded by athletes Kent Yoshimura and Ryan Chen. "I started using these mints after my second child was born and I had trouble finishing sentences and emails," Pak writes. "While they do have caffeine, the mints combine it with other ingredients, like vitamins B6 and B12, that you won't find in many (any?) beans, so I don't get jittery like I can after having coffee. Now I buy them by the case (you can get a 12-pack in addition to this six-pack) so I can give the mints to my dad or new parents or anyone else who might be looking for things other than coffee or tea to help them focus and feel more energized."
Anti-deodorant deodorant
"Armpit care is very much having a moment right now," Strategist contributor Sara Radin wrote in her dive into the world of underarm skincare last week. "On top of organic, refillable, all-natural deodorants popping up everywhere, there are now detoxes, exfoliants, soaps, creams, and even toners formulated (or, at the very least, marketed) specifically for your pits." While your underarms likely don't need a dedicated, three-step skin-care routine, according to the dermatologists and trend forecasters we spoke to, there are some helpful products out there for soothing razor bumps and reducing moisture. If you're interested in swapping out your Dove stick for something a little more involved (and unconventional), Melissa Hago, VP and creative director of beauty and wellness at trend forecaster Fashion Snoops, pointed us to these pads from Surface Deep. "The Anti-Odorant pads essentially replace typical deodorant use with 100 percent biodegradable cleansing pads made of clean ingredients," Hago told us. They're "anti-odorant," meaning they rely on exfoliating acids, probiotics, and soothing botanicals — rather than aluminum or baking soda — to regulate underarm bacteria, wetness, and odor, and they help to improve underarm appearance.
… And Miguel's favorite deodorant deodorant
For a more traditional approach to armpit care, singer and clothing brand S1C founder Miguel told us last week that he can't live without this all-natural (and Strategist-approved) deodorant from Native. "I wanted a deodorant without aluminum, and finding the right one was a journey," he says. "Some deodorants are such a trip because after a few weeks or months, they completely stop working. It took some time to find it, but Native has been incredible … After using it for about a year now, it still works."
A "very comprehensive" collection of climate writing
"Environmental justice and climate change are intimately linked, so a solid understanding of the climate crisis is a must," explains writer (and aforementioned comfy shoe aficionado) Tembe Denton-Hurst in her guide to the best environmental-justice books last week. "As many of our experts pointed out, low-income communities of color are the first to suffer from its effects — making it a major part of the EJ conversation." This climate-focused anthology brings together some of the leading voices in the movement, like climate activist and lawyer Colette Pichon Battle, environmental reporter Emily Atkin, and Rhiana Gunn-Wright, an author of the Green New Deal and the director of climate policy at the Roosevelt Institute. According to Brittany Jefferson, a climate advocate and educator, it's "very comprehensive," with topics ranging between economics, psychology, racism, activism, public policy, and mental health. "It really spans all of the various ways people are affected and will be in the coming years," Jefferson says.
The Goldilocks of cotton quilts (that's also on sale)
With warm weather on the way — not to mention a 20-percent-off sale — now would be a good time to pick up this cotton quilt from The Company Store, which Curbed's architecture critic Alexandra Lange told us "has some weight but isn't too warm." The quilt is available in sizes twin to king, and all of the colors pictured, which range from "graphite" to "golden straw," are up to $30 off. (And ship for free).
And a fisherman-recommended fillet knife that's perfect for sushi
In the 15 years Strategist contributor and kitchenware line Material co-founder Eunice Byun and her husband have lived in New York City, they've frequented "dozens of sushi restaurants," from the acclaimed Shuko in Greenwich Village to Tanoshi, a tiny BYOB spot on the Upper East Side. "Somewhere along the way, we decided that for all the sushi places we've eaten at, we should be able to re-create these meals at home," writes Byun. "After all, we've spent hours watching the city's best sushi chefs construct nigiri with intense precision, studying their moves and inquiring about the combinations and special ingredients they use." After a standard chef's knife proved too "unwieldy when dealing with delicate raw fish," Byon received this filleting knife from a friend whose father happens to be an amateur fisherman (who uses this very knife on his fishing trips around the world). It's not a true sushi knife, but it "works wonders," says Byon. "The tip of the fillet knife curves up to slice through the last bit of fish. On the underside of the wooden handle, there is an indentation carved in — the perfect place to rest my middle finger and stabilize my cutting motion," she explains. "Once my husband and I started to get the hang of cutting proper nigiri pieces, I'm proud to say that our menu expanded from a simple tuna-and-salmon duo to properly composed pieces of fluke topped with yuzu kosho, and scallops seasoned with lemon zest and flaky salt."
The Strategist is designed to surface the most useful, expert recommendations for things to buy across the vast e-commerce landscape. Some of our latest conquests include the best acne treatments, rolling luggage, pillows for side sleepers, natural anxiety remedies, and bath towels. We update links when possible, but note that deals can expire and all prices are subject to change.