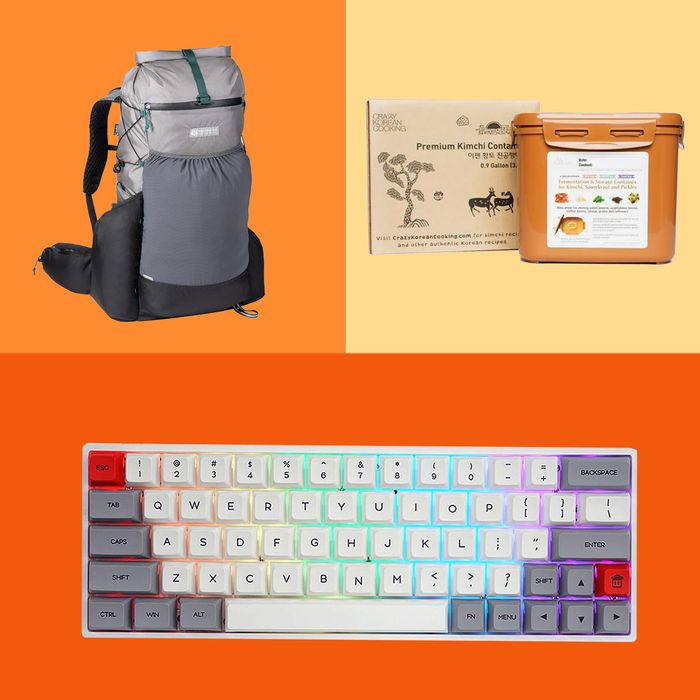 Photo-Illustration: retailers
We write about hundreds of products a week. Here, in our version of the Sunday circular, we've plucked out some of our favorites — expert-recommended essentials, life-changing stuff you didn't know you needed, newly launched gizmos, and the very good deals we uncovered while trolling through the vast online-shopping universe this past week, including a "miracle toy" for clingy dogs, astrologer Susan Miller's favorite gift to give, and a perfume you can try before you buy.
A 'miracle toy' for clingy dogs
Early in quarantine, Strategist junior writer Arielle Avila found that spending more time with her dog, Maggie, was one of the few benefits of being stuck at home. But as the pandemic dragged on, Maggie's barking became disruptive during Zoom meetings. When a treat ball, puzzle ball, and snuffle mat all failed to quiet her pup, Avila purchased the Lickimat: a deceptively simple rubber square with grooves that she says ended up being a "miracle toy." After smearing the mat with peanut butter, "Maggie licks for 15 minutes straight, not even looking up to bark at squirrels scurrying past our window," she writes. "The mat has meant one less thing for me to stress over while I work, and Maggie is a little calmer too."
Astrologer Susan Miller's favorite gift to give …
"Swiss Army knives are indispensable," according to the beloved astrologer and author, who told us she can't live (or leave the house) without one. "I think it's the best gift, too — but if you give someone a knife, they have to pay at least a penny for it, or else it's bad luck. That's what they say."
… and a great gift for new dads (or moms!)
Photo: retailer
After racking his brain to find the perfect gift for his brother-in-law with a baby on the way, Strategist senior editor Anthony Rotunno decided on an instant camera. But, after surveying the options, he noticed that "the one glitch with older technology that becomes new again is that smarter and sleeker iterations tend to lack soul." Ready to abandon the idea, he did one more spin through the options at Polaroid — the brand that invented the instant camera — and found exactly what he sought beneath the suite of the company's newer models. "The 600, which debuted in 1981, is currently one of two vintage models Polaroid sells after refurbishing them," he says. "This camera produces the square images that went on to inspire the square layout of a certain photo-sharing app that (probably) went on to inspire the refurbishing of this line of cameras." After seeing it in action, Rotunno writes, "It certainly looks and performs as well as a new one. And another nice thing, especially for the planet, is that a refurbished camera is by nature more sustainable."
Printer ink that doesn't cost a fortune
If you invested in a printer to create your WFH office setup, you might have been (unpleasantly) surprised to find out ink and toner costs can quickly add up to the price of the machine itself. To see if there are less expensive alternatives to brand-name options, Strategist senior writer Karen Iorio Adelson talked to printing experts about any hacks they'd recommend. Those who aren't printing museum-quality images, according to the pros, can probably get by with third-party inks or toners — like these ink cartridges that work with the HP OfficeJet 200 (which happens to be our top pick for a portable printer). Adelson notes the Valuetoner cartridges "have over 1,200 five-star reviews on Amazon" and that, "if you went with the HP brand, you'd pay around $64 for the set."
A doctor-recommended face mask for flying
With vaccination rates on the rise, many people are starting to plan trips to see loved ones for the first time in over a year. But, as our senior writer and resident mask expert Liza Corsillo points out, anyone whose trip requires air travel "still has to wear a mask on the plane and in the airport." With mask guidelines changing frequently as vaccinations roll out, she spoke to experts about the face masks they'd recommend wearing while flying. Dr. Purvi Parikh, an immunologist with NYU Langone Health, told Corsillo that she "knows people personally who have gotten sick while traveling even after they were fully vaccinated." That's why she recommends anyone boarding a plane wear a medical-grade mask like a KN95, N95, or this KF94 mask from LG Health.
A Goldilocks pack for backpackers
Photo: retailer
Contributor Maggie Slepian, a backpacker who "splits her time between mellow canyon hikes in Death Valley National Park and 2,000-mile thru-hikes of the Appalachian Trail," says she has "hiked thousands of miles wearing backpacks in every category, from substantial, ultrapadded ones to superlight styles with no structure or support." This one from Gossamer Gear, as she describes it, is a bit of a Goldilocks. The brand, she says, is "popular among seasoned hikers and backpackers, but manages to remain off the radars of more commercial outdoor retailers." And the G4-20, she writes, is "a reboot of its original G4 pack, which is beloved by an older generation of backpackers." The 42-liter bag has a "smaller capacity, padded back," and a hip-belt system that has allowed her to "carry some 35 pounds of gear and barely notice it." After carrying it for "hundreds of miles," Slepian says her "G4-20 pack barely shows any signs of wear and has proven so functional and comfortable that few, if any, treks have me strapping on something else."
A perfume you can try before you buy
Finding a signature fragrance is never easy. Now, while it's still hard to go out and sniff perfumes with abandon, it remains harder still. That's why our writer Dominique Pariso — who for some time has been talking to fragrance addicts about the best perfumes — wanted to take a closer look at Snif, a direct-to-consumer brand built around a trial period that allows customers to test its scents before committing. After sampling its three current fragrances, she fell in love with the earthy Sweet Ash, which has notes of juniper, bergamot, balsam fir, tonka, vanilla bean, white moss, and patchouli. As Pariso describes it, "Sweet Ash is subtle enough that it doesn't fill up a room when I walk in, but fragrant enough that people can smell it up close (some, like my mom, have then asked to 'borrow' it)." As for the free trial: If you don't want to purchase the perfume outright, you can also order a set that comes with a full bottle and a sample vial; as long as you return the full bottle within seven days of receiving it, the company won't charge you a penny.
A personalized present for college grads
After managing to graduate in the middle of a global pandemic, the class of 2021 deserves to be celebrated. If you're looking for ideas for the college grad in your life, one senior at Syracuse University told Strategist writer Chloe Anello that she is asking for this embroidered pillow she can use to decorate her post-graduation apartment. If your grad isn't an Orange (man or woman), Anello points out that "pillows for dozens of other schools are available, too, so you're likely to find the one your graduate went to."
A TechToker–approved (light-up) mechanical keyboard
"Over the last decade, mechanical keyboards have seen a surge of popularity," explains Strategist writer Jordan Bowman. "People love the click and the clack sounds that so many modern keyboards have abandoned, but what really makes mechanical keyboards special is the ability to customize them." If you want to try one out without spending a fortune, TikToker DoseofTech says this affordable model — which is Bluetooth-compatible, dust-resistant, waterproof, and has LED RGB backlights — is "one of the best" mechanical keyboards he's ever used.
A Korean-supermarket staple for making kimchee at home
As our writer Lauren Ro explains, "Korean supermarkets (like H Mart) are true emporiums that carry everything from gochujang to small appliances to skin-care products." Her favorite category: "All the practical (and affordable) kitchen and home goods that you'll see in most Korean households." One such thing is this container you can use to ferment your own kimchee at home, which Ro notes "has an inner vacuum lid to prevent air from getting in."
And an on-sale set of our favorite linen sheets