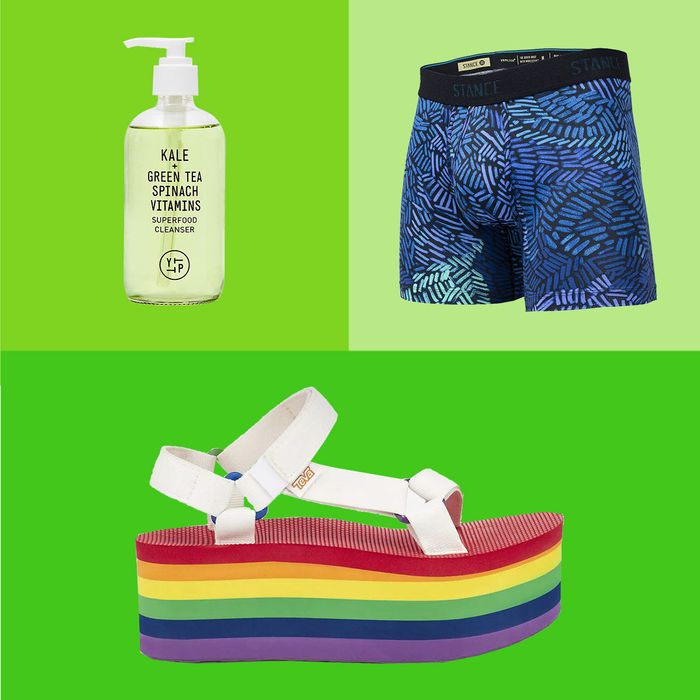 Photo-Illustration: The Strategist; Photos: Retailers
We write about hundreds of products a week. Here, in our version of the Sunday circular, we've plucked out some of our favorites — expert-recommended essentials, life-changing stuff you didn't know you needed, newly launched gizmos, and the very good deals we uncovered while trolling through the vast online-shopping universe this past week, including a "makeshift ring light" for Zoom calls, some Japanese-made garden shears, and a cooling mattress for sweaty sleepers.
A "makeshift ring light" for Zoom calls
If a year spent working from home has taught us anything, it's that finding the right lighting for a Zoom call is far from easy. Experts told us last week that the best lighting is natural (and, in New York, a bit limited) — ideally a window with plenty of sunlight. But if you aren't able to work near a window, they suggest a wide range of ring lights, light bulbs, and desk lamps. Strategist tech writer Jordan Bowman recommends this sleek desk lamp, which he describes as a "makeshift ring light" that instantly illuminates his otherwise backlit face on Zoom calls. With it, he writes, "my Zoom background resembled an actual room, and my colleagues could see that I was in fact attending the meeting." It has seven brightness settings and five color modes that Bowman says can more or less "solve pretty much every lighting problem you might have." And unlike some desk lamps, this one's head and base are adjustable, making it even easier to position at the most flattering angle.
A pair of platform sandals for Pride
Last week, Teva — the gorpcore-ish brand known for surprisingly stylish hiking sandals — launched a rainbow-themed collection of its classic styles (plus some pet collars and leashes) in celebration of Pride month. "The Original Teva Pride design is subtle — a shimmery stripe of rainbow webbing and colored hardware on an otherwise solid shoe," we write in our latest "Don't Dilly Dally." "Or you can go all out with the Flatform: Its entire foam sole is a stacked rainbow" with your choice of white or black straps. The launch also happens to coincide with a $35K donation Teva made to the Human Rights Campaign Foundation, a nonprofit organization that advocates for LGBTQ+ rights.
The best cleanser for acne-prone combination skin
"Combination skin — a mix of oily and dry spots in different areas of your face — can be difficult to manage," writes Strategist writer Chloe Anello in her guide to the best cleansers for combination skin. "Products that work on the dry patches may not always work on the oily spots (and vice versa)." For people with combination skin that tends to break out, dermatologist Dr. Corey L. Hartman suggests this vegan cleanser formulated with natural ingredients including "cold-pressed kale, spinach, and green tea," which he says "can clear breakouts and blackheads while restoring skin's pH level without overdrying." It has a rich gel texture that will be plenty hydrating for dry spots, he adds.
Some Japanese-made garden shears
Whether you're a professional horticulturist or an amateur green thumb, every gardener needs a good pair of shears. Last week, Strategist writer Lauren Ro spoke with several gardening experts to track down the best tools for trimming (and pruning and shaping), which include these Japanese-made hedge shears. "Hedge shears are really geared toward cutting soft, fresh growth on a hedge," says Caleb Leech, horticultural manager at the Met Cloisters. This pair has wooden handles and the same high-quality construction Leech values in other Japanese garden tools, along with long blades that are "perfect" for shaping hedges and even for topiary design. They do require periodic sharpening, though "that's all part of the process that Leech appreciates," Ro explains. Plus, she says, "it's key to getting many good years out of these or any other garden shears."
A Reddit-approved air conditioner for any room
Not all highly rated air conditioners are created equal (and what works for one home may not work for another), so we turned to home-cooling experts, Strategist writers, enthusiastic Amazon reviewers, and even redditors to find the best of the best portable ACs for any kind of space. According to one redditor, this 14,000-Btu unit "works quite well and is a great alternative to a window AC in systems that might otherwise require 'a jerry-rigged solution that really kinda sucks,'" while another, who sells AC units for a living, says, "Buy a Whynter/Toyotomi. (You will get several years of good use.)"
A cooling mattress for sweaty sleepers (that's up to $350 off)
Photo: retailer
If you're looking to cool off without AC this summer, a breathable mattress is a good start. Over two dozen Strategist-approved mattresses are on sale for Memorial Day weekend, including the Nolah Original mattress, which is constructed with temperature-neutral foam the company says makes it cooler than any other memory-foam mattress on the market. According to Strategist writer and notoriously sweaty sleeper Jenna Milliner-Waddell, it lives up to its claim. "This memory foam does feel cooler to sleep on than other memory foam I've slept on," she writes. "I can tell because I don't get overheated as fast sleeping on the Nolah Original as I have in the past." Through Memorial Day, the brand is offering up to $250 off its Original ten-inch mattress or $300 off its Signature 12-inch mattress, both of which come with two free pillows. Plus, Strategist readers can take an additional $50 off their mattress purchase by entering the code STRAT50 at checkout.
Makeup artist Daniel Martin's melatonin gummies
While we predict you'll have no problem falling asleep with the cooling mattress mentioned above, sometimes you need to break out the big gummies. Makeup artist Daniel Martin told us last week that while he typically stays away from sugary gummy vitamins and chewy candy, "I was in Whole Foods once, about to leave for a work trip to the Bahamas, when I saw these Olly gummies meant to help with sleep. I usually don't sleep well the first couple of nights on work trips, so I thought, Why not?" He explains, "The first time I took them, they knocked me out. I was like, Oh my God, these are amazing. They have no sugar, and I actually really like the taste. I'm obsessed."
A gift for the new dad (who's a little old-school)