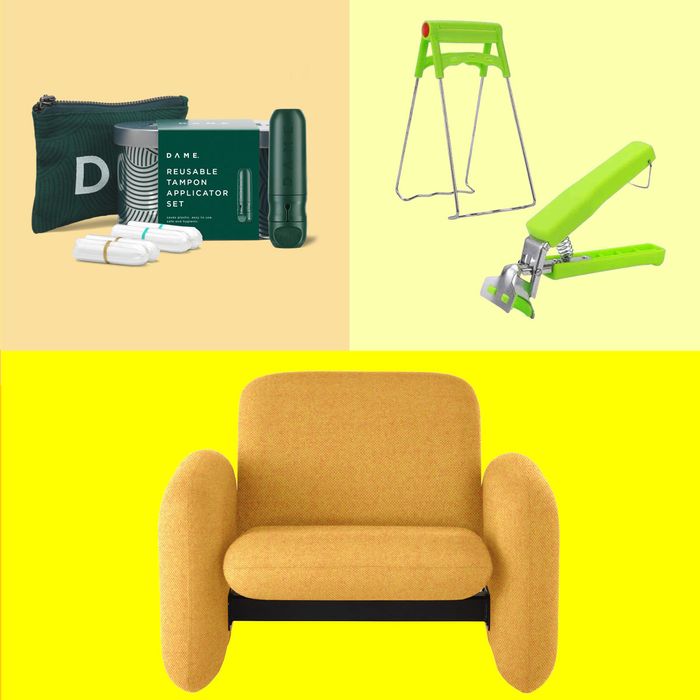 We write about hundreds of products a week. Here, in our version of the Sunday circular, we've plucked out some of our favorites — expert-recommended essentials, life-changing stuff you didn't know you needed, newly launched gizmos, and the very good deals we uncovered while trolling through the vast online-shopping universe this past week, including a more sustainable menstrual product, a vintage-style couch with a built-in charger, and model-musician Shaun Ross's non-irritating shaver.
The lip stain Olivia Nuzzi owns in six shades
After going through tubes of lipsticks and lip stains, writer and New York Magazine Washington correspondent Olivia Nuzzi found a product even better than her favorite M.A.C. lip stain. Nuzzi writes that the YSL Tatouage Couture Liquid Matte Lip Stain "looks like the most effortless lipstick in the world" and "doesn't feel like clay or like you're wearing much at all," while still lasting for "hours and hours." While her go-to is shade #25, she owns it in five other colors including pinker, taupier, and glossier versions, and pre-pandemic she "was asked about my lip color on a daily basis. Friends, strangers, makeup artists — anyone I've recommended this to reports back that they love it as much as I do."
A more sustainable menstrual product
"It's no secret that menstrual products aren't exactly sustainable," writes junior writer Leah Muncy. And while she tried switching to a more-sustainable menstrual cup, she "could never manage to insert the cup comfortably, let alone get it to stay in the correct spot," and notes that having a pelvic-floor disorder made insertion even trickier. After trying other methods, she landed on "the final and most appealing option" — a reusable tampon applicator. DAME.'s applicator is made with medical-grade plastic that "has a smooth, semi-gloss finish, much like the plastic-applicator tampons I'd been using" and is woven with "so-called Sanipolymer fibers, a safe, naturally sterilizing plastic that's nontoxic and non-leaching, and exceptionally easy to keep clean." Muncy writes, "I've used DAME.'s applicator for two periods now (that's 30 fewer plastic applicators in a landfill, thank you very much) and I don't see myself ever going back."
Bridesmaids dresses that give back
Finding a bridesmaid dress that's flattering and affordable is no easy task, so contributor Alexandra Ilyashov reached out to more than a dozen bridal pros to find the dresses they've vetted. While all of the dresses are stylish enough to wear again, author Eimear Lynch recommends a budget-friendly option that gives back too. Birdy Grey's dresses are just $100 and once you've worn it, you send it back so that a teen can wear it to prom. "I have never reworn a bridesmaid dress, so I would have loved it if this company was around when I was in back-to-back bridesmaid mode," says Lynch. On top of that, they have a "crazy amount of options," making it "perfect for a choosy bride."
Mood-boosting light therapy
For many of us, it's been over a year since we started to work from home full-time, and since then, we've bought plenty of things to make the new home office a bit more bearable. So writer Dominique Pariso asked 27 folks what their favorite purchase was for their WFH setup. "Spending more and more time inside than ever before requires some serious assistance to boost your mood," Amazon Live's style host Katie Sands told Pariso. And this Miroco lamp helps her "combat gloomy mood, sleep disorders, and rainy days" by delivering a "strong, bright" white light that "simulates sunlight anywhere in your house."
A collagen-boosting moisturizer for maturing skin
"In your 30s, your skin begins to reflect the complications of adult life," senior editor Crystal Martin writes. To combat things like "fine lines, uneven pigment, and maybe some volume loss" she put together an intensive guide for any level of skin-care ambition for people in their 30s. One beginner-friendly product recommended by Dr. Caroline Robinson of Tone Dermatology was this First Aid Beauty moisturizer for "achieving plump-looking, bouncy skin." With ingredients like niacinamide, peptides, and collagen, it "protects existing collagen, supports collagen production, and also helps increase hydration."
Model-musician Shaun Ross's non-irritating shaver
When we spoke to model-musician Shaun Ross about the things he can't live without, he included skincare items for his sensitive skin. "I can't use a traditional razor because they really irritate my skin," he explains, which is why he uses this BaByliss shaver instead. Its cool look was a selling point for him, but what's better is that "I found it actually works for me too," he says. "It gets nice and close and is one of the only things that does the job well."
A vintage-style couch with a built-in charger
In our latest Don't Dillydally column, we write that Herman Miller is bringing back the chiclet couch, "which has evolved over the past few decades from office décor to a coveted piece of vintage design." While it looks nearly identical to the original, the updated version is available in additional upholstery options and features USB slots to charge your devices.
Tongs for safely steaming traditional Chinese cuisine
Instead of visiting his grandparents' gravestones in early April for qingming, the Chinese tradition of visiting burial sites of loved ones, contributor Tim Mak decided to learn to make some of the dishes his grandparents used to cook. These metal tongs "that opened up like jaws" securely gripped the bottom of the plates and are similar Mak's grandfather's pair. With them, he's "steamed frozen Chinese buns, pre-made dim sum, and the same exact dumplings my grandparents used to make for me." And though Mak appreciates not burning his hands or dropping plates, he's most thankful for a "new way to connect with the memory of my grandparents."
A mirror with a "reliable reflection"
Photo: Courtesy of the Vendor
If you've ever looked into a mirror and doubted that what you were seeing was actually true, you're not alone. As it turns out, there are plenty of factors that could affect the quality of a mirror, including its thickness, backing, and how you hang it. Writer Jenna Milliner-Waddel spoke to two mirror-makers and an interior designer about finding a truly honest mirror and learned tricks of the trade and what we as consumers should know before buying a mirror. A very trustworthy mirror according to Milliner-Waddel's experts: The Bi-Rite Capsule Mirror. Sergio Mannino, the principal designer and founder of Sergio Mannino Studio, appreciates the "cool colors" and trusts Bi-Rite's mirrors since they're thick and mounted on a wood-and-laminate frame.
And an on-sale Strategist-approved foot massager