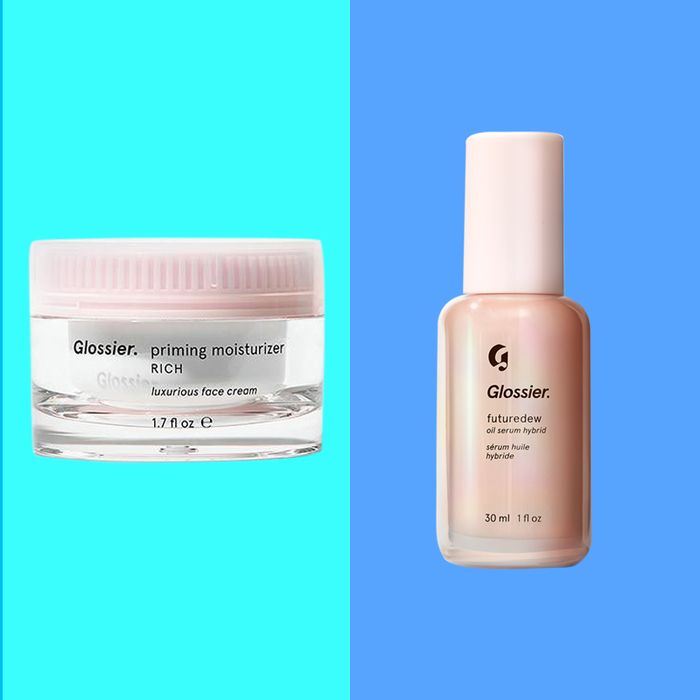 Photo-Illustration: The Strategist; Photos: Glossier
If you, like us, have been a Glossier fan for years now, you'll know their sales are few and far between. Typically, we have to wait for Black Friday or Cyber Monday to score a discount on their lash-lengthening mascara or surprisingly powerful makeup remover. But this year, their mega sale has come early — namely, right now. Through Monday, June 14, Glossier is offering 20 percent off everything on its site as part of its Friends of Glossier sale. And they really do mean everything. Over 80 products, including a ton of favorites we've written about before, are marked down. To help you shop this rare event, we rounded up all the Glossier products that we've tried ourselves or that experts have recommended to us. Below, 17 cult-favorite items to snag before the (long) wait until their next sale starts.
Glossier's Cloud Paint blush — a favorite of our own beauty columnist, Rio Viera-Newton — is one of those multitasking beauty products that works for just about everyone, because there are very few ways to mess it up. It has a near-endless amount of placement options (cheeks! eyes! lips!), and best of all, can be easily applied with your fingers. The gel-cream consistency makes it easy to achieve a soft, diffused wash of color, and unlike lots of other cream formulas, it actually stays on. Cloud paint comes in eight sunset-colored shades that you can mix together to create a bespoke color or wear on its own.
Future Dew has become a beloved member of the Glossier lineup thanks to the serum's ability to make skin look lit from within without glitter or greasy-looking shine. It's also one of the most efficient, because it can be applied all over or simply wherever you want a little pop of shine.
Photo: Retailer
This orange-blossom scented dry oil mist contains a blend of antioxidant-rich sunflower, grape-seed, and oat oils, which help to nourish and moisturize dry skin. Unlike other body oils, which take time to dry and soak into the skin, this one melts in almost immediately and doesn't leave a sticky residue.
Formulated to make it look like you have lash extensions in just a few swipes, this mascara coats lashes from root to tip with little fibers that are locked into place with flexible polymers. It's lengthening, curling, and sculpting, and won't flake or smudge.
Glossier's lip gloss is incredibly shiny (all you need is one swipe per lip) and packed with nourishing ingredients like jojoba and vitamin E, which help keep lips soft and moisturized. All four shades are on sale, including the new, limited edition gold that gives your lips a shimmery finish.
This highlighting stick comes in three shades, all of which give your skin a dewy (but not glittery) sheen, and also has a balmy center for an extra dose of hydration. Rio says she can't live without it, and wears it all over her face. "When it comes to daytime makeup, this product is one of my go-tos and certainly one of my most-used 'natural' highlighters," she writes.
This customizable trio deal lets you pick any three of Glossier's eight classic lip balms, which have been recommended to us by multiple celebrities, cool teens, and Rio again. If you need help choosing, Rio recommends coconut (a clear option for days where you just want to hydrate your lips with a nice-tasting balm), rose (when you want a subtle, barely-there pink tint to your lips), and berry (the yummiest, prettiest, and boldest blackberry shade, which you can even wear on your cheeks as well). You can also shop the lip balms individually for $10, down from $12 normally.
This is a nice, rich-but-not-too-thick daytime or nighttime moisturizer. It's particularly good to use on nights out under makeup, as it does a good job at priming the skin for concealer or foundation.
This gentle, gelatinous cleanser is great at gently removing the day from your skin — it melts away dirt and makeup — without stripping your natural oils.