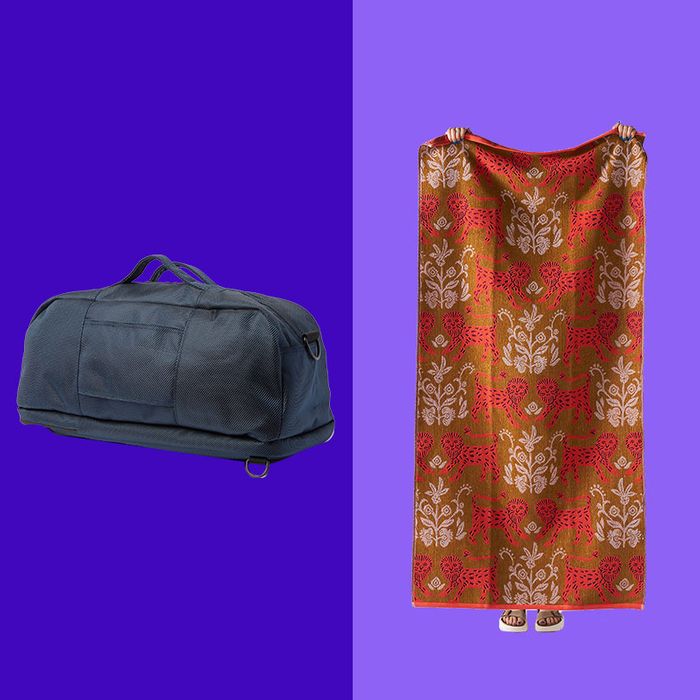 This week started with Amazon Prime Day — and a dozen competing two-day sales at other merchants — but somehow, there's still plenty of deals to be found (and even a lingering Prime Day deal or two). Here, we've rounded up some of the best discounts on lots of things to get you excited for summer and the upcoming Fourth of July holiday, like colorful coolers and beach blankets, a new swimsuit and sandals, even some luggage. (If you want even more sales coverage, sign up for our email newsletter.)
Photo: Retailer
Let's start at Anthropologie, which is having a sale on beauty favorites — including Supergoop's Unseen Sunscreen, which is one of our favorite sunscreens for dark skin tones.
Photo: Retailer
This Slip silk eye mask is also 20 percent off, in case you want to feel a little pampered at night.
So is this best-selling lactic-acid treatment from Sunday Riley, which will exfoliate, smooth, and brighten your skin tone.
Anthropologie is having a sale on gear for summer entertaining — including this nearly six-foot-long cotton beach towel.
Here's a stylish cooler bag that you won't be embarrassed to bring out to dinner after the park hangout goes longer than expected.
Or, if you're optimizing for practicality instead of aesthetics, this soft-sided backpack cooler will hold 24 cans and will fit easily in the back of your closet or under your bed when you don't need it.
Photo: retailer
No matter what activity you're doing this summer, staying hydrated in the heat is important — and this stainless-steel CamelBak is insulated to keep cold drinks cold (and the bright purple means you'll never forget it).
It's hard to tell from the photo, but this jumpsuit is made of French terry cotton, so it'll feel as soft as your favorite pair of sweatpants but look a lot more dressed-up.
If you like the functionality and silhouette of Birkenstock EVA sandals but wish they came in crazy colors like Crocs, consider Freedom Moses. They make plastic slides in fun designs, like this black-and-pink floral.
This not-too-preppy plaid blouse from Levi's — of all brands — would pair well with a pair of cutoffs now and a nice pair of high-waisted, wide-legged pants when you need to go back to the office.
On the other side of the spectrum from Levi's is this subtle tie-dye Grateful Dead crewneck, which is discounted as part of East Dane's version of the "It Just Got Better …" sale.
These nylon shorts fall somewhere between Patagonia Baggies and climbing shorts, but they're practical for just about any summer adventure, from kayaking to sitting at the bar.
These mesh Vejas have a sportier shape than the traditional V-10s (and remind us of tennis shoes, in the best way).
Photo: retailer
If you want a refresher on how a crew of street racers who hijacked cargo trucks for TVs with built-in VCRs ended up as global crime fighters who drive cars in space in F9 — the latest installment of the Fast & Furious franchise that's in theaters today — pick up this eight-movie collection that you can watch over and over and over. If you don't have a Blu-ray player, don't worry, family: It comes with a digital code to download all the movies straight to your laptop.