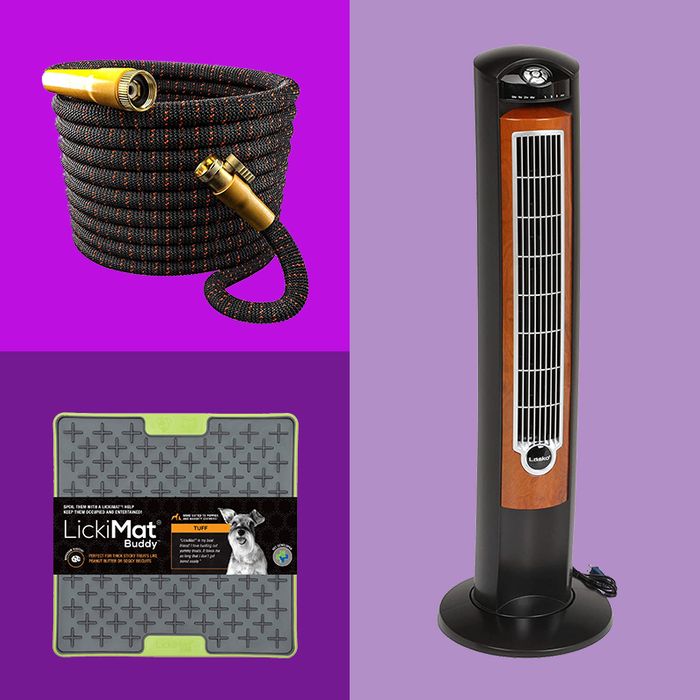 Photo-Illustration: The Strategist; Photos: Retailers
Welcome back to Your Shopping Cart, where we break out the top-ten products that you, devoted Strategist readers, all bought in droves. Think of this as the tl;dr of the Strategist. If your like-minded brethren are buying these items, maybe you'd like to, too.
By the looks of it, readers are gearing up for a post-vaccine summer of travel, with top spots in your carts going to immunization-card holders, a dermatologist-recommended sunscreen, and disposable masks that would work well for any upcoming vacation flights. There were only two items appearing on our list for the first time this month: a stretchable garden hose and (very) distracting dog toy. The rest we've seen before, including luxurious gel-infused pillows, an oscillating tower fan for fighting the summer heat, and a reader-beloved lightweight moisturizer that's making its 14th appearance.
Even if you're vaccinated, masks are still required by the CDC on all forms of public transportation, as well as in many indoor settings. These masks, the South Korean equivalent of N95s, took the top spot in your carts back in March, as double masking gained popularity, and they're having a resurgence now as more people prep for their summer travel plans. This particular brand is a longtime favorite of Strategist senior vice-president of e-commerce Camilla Cho. She says these masks are tight enough so as not to cause her glasses to fog up, and she likes that the adjustable straps make for a comfortable fit.
Although they're down one spot from last month, these immunization-card holders remain a top seller. Carolyn Frisa, owner and head conservator at Works on Paper, recommends them as a way to keep your flimsy vaccine card protected because, unlike lamination, these sleeves won't cause any long-term damage. Plus, they leave your card easy to remove for verification or to update after potential booster shots.
With the impending arrival of warmer temperatures, it seems that Strategist readers are gearing up to take care of their lawns and COVID gardens. This lightweight expandable hose from TBI is great for saving space. The only downside, says Timothy Hammond of Big City Gardener in Houston, is that "the same thing that makes them light … also leaves them prone to tearing or punctures." To keep them safely stored when not in use, Southern California gardener CaliKim hangs hers from a wall-mounted rack.
These pillows have been in readers' carts ever since we deemed them the best pillows according to hyperenthusiastic Amazon reviewers at the start of 2021. Although there's no guarantee they will solve coronasomnia, they've made more than 81,000 Amazon customers happy and well rested enough to leave five-star reviews. One person with insomnia describes them as "magical" and was shocked when they were able to sleep for 11 hours straight: "I woke up and was SO comfortable and the pillows were still soft and fluffy. And I was so cozy, I could have fallen right back to sleep."
A longtime Strategist favorite, EltaMD UV Clear has been a top pick among dermatologists and Strategist readers since 2018. Jennifer MacGregor of Union Square Laser Dermatology appreciates that it's "lightweight and oil free, so it won't clog pores," making it ideal for acne-prone skin. It's also rich in antioxidants that help protect against skin-damaging free radicals, making it especially effective for avoiding sunburns (and the dreaded mask tan) this summer.
Another Strategist staple, this Lasko fan has been in readers' carts for the past three summers. The powerful fan is the best-rated tower fan on Amazon, with more than 18,000 five-star reviews. Experts love it, too: In our story about how to cool your apartment without an air conditioner, interior designer Ariel Okin recommends the Lasko, noting it gets her through the weeks before her building turns on its central air-conditioning.