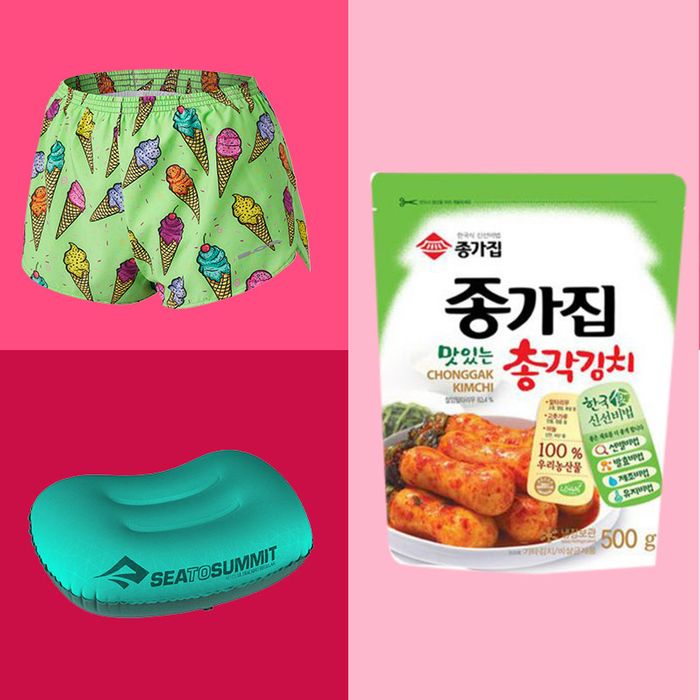 Photo-Illustration: retailers
We write about hundreds of products a week. Here, in our version of the Sunday circular, we've plucked out some of our favorites — expert-recommended essentials, life-changing stuff you didn't know you needed, newly launched gizmos, and the very good deals we uncovered while trolling through the vast online-shopping universe this past week, including statement-making studs, Bill Nye's shampoo for dandruff, and a pair of on-sale smart speakers.
Chic Croc-like clogs
If you've been on the hunt for comfortable shoes that are actually stylish, look no farther. When we spoke to Kate Branch about her honeymoon trip through Montenegro, along with the best beaches and shrines worth seeing, she tipped us off to what she calls the "chic alternative to Crocs." She wore the Italian-made clogs while visiting beaches, of which she notes, "most are filled with rocks, not sand," and they "kept [her] feet comfortable while wading in the water."
Bill Nye's shampoo for dandruff
"I have had issues with dandruff my whole life. Head and Shoulders works best for me," Bill Nye told us when we spoke to him about the things he can't live without. While he's tried other shampoos, he thinks this outshines the rest because "the particles of zinc pyrithione in Head and Shoulders are smaller. So it's easier for them to find their way into the funnel-shaped parts of your skin where your hairs grow."
Fun shorts for serious runs
For the latest installment of On the Run, senior writer Karen Iorio Adelson spoke to Emily Halnon, who holds the record for the fastest known time running the Oregon section of the Pacific Crest Trail. One of the things Halnon wore on a 50-mile run in the Grand Canyon this May were these running shorts. "BOA is actually a short that I was first attracted to because they're so fun," says Halnon of the California-based brand. Her friend Eli, who ran with her in the Canyon, wore BOA shorts too. "We both like to wear really fun things while we're doing these hard things because it reminds us that we're out there for fun, and that we can insert a lot of fun and joy into these really hard and rugged runs and adventures that we do," she says. Aside from their looks, the shorts are also excellent for long-distance runs. "They're so comfortable, they don't chafe, they're made of this flowy, barely-there fabric, and they've got a nice generous split on the side," she says.
Statement-making studs
Just in time for the great reemergence, we unearthed plenty of stuff that's sure to turn heads in this week's Don't Dillydally column. These eye-catching earrings are from Studs, "the Glossier of piercing studios" that makes some of our favorite hypoallergenic earrings. This NYC piece comes from the recently released "Say It With Studs" collection, its "first foray into words-as-earrings, which debuted with a splashy campaign featuring Teyana Taylor." Other earrings in the collection "feature words like drip, vibe, and baby, and can be paired to make phrases like fuck y'all and big mood."
A compact pillow for camping, car rides, and couch-surfing
Photo: retailer/B) Sea to Summit
Contributor Maggie Slepian, an avid long-distance hiker, is very careful about the gear she brings backpacking. She looks for "things that are compact and durable," but also products she can use while "traveling off the trail or even just at home." This Sea to Summit pillow ticks all those boxes. "In my decade of backpacking, few, if any, things have proven as versatile as the inflatable Aeros Ultralight Pillow I've slept on at camps, in cars, on planes, and even on couches for the past six years," she writes. When deflated, it "takes up about as much space as a deck of cards" and "inflates to a generous size" that's "about half the width of your standard pillow and is plenty big for camping." She likes it for traveling by car, train, or plane because its "more traditional, curved shape is perfect for wedging between my head and whatever surface I'm sitting next to." And it's so comfortable that she's opted for it while sleeping at friends' houses. She explains, "It's so easy to carry and I don't have to risk sleeping on a borrowed pillow that may not be as comfortable as this tiny air-filled wonder."
Cooling weighted blankets with bamboo covers
Weighted blankets make excellent gifts and come in handy during stressful times. But during the summer, they may seem sweat-inducing. In our roundup of the best weighted blankets, we found that this Luxome one "excels at keeping you cool, thanks to its thin weave and bamboo covering." The blanket's exterior "feels like a silky sateen that glides over the skin without absorbing any heat," and as the weight increases, so does the surface area of the blanket, which isn't the case with every brand. According to Joe Auer, the founder of sleep-product review site Mattress Clarity, this means "all their blankets provide the same amount of pressure, no matter what [weight] you choose," so even the larger blanket is thin enough to not feel hot or suffocating.
Michelle Zauner's favorite kimchee
"I buy this if I don't have time to make chonggak kimchee, which was my favorite style of kimchee growing up," musician Michelle Zauner from the band Japanese Breakfast told us. She claims that it's "the most underrated style of kimchee" and even talks about it in her memoir, Crying in H Mart. "A Korean meal doesn't feel complete to me if it doesn't have that kimchee," she explains. "I eat it with pretty much any Korean dish."
A two-in-one hybrid mattress
A new addition to our roundup of the best online mattresses is Layla's hybrid mattress, which we dubbed one of the best all-around mattresses. Writer Tembe Denton-Hurst tested out the flippable mattress, which has a soft side and firm side. She reports that it's "bouncy but never gives that sinking feeling" and "both sides, firm and soft, each proved supportive." Tembe also points out that while it's on the more expensive side, "the ability to simply flip this one should you want a softer or firmer feel makes it worth the investment, especially if you're sharing a mattress with someone who prefers a different feel. It's almost like you're getting two mattresses for the price of one."
The best anti-aging moisturizer with SPF (according to hyperenthusiastic Amazon reviewers)
SPF is a must for mature skin, but it's nice to have a sunscreen that also moisturizes. Plenty of older Amazon reviewers rave about this Neutrogena product because it helps their skin look healthy and hydrated, while also protecting them from the sun. A reviewer, who is almost 50, says that the moisturizer delivers results in a remarkably short period of time. "In four weeks' time, I'm impressed with the texture of my skin … I find myself patting my face, it feels velvety-soft and smooth." And while it's on the creamy side, another reviewer notes that it feels "nourishing. [It] makes my skin look healthy, elastic, and dewy, but not greasy."
A pair of on-sale smart speakers