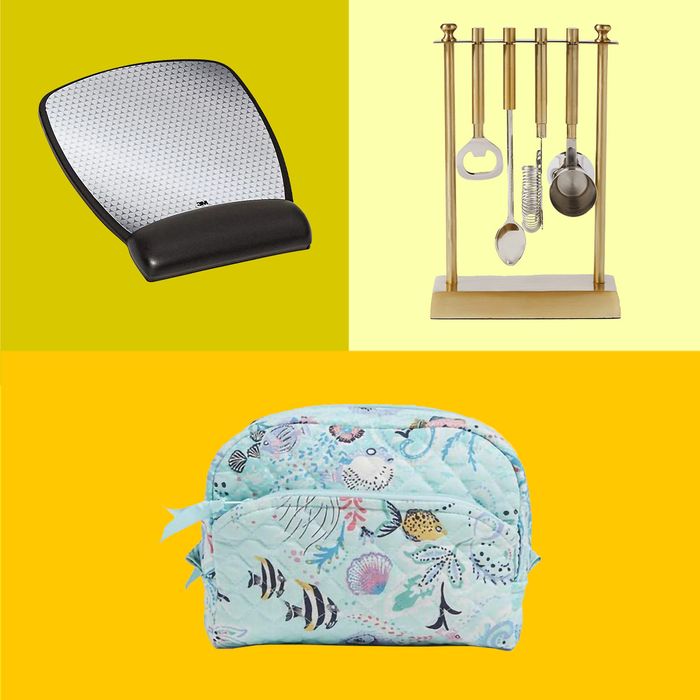 Photo-Illustration: The Strategist; Photos: Retailers
If you follow our monthly feature "Your Shopping Cart," you know we have some eerily good intel on what you all are buying. Which led us to think that, as Strategist editors, we could turn the tables and highlight all the things we've been buying for ourselves. As you'll notice, it's both a blessing and a curse to be a Strategist editor; we're picky, but sometimes we just have to get on with it. (It's online-shopping expertise meets IRL needs.) Below, what we all bought in June.
Maxine Builder, editor
Some may say Vera Bradley is cheugy. I would say this cosmetic bag — which I got for over 30 percent off on Prime Day — is classic.
Lauren Ro, writer
I don't know why I waited so long to get a pair of EVA Birkenstocks, because they're the lightest shoes I have ever owned and some of the most comfortable — I already knew that because I've had a pair of leather Gizehs since college. (Arizonas do not work for my feet, much as I would like them to.) I don't need to spell it out for you, but these are perfect for summer, especially if you'll be around water in any form (splash pads, the beach, rainy weather). Alas, they're still plastic (durable, though), which means I consider them more like flip-flops than "real" shoes, but they're all I want to wear.
I don't follow many "momfluencers" on Instagram, but there's one woman I can't get enough of. She dresses her three small boys in the most adorable vintage-Americana outfits — think ringer tees, track shorts, old OshKosh overalls — and her home is impeccably (if not a little too preciously) styled too. Needless to say, I got "influenced" and wanted to steal the look, namely the shorts, for my 2-year-old. I considered ordering some on Etsy but felt too cheap paying $25 for a single pair, so I looked on Amazon, where I found a three-pack for the same price. They're kind of incredible. They're well made and roomy in the legs, and while they may be a little on the short side, they just look too cute on Augie.
Anthony Rotunno, senior editor
After Liza wrote about how Comfort Colors was founded by the cousin of the guy who started Patagonia, the brand immediately became more covetable to me. Last fall, while visiting family in Sandwich, Massachusetts, I stumbled upon a souvenir long-sleeved T-shirt in a gift shop and noticed the tag said "Comfort Colors." Novelty T-shirt sucker that I am, I bought it (it's true to size, I'm a medium) and grew to love it for the same reasons Liza fell for the brand's quarter-zip sweatshirt: The tee is soft, feels substantial for the price, and has an easy fit that's not clingy but trim enough to allow for layering. I stocked up on three more in June when some of the 43 available colors went on sale (for $10) during Amazon Prime Day. But even at full price, the shirts seem a steal for a good-looking, comfortable basic I can see myself wearing for years.
Jessica Silvester, contributing editor
Cheap but expensive-looking alert: For Father's Day, I gave my dad this bar-tool set I ordered from Target at the last minute, and he shot me a glance like, "Why did you go and spend all this money on me?" (Pottery Barn sells a similar one for more than twice as much.) Really I just wanted to get him any self-contained unit that could hold the jigger and strainer and stirrer he uses for his nightly cocktail-making, because when he leaves the pieces sitting around loose, my kids tend to grab them and play with them and then inevitably lose them in the toy abyss. But it was a bonus that the set ended up having such impressive heft and a nice, antique-y finish.
Best I can tell from personal experience, kids ages 1 through at least 7 go crazy for these squishy octopuses — they are like the kinetic sand of bathtub play. Unfortunately, the tentacles do fall off if your children pull and bite aggressively on them, as mine do, so I try to stock up fairly often, especially because they tend to go out of stock. But they're available now, so get them while you can!
Chloe Anello, writer
My very smart dog learned how to get out of his crate recently. Every time we put him in there when we leave for an hour or so because we don't want him roaming freely around the apartment