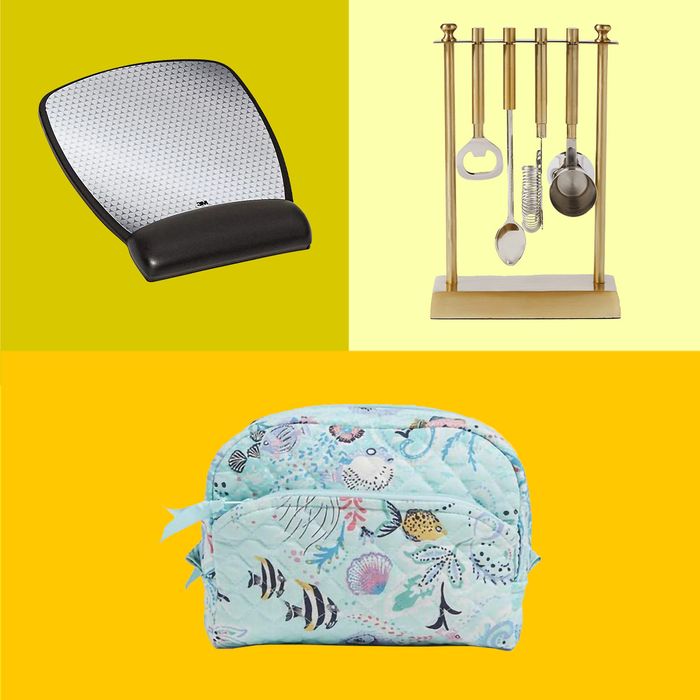 Photo-Illustration: The Strategist; Photos: Retailers
If you follow our monthly feature "Your Shopping Cart," you know we have some eerily good intel on what you all are buying. Which led us to think that, as Strategist editors, we could turn the tables and highlight all the things we've been buying for ourselves. As you'll notice, it's both a blessing and a curse to be a Strategist editor; we're picky, but sometimes we just have to get on with it. (It's online-shopping expertise meets IRL needs.) Below, what we all bought in June.
Maxine Builder, editor
Some may say Vera Bradley is cheugy. I would say this cosmetic bag — which I got for over 30 percent off on Prime Day — is classic.
Lauren Ro, writer
I don't know why I waited so long to get a pair of EVA Birkenstocks, because they're the lightest shoes I have ever owned and some of the most comfortable — I already knew that because I've had a pair of leather Gizehs since college. (Arizonas do not work for my feet, much as I would like them to.) I don't need to spell it out for you, but these are perfect for summer, especially if you'll be around water in any form (splash pads, the beach, rainy weather). Alas, they're still plastic (durable, though), which means I consider them more like flip-flops than "real" shoes, but they're all I want to wear.
I don't follow many "momfluencers" on Instagram, but there's one woman I can't get enough of. She dresses her three small boys in the most adorable vintage-Americana outfits — think ringer tees, track shorts, old OshKosh overalls — and her home is impeccably (if not a little too preciously) styled too. Needless to say, I got "influenced" and wanted to steal the look, namely the shorts, for my 2-year-old. I considered ordering some on Etsy but felt too cheap paying $25 for a single pair, so I looked on Amazon, where I found a three-pack for the same price. They're kind of incredible. They're well made and roomy in the legs, and while they may be a little on the short side, they just look too cute on Augie.