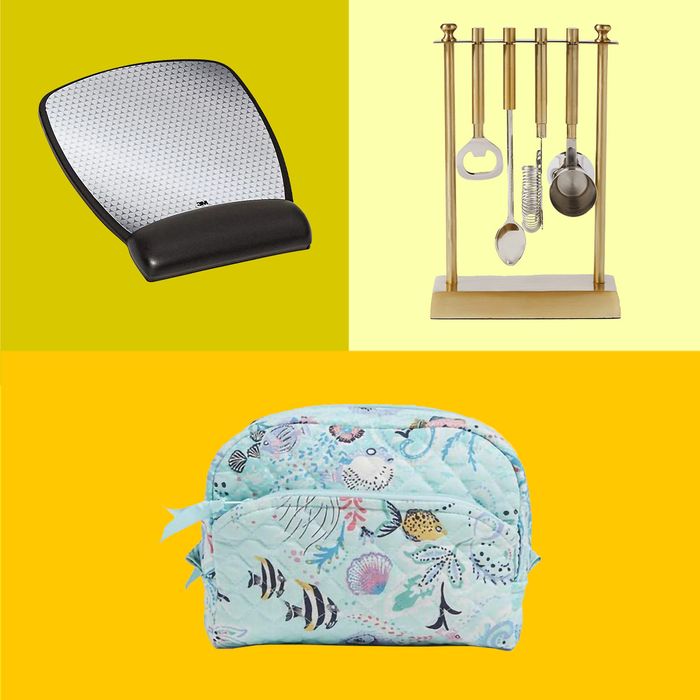 Photo-Illustration: The Strategist; Photos: Retailers
If you follow our monthly feature "Your Shopping Cart," you know we have some eerily good intel on what you all are buying. Which led us to think that, as Strategist editors, we could turn the tables and highlight all the things we've been buying for ourselves. As you'll notice, it's both a blessing and a curse to be a Strategist editor; we're picky, but sometimes we just have to get on with it. (It's online-shopping expertise meets IRL needs.) Below, what we all bought in June.
Maxine Builder, editor
Some may say Vera Bradley is cheugy. I would say this cosmetic bag — which I got for over 30 percent off on Prime Day — is classic.
Lauren Ro, writer
I don't know why I waited so long to get a pair of EVA Birkenstocks, because they're the lightest shoes I have ever owned and some of the most comfortable — I already knew that because I've had a pair of leather Gizehs since college. (Arizonas do not work for my feet, much as I would like them to.) I don't need to spell it out for you, but these are perfect for summer, especially if you'll be around water in any form (splash pads, the beach, rainy weather). Alas, they're still plastic (durable, though), which means I consider them more like flip-flops than "real" shoes, but they're all I want to wear.
I don't follow many "momfluencers" on Instagram, but there's one woman I can't get enough of. She dresses her three small boys in the most adorable vintage-Americana outfits — think ringer tees, track shorts, old OshKosh overalls — and her home is impeccably (if not a little too preciously) styled too. Needless to say, I got "influenced" and wanted to steal the look, namely the shorts, for my 2-year-old. I considered ordering some on Etsy but felt too cheap paying $25 for a single pair, so I looked on Amazon, where I found a three-pack for the same price. They're kind of incredible. They're well made and roomy in the legs, and while they may be a little on the short side, they just look too cute on Augie.
Anthony Rotunno, senior editor
After Liza wrote about how Comfort Colors was founded by the cousin of the guy who started Patagonia, the brand immediately became more covetable to me. Last fall, while visiting family in Sandwich, Massachusetts, I stumbled upon a souvenir long-sleeved T-shirt in a gift shop and noticed the tag said "Comfort Colors." Novelty T-shirt sucker that I am, I bought it (it's true to size, I'm a medium) and grew to love it for the same reasons Liza fell for the brand's quarter-zip sweatshirt: The tee is soft, feels substantial for the price, and has an easy fit that's not clingy but trim enough to allow for layering. I stocked up on three more in June when some of the 43 available colors went on sale (for $10) during Amazon Prime Day. But even at full price, the shirts seem a steal for a good-looking, comfortable basic I can see myself wearing for years.
Jessica Silvester, contributing editor
Cheap but expensive-looking alert: For Father's Day, I gave my dad this bar-tool set I ordered from Target at the last minute, and he shot me a glance like, "Why did you go and spend all this money on me?" (Pottery Barn sells a similar one for more than twice as much.) Really I just wanted to get him any self-contained unit that could hold the jigger and strainer and stirrer he uses for his nightly cocktail-making, because when he leaves the pieces sitting around loose, my kids tend to grab them and play with them and then inevitably lose them in the toy abyss. But it was a bonus that the set ended up having such impressive heft and a nice, antique-y finish.
Best I can tell from personal experience, kids ages 1 through at least 7 go crazy for these squishy octopuses — they are like the kinetic sand of bathtub play. Unfortunately, the tentacles do fall off if your children pull and bite aggressively on them, as mine do, so I try to stock up fairly often, especially because they tend to go out of stock. But they're available now, so get them while you can!
Chloe Anello, writer
My very smart dog learned how to get out of his crate recently. Every time we put him in there when we leave for an hour or so because we don't want him roaming freely around the apartment, he escapes. We wanted to see how he was doing it, so we set up my iPad's camera to catch him in the act. As soon as he got out, he ran around the apartment looking for us and barking, which is not … great. We got the Furbo during Prime Day so we can talk to him while we're out grocery shopping or running errands and have the device give him treats to calm down in case he escapes or barks (he always does). We haven't put it to the real test yet since we haven't really left the apartment for an extended period of time. But I hope it makes a difference so our neighbors don't complain.
My mom recently got a new, very exciting job. To celebrate, my sister, sister-in-law, and I sent her this absolutely stunning bouquet from Pomp. I was gifted one originally by the brand ahead of its launch, and I was really impressed with the service — quick, easy, well priced, and amazing quality. When my mom saw the bouquet in my apartment, she couldn't get over how beautiful it was, so I knew I had to send her this one. She was thrilled, and even though it certainly isn't cheap, we all thought it looked way more expensive than it actually was, which makes it even more worth it.
Leah Muncy, junior writer
I am so glad that we as a society have rediscovered the universally flattering V-waist. These thongs from Gap are what I believe to be peak underwear: They've got a high leg and a dipped waistline and are made of organic cotton. I don't think a better pair of underwear exists. I bought three pairs on the spot and sized up for an extra-comfy (and high-rise) fit.
After spending a day at the park drinking hot water from my woefully uninsulated Nalgene, I decided it was time to invest in a Hydro Flask. It really does live up to the hype: I filled it with ice water and took it to a party, and the water was still ice-cold the next morning. I opted for this (on sale) spearmint-green color, which is easy to spot when I'm rummaging through my giant tote bag.
Dominique Pariso, writer
I've been using this Dieux serum for the past month, and I'm here to tell you that, yes, it is as good as everyone says it is. It's lightweight and soothing and has really helped tone down my skin's redness and discoloration through its blend of niacinamide, water-lily complex, peptides, and a (clinically tested) cannabinoid complex. I also love that the brand donates $1 to the Floret Coalition for every bottle of Deliverance sold.
Note: The serum is currently sold out, but you can sign up for the wait list here to be notified of restocks.
Jordan Bowman, tech writer
After not traveling for a year, I became obsessed with improving my packing abilities. I booked a trip recently and started to realize that folding everything and stuffing it into my suitcase with very little afterthought is probably not the best way to travel. After digging around the Strategist for a few minutes, I found this story praising these Eagle Creek packing cubes. I used them for a week and a half while traveling and switching Airbnbs, and they make packing feel more like an art form than an inconvenience. I no longer had to worry about where I'd put the phone charger or my swim trunks; everything was carefully packed away with Marie Kondo–like precision.
I missed out on Grace Wales Bonner's first Adidas collaboration last year; it featured retro tracksuits and Wales Bonner's own spin on the classic Samba. Wales Bonner clothes and collaborations often explore the designer's own British and Jamaican heritage, similar to my own, which is why I have always been drawn to the brand's imagery and storytelling. It's evocative of the photos I would see of my own family spending time in Jamaica holding Red Stripe beers or strolling around Brixton, London, in the '80s. The shoes are Wales Bonner's take on the classic Adidas Nizza silhouette. They are lightweight and easy to slip on and off, and they come with these muted-yellow laces. But the story behind them feels that much more important.
Crystal Martin, senior editor
After ignoring my wrist pain for a couple of months, it got so bad that I needed to start looking into better ergonomic options for my WFH setup. Honestly, I had mostly just been hunched over my dining table, so anything well considered would be an upgrade. This mouse pad was the first thing I purchased. The wrist cushion is dense and supportive but comfortable. And it keeps my wrist straight, which is key to easing my pain. The mousing surface, which looks metallic and has tiny grooves, makes my movements more precise than on my previous felt-covered pad. And the surface area is just the right size — not too big, not too small.
Arielle Avila, junior writer
For years I've tried smoothing out patches of textured skin on my face by using peels and exfoliants but have had no luck. On a near-sleepless night this month, I went to the experts — on Reddit and YouTube, of course — and concluded that I might have been overexfoliating and damaged my skin barrier. This serum by Krave Beauty was mentioned in multiple Skin Care by Hyram videos and Reddit threads, and I'm hoping it'll do the trick — along with stepping away from all exfoliants for a while. I've used it for about a week, so it's still early to see its lasting effects, but my skin already feels more hydrated and plump without looking oily (even on the hottest days).
I did a bit of thrifting this month and was dead set on finding breezy pants for summer. I found these in the women's section at a Buffalo Exchange, and they ticked all the boxes: high waisted, loose but not baggy, ankle length, and lightweight. It wasn't until I got home, checked the tag, and did some digging that I realized they were in fact boys' uniform pants and I had paid $5 more than their price online. I also discovered that they have a built-in adjustable elastic waistband for an even better fit. If you're around five-foot-one and looking for an Everlane chino dupe, save yourself about $40.
Karen Adelson, senior writer
I'm in full summer-reading mode, so I've been picking up books that are exciting, fast moving, and don't require too much thinking. The two I've read so far — The Plot and The Other Black Girl — have also just been really excellent reads that are both a little bit creepy. Right now, I'm on Sex and Vanity, by Crazy Rich Asians author Kevin Kwan, and it's already proving to be a delightful comedy of manners.
Jenna Milliner-Waddell, writer
My friend moved a couple of months ago and is still working on decorating. They actually won't invite me over until the decorating process is complete, so to speed that up a bit, I ordered this print. I learned about photographer Cary Fagan and his store, Timeless Goods, while working on "The Best Pieces of Black Hair Art." I think this piece will be perfect, even though I don't know what the rest of the place looks like.
Gen Z said skinny jeans are out, so I'm trying something new. Last year, I bought two pairs of Levi's Balloon Leg jeans, but they're a little too cropped to wear with everything. I'm hoping these are long enough, but not too long, to look good with both sneakers and heels.
Kitty Guo, junior writer
My extensive earring collection is cute, but the way I was storing it — piled up on my dresser table like I was a dragon hoarding a collection of sterling-silver hoops — was not. I got this adorable neon-pink-and-orange acrylic earring stand to organize them and immediately freed up about 95 percent of my nightstand's square footage. Each hanger can hold one-to-four pairs, depending on the design, for a maximum of 60 pairs, so I still have plenty of room to accommodate future additions to my collection.
In the summertime, there's a fine line between looking glowy and sun kissed or like your foundation is melting off your face. Thankfully, Ilia's Skin Tint delivers the former every time. Its formula is lightweight and moisturizing and gives me that perfect dewy finish thanks to ingredients such as squalene and niacinamide. It also contains mineral SPF, but I prefer to double up on my sun protection so I wear my usual sunscreen underneath, then layer on a pea-size amount for extra coverage.
The Strategist is designed to surface the most useful, expert recommendations for things to buy across the vast e-commerce landscape. Some of our latest conquests include the best acne treatments, rolling luggage, pillows for side sleepers, natural anxiety remedies, and bath towels. We update links when possible, but note that deals can expire and all prices are subject to change.