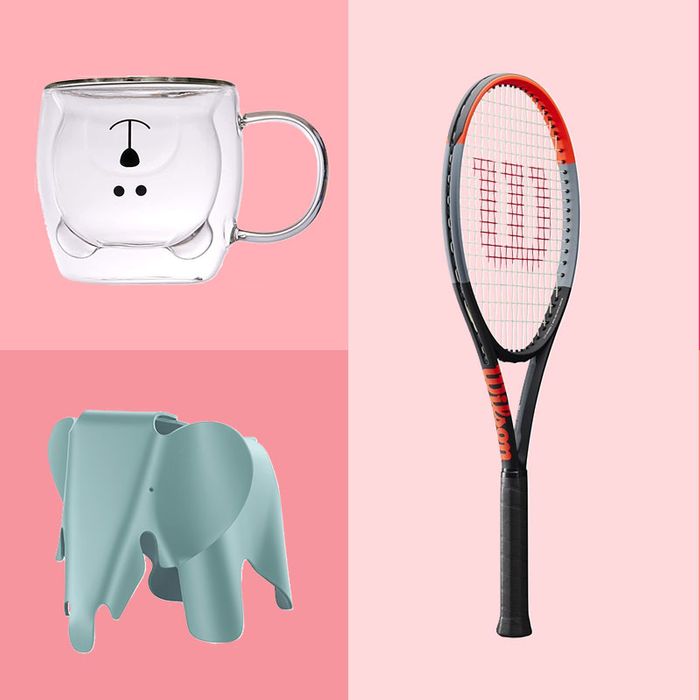 Photo-Illustration: retailer
If you follow our monthly feature "Your Shopping Cart," you know we have some eerily good intel on what you all are buying. Which led us to think that, as Strategist editors, we could turn the tables and highlight all the things we've been buying for ourselves. As you'll notice, it's both a blessing and a curse to be a Strategist editor; we're picky, but sometimes we just have to get on with it. (It's online-shopping expertise meets IRL needs.) Below, what we all bought in May.
Crystal Martin, senior editor
I pretty much use only bone china mugs — I enjoy the fineness of the lip and that they're light but sturdy. But one day, while searching for We Bare Bears merch, I happened upon this glass upside-down bear mug. This purchase was about delight and cuteness, but as it turns out, the mug's quite functional, too. It keeps my coffee warm for a nice length of time (certainly as long as porcelain) and has survived two falls. There was luck involved there, surely, but the mug's made from borosilicate glass, which is much less rigid and studier than regular glass.
Lauren Ro, writer
I'm a Rachel Cusk fan for life and ordered her new book as soon as it came out. Second Place is an epistolary novel in which an unnamed narrator writes to her friend Jeffers about what unfolds when she invites a famous painter (whose work she is familiar with but personally doesn't know) to stay with her and her family in their isolated home. It's safe to say that she's obsessed with the painter, who takes advantage of his hold on her. I gobbled it up within a few days and plan to reread it again soon, this go-around taking the time to underline passages and sit with the questions she raises about what it means to truly have freedom as a woman.
My friend (and Strategist contributor) Iva Dixit recently posted this on her Instagram story, saying that it was the only sunscreen for her. I was intrigued by her description of it as a gel-like SPF, which sounded great for warmer weather ahead. I've always been an EltaMD girl, but sometimes it feels really heavy on my face. I have to say that I love how smoothly and easily this goes on my skin and plan to add it into my rotation.
Kelsie Schrader, editorial coordinator
My mom got me hooked on these. They started out as a mint-like treat for when I got bored and thought eating something would solve my boredom. But at the rate I'm eating them (I'm not even going to pretend what I'm doing falls in the "snacking" category), I guess I'm bored about every three minutes. They're chewy, which occupies me, and I like the spicy-zesty flavor that leaves my mouth somehow burning and cool at once, which sounds weird but is refreshing. I have a fun time pretending I'm doing a lot for my health by consuming so much ginger, which I am absolutely not doing, given that I've gone through multiple bags of these bad boys in a month. But to quote Ralph Ellison in an unworthy context, "To hell with being ashamed of what you liked. No more of that for me!"
I also finally got an armchair for my newish apartment. I came across this one on Way Day. All of the reviews looked good, the price (just over $200 during the sale) was manageable, and I liked the simple style, so I decided to go for it. I am thoroughly pleased with the purchase. It was easy to put together, it's surprisingly comfortable for the price, and it looks, in my opinion, nicer than a $200 chair. It's been a comfy place to consume ginger chew after ginger chew and read some Ellison.
Arielle Avilla, junior writer
After a year of using subpar noise-canceling headphones, I finally replaced them with these refurbished AirPods Pro that I snagged for less than $200. I had a pair of the original ones that I returned because they'd constantly fall out of my ears, but that hasn't been the case at all with these. No matter if I'm on the couch or on the go, they haven't budged, and they've been a game changer for my WFH setup and walks with my dog.
Feeling optimistic about a post-vaccine summer, I did a bit of a Sephora makeup haul this month and purchased plenty of lip gloss and blushes. My favorite by far has been this Tower28 gloss in "Spicy," which is exactly what I'm trying to invoke this season. Aside from its pretty red shade, the best part is that it's somehow significantly less sticky than other glosses and my hair never gets stuck to my lips when I'm wearing it.
Maxine Builder, editor


I moved at the beginning of the month, so most of my spending money went toward furniture. Our best deal was a secondhand Floyd bed frame that my boyfriend found on Craigslist. It's the birch version with white hardware, without the headboard, and we got it for $400, so a bit more than half of what it costs new. What surprised me the most was how easy the bed was to move — my new, primary criteria for all furniture coming into my third-floor walk-up apartment. The wood panels look and feel solid, but they're light: I could even carry one upstairs all by myself. And after a few weeks of sleeping on it, I'm fairly impressed with how well it's holding together (despite the ratchet strap-reliant construction) and how little the mattress slides around on the platform.
Dominique Pariso, writer
Without my roommate's pour-over setup, I've gotten extremely lazy with my morning coffee routine (left to my own devices, I will drink cup after cup of plain Jane percolated coffee). But then I bought this Copper Cow Coffee sampler pack (SuChin Pak is also a fan). The coffee kits are designed to make it super-easy to have pour-over Vietnamese coffee every morning, without needing any equipment except a kettle. The niftiest part is that the coffee grounds come in a filtered bag with a set of wings on either side that you can nestle in your mug. It also includes single-serve sweetened condensed milk creamers (there's a coconut-based vegan option, too). The company has guides on its site to make hot, iced, and cold-brew coffee, and they come in fun flavors like rose, lavender, and vanilla.
Leah Muncy, junior writer
My hair gets extra frizzy in the summer (thank you, New York humidity) so I picked up a bottle of this hair oil from Kerastase after seeing teen pop sensation Olivia Rodrigo use it in her Vogue Beauty Secrets video. My hair doesn't look nearly as good as hers, but it's the best hair oil I've tried: It never looks greasy, tames my flyaways, and has the most luxurious smell. And unlike most hair oils, it's also made from noncomedogenic ingredients, so I don't have to worry about breakouts.
I was wandering through the MoMA Design Store last week and practically screamed when I found these adorable bean-shaped water bottle sponges. I bought them for a friend for her birthday, so I haven't tried them yet, but the instructions are simple: Drop the little beans into your water bottle, add a drop of dish soap, and shake. They're filled with aluminum and ceramic beads to give them some weight and scrubbing power, and they're the perfect size for her narrow-mouth (and notoriously hard-to-clean) Nalgene.
Chloe Anello, writer
I started playing the violin at 4 years old and stopped before I went to college. But recently, I decided to start playing again. Unlike practicing in my parents' home as a kid, my apartment is much less welcoming when it comes to playing loud instruments at the end of the workday. To buffer the sound (and prevent my neighbors from hating me), I bought some mutes. These little rubber claws dampens sound by reducing how much the strings vibrate. It's not as fun as playing without them, but it works for the time being, and I don't have to stifle my strokes. The pack offers two different sizes, depending on how quietly I would like to play, and because I'm prone to losing things, it's good to have spares.
Rudy, my 10-pound mini-Schnauzer mix, needed a new collar. He's a somewhat fussy dog — he does not enjoy things being put over his head or around his neck or just on him in general, which makes getting his harness and collar on for walks multiple times a day just so fun. Before you say, why don't you just leave it on him, he has very sensitive skin: The friction from a collar (no matter how loose I keep it or the materials) will easily cause a rash, then he'll spend the whole day itching his neck and whining. So I tend to take it off of him for his sanity, and mine. This collar has a sort of seat-belt-buckle closure instead of a regular belt closure, and I thought that might be easier to get on and off because I can clip it on before he even has a chance to protest. And I think he looks particularly great in deep-blue hues.
Jenna Milliner-Waddell, writer
I picked this up before my vacation in the hopes of finding something with a little coverage that I wouldn't need to apply with a brush, and also be a match for my skin as it got darker throughout the week. I tried a few different things before I landed here, and it's perfect. The oil-free formula doesn't leave me feeling sticky, and this color is a perfect match for me. I'll be wearing it all summer.
When I returned from vacation I picked this up for the heat rash I'm still dealing with a week later.
Anthony Rotunno, senior editor
My favorite linen shirt is back in stock at J.Crew and I couldn't resist scooping it up in two new colors: the striped Washington Blue Multi (which has thin neon-colored stripes mixed in among the thicker blue and white ones) and the solid Sunrise Orange, which is not a color I'd normally wear, but one I want to start wearing. I like this shirt so much I bought the striped one at full price (!), but thankfully had the patience to wait for the orange one to go on sale, which, like clockwork, happened about a week after I made my first purchase.
As the former editor-in-chief of Brooklyn Paper, my desire to buy this T-shirt bordered on obligation. It has now been two years since I left, but finding street corners with the blue boxes that get stuffed with new issues every Friday remains a favorite pastime (much to my husband's chagrin).
Jessica Silvester, contributing editor
Children's books now are all "Honor your feelings!" "It's okay to be grumpy!" But when I was a kid, the literature seemed much more, um, Reagan-esque: Ernie fighting his instinct to fib; Rudolph realizing that self-pity only holds you back. Of course, I know that my 4-year-old is lucky that the genre has evolved, but also, quite frankly, he's a boy who could stand to learn some explicit moral lessons. Which is why I decided to go ahead and revisit installments of the good old Berenstain Bears series, including the 1978 classic Too Much Birthday (because my son had a birthday party coming up) and the '90s-era Green Eyed Monster (because he's jealous of his younger brother). He seemed to absorb the messages — and in fact, he actually didn't cry at his party.
Peter Martin, senior editor
This T-shirt is part of a merch line I found while procrastinating on Twitter. It's designed by my former boss's teenage son, whose younger brother battled leukemia and continues to fight the incredible damage that it has caused. The proceeds go to Memorial Sloan Kettering, Make a Wish, and Gilda's Club. As for the tee itself, I bought it assuming it would be another gym shirt, but now that it's come, it's an instant favorite: supersoft and a good way to keep people I care about on my mind.
Tembe Denton-Hurst, writer
One of my best friends recently became a member of Delta Sigma Theta Incorporated, and it's customary for friends and family to give gifts once they join. Typically, we give paraphernalia with the sorority's letters and/or elephants. Because I'm me, I wanted to get her something other than a T-shirt with her letters, so I opted for this Eames elephant, which is nice-looking and minimal and is the kind of décor piece she can display anywhere in the house. I bought hers in Black (which is currently sold out), but there are lots of other shades still in stock.
Simone Kitchens, editor
I pledged that this is the summer I get back into tennis, but I needed a new racket. I played with the Wilson Blade when I was in Ojai last year and loved it, but it was out of stock at the pro shop I stopped by this weekend. I was quickly convinced to consider the in-stock Clash, which I was told was more of a "player's racket" (even though it appeared in our best tennis rackets for beginners roundup). I haven't hit with it yet as it's currently being stringed, but the carbon frame feels incredibly lightweight and the head size is just right.
While my new racket was getting some overgrip applied, I wandered over to the shorts area. There were lots of colorful Baggies, but it was this funny '90s-looking "Guard" pair that caught my eye. And the fit is everything I want: cinched and high-waisted, blousy through the hips, and generous in the pocket department. I'll wear them for tennis (not the pool) and store extra balls in the little mesh liner.
Louis Cheslaw, associate editor
Warm nights call for crisp whites! As dinners and parties start back up, I've been arriving with this bottle. Everyone always seems to like it, which is especially satisfying given I picked it on total impulse at my local store the first time around.
Also with summer on the brain, I placed an order for the white version of my favorite brown jeans from last weekend's Mashburn New York City trunk show. I already know I love their fit — a higher rise, a slimmer leg — so I'm optimistic they'll become a serious part of my rotation. (I've bought and returned white jeans in the past that were just too preppy, too wide, or too workwear-y.)
Liza Corsillo, senior writer
Photo:
The danger of working at the Strategist is that all my colleagues have incredible taste and it's their job to find the best and nicest-looking things around. Then they Slack those things to me. That's how I ended up buying these Beklina buckle clogs at 3 p.m. on a Thursday. I got them in off-white as a way to rationalize the purchase; they're going to be my wedding clogs.
In my house we try to limit the amount of sugar we buy so we're not tempted to have an elaborate dessert every night of the week. But we always keep a little bit of chocolate in the freezer. This raw chocolate is my newest obsession. It's rich, smooth, kind of fruity, and not overly sweet.
The Strategist is designed to surface the most useful, expert recommendations for things to buy across the vast e-commerce landscape. Some of our latest conquests include the best acne treatments, rolling luggage, pillows for side sleepers, natural anxiety remedies, and bath towels. We update links when possible, but note that deals can expire and all prices are subject to change.