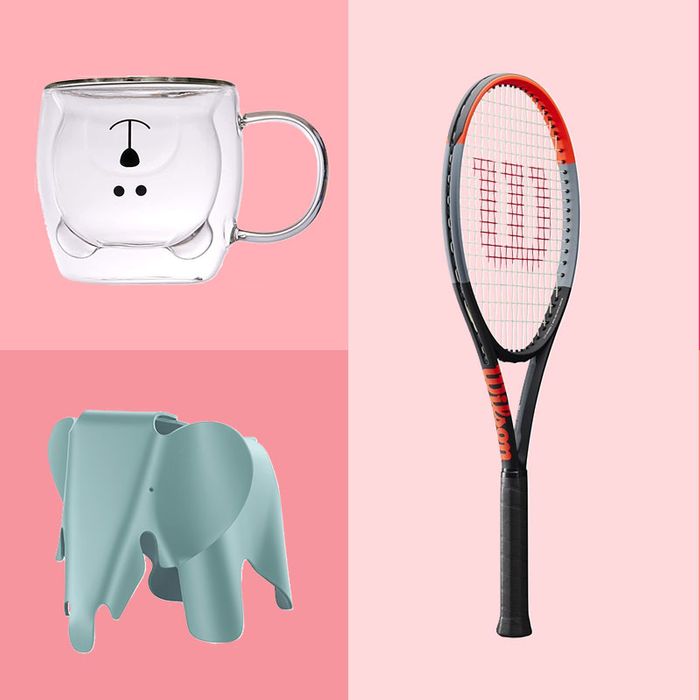 Photo-Illustration: retailer
If you follow our monthly feature "Your Shopping Cart," you know we have some eerily good intel on what you all are buying. Which led us to think that, as Strategist editors, we could turn the tables and highlight all the things we've been buying for ourselves. As you'll notice, it's both a blessing and a curse to be a Strategist editor; we're picky, but sometimes we just have to get on with it. (It's online-shopping expertise meets IRL needs.) Below, what we all bought in May.
Crystal Martin, senior editor
I pretty much use only bone china mugs — I enjoy the fineness of the lip and that they're light but sturdy. But one day, while searching for We Bare Bears merch, I happened upon this glass upside-down bear mug. This purchase was about delight and cuteness, but as it turns out, the mug's quite functional, too. It keeps my coffee warm for a nice length of time (certainly as long as porcelain) and has survived two falls. There was luck involved there, surely, but the mug's made from borosilicate glass, which is much less rigid and studier than regular glass.
Lauren Ro, writer
I'm a Rachel Cusk fan for life and ordered her new book as soon as it came out. Second Place is an epistolary novel in which an unnamed narrator writes to her friend Jeffers about what unfolds when she invites a famous painter (whose work she is familiar with but personally doesn't know) to stay with her and her family in their isolated home. It's safe to say that she's obsessed with the painter, who takes advantage of his hold on her. I gobbled it up within a few days and plan to reread it again soon, this go-around taking the time to underline passages and sit with the questions she raises about what it means to truly have freedom as a woman.
My friend (and Strategist contributor) Iva Dixit recently posted this on her Instagram story, saying that it was the only sunscreen for her. I was intrigued by her description of it as a gel-like SPF, which sounded great for warmer weather ahead. I've always been an EltaMD girl, but sometimes it feels really heavy on my face. I have to say that I love how smoothly and easily this goes on my skin and plan to add it into my rotation.
Kelsie Schrader, editorial coordinator
My mom got me hooked on these. They started out as a mint-like treat for when I got bored and thought eating something would solve my boredom. But at the rate I'm eating them (I'm not even going to pretend what I'm doing falls in the "snacking" category), I guess I'm bored about every three minutes. They're chewy, which occupies me, and I like the spicy-zesty flavor that leaves my mouth somehow burning and cool at once, which sounds weird but is refreshing. I have a fun time pretending I'm doing a lot for my health by consuming so much ginger, which I am absolutely not doing, given that I've gone through multiple bags of these bad boys in a month. But to quote Ralph Ellison in an unworthy context, "To hell with being ashamed of what you liked. No more of that for me!"
I also finally got an armchair for my newish apartment. I came across this one on Way Day. All of the reviews looked good, the price (just over $200 during the sale) was manageable, and I liked the simple style, so I decided to go for it. I am thoroughly pleased with the purchase. It was easy to put together, it's surprisingly comfortable for the price, and it looks, in my opinion, nicer than a $200 chair. It's been a comfy place to consume ginger chew after ginger chew and read some Ellison.
Arielle Avilla, junior writer
After a year of using subpar noise-canceling headphones, I finally replaced them with these refurbished AirPods Pro that I snagged for less than $200. I had a pair of the original ones that I returned because they'd constantly fall out of my ears, but that hasn't been the case at all with these. No matter if I'm on the couch or on the go, they haven't budged, and they've been a game changer for my WFH setup and walks with my dog.
Feeling optimistic about a post-vaccine summer, I did a bit of a Sephora makeup haul this month and purchased plenty of lip gloss and blushes. My favorite by far has been this Tower28 gloss in "Spicy," which is exactly what I'm trying to invoke this season. Aside from its pretty red shade, the best part is that it's somehow significantly less sticky than other glosses and my hair never gets stuck to my lips when I'm wearing it.