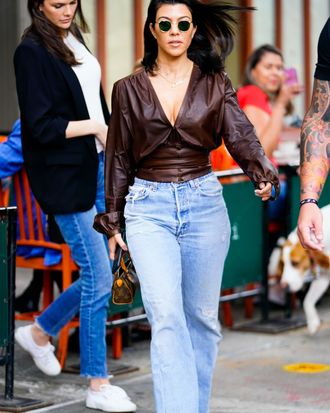 Shopping for the perfect pair of jeans is very needle-in-a-haystack-y. But for the petite, the search is even more winding. Just when you've found a pair with the right rise, shade, and waist-to-hip ratio, you realize you need to trim the length a half-foot. To save you a trip to the tailor, we asked ten stylish women — all five-foot-three or shorter — about the denim that fits them just right. These photographers, content creators, shop owners, and more have excellent style and have tried on lots of denim so you don't have to. "Petites should feel confident about their stature and not feel treated like an afterthought," says Jenny Wang, who founded the petite-clothing shop Petite Studio NYC with that in mind. You'll notice that while there are plenty of cropped and short options on here, there are also some that aren't petite-specific, but the women we spoke to say they still fit their frames. To make your search even easier, we sorted them according to fit and style for easy reference — straight-leg, skinny, flare and bootcut, wide-leg, distressed, and plus-size.
Straight-leg
Straight-leg jeans were recommended the most because they're more frequently offered in short inseams than other styles. A couple of the people we spoke to also say they're the most flattering style. Amy Serrano, who's a content creator, "adores this pair" from Agolde. She says the brand "makes those jeans that just ooze 'cool girl!'" and this high-waisted, straight-leg style "definitely levels up my fits even if I'm just pairing them with a T-shirt." While they're meant to be cropped, Serrano, who's five feet, says that they "hit right at my ankle and [are] the perfect length for a full-length jean." Jessica Turk, another petite content creator, is equally obsessed. She calls them her "dream pair of straight jeans" because they're "very flattering on my frame and accentuate curves in all the right places."
The Levi's Wedgie straight jeans have shown up before on roundups of jeans recommended by cool people and even jeans that Strategist editors own, so it wasn't a surprise that they were brought up once again. "For someone who's afraid to step out of their comfort zone and try a different pair of jeans, I think these are the perfect pair to start with," Turk says of the "universally flattering" jeans. Their 26-inch inseam is the "perfect length" for her, and she appreciates that the jeans are 99 percent cotton. "One of my favorite things about these jeans is that they are super-soft, but are non-stretch, so they really hold their shape," she says.
For a pair of Levi's with an even higher waist, Serrano recommends the Ribcage Straight Ankle jeans. "This pair gives me legs for days because of the ultrahigh waist. It hugs what it needs to hug and the rest of the leg is a nice relaxed straight fit," she says. Serrano opts for darker washes because they "truly feel versatile to dress up or down."