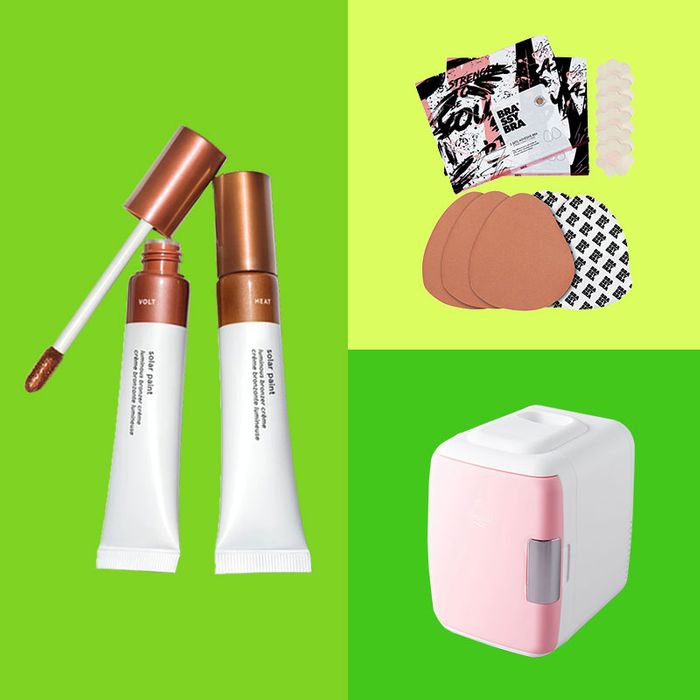 Photo-Illustration: The Strategist; Photos: Retailers
We write about hundreds of products a week. Here, in our version of the Sunday circular, we've plucked out some of our favorites — expert-recommended essentials, life-changing stuff you didn't know you needed, newly launched gizmos, and the very good deals we uncovered while trawling through the vast online-shopping universe this past week, including earbuds with better battery life, what Shaun White uses to combat helmet hair, and chickpea-based ice cream that stays fresh in the freezer.
Boob tape for women with bigger breasts
Photo: Courtesy of the Retailer
"Let's make one thing clear: There is nothing wrong with showing off your bra," writes Strategist writer Jenna Milliner-Waddell. "But sometimes a bra really can ruin an outfit." For those occasions when you might want some coverage, she spoke to four lingerie experts about the best options — from backless bras and boob tape to a bodysuit that "comes almost down to the butt crack." Brassybra was mentioned by Lori Kaplan, the owner of Bra Tenders, because the teardrop-shaped adhesive pads are "​designed for women with very heavy breasts." Kaplan herself claims that her store is "selling tons of it to girls that wear F, G, and H cups … It's really the first adhesive product designed for girls with big breasts, and our customers are happy, and it works."
Blendable, buildable bronzer
Do not dillydally on Glossier's newest addition to its lineup. Its Solar Paint bronzer "contains light-reflecting pearls to create dimension and add warmth" in four shades for "instant summer skin." It features a "whipped gel texture" that's buildable and easy to blend with fingers. Plus, it "contains skin-nourishing ingredients like jojoba oil and aloe."
What Shaun White uses to combat helmet hair
When we spoke to three-time Olympic gold medalist Shaun White about the things he can't live without, he mentioned TIGI's hair stick he started using after cutting his hair short. "I'm self-conscious about it because when I take my helmet off after snowboarding all day, my hair is flattened into place," he explains. "If I put this in before I ride, I can take my helmet off and style my hair back into place so it actually looks good for those side-slope interviews."
Chickpea-based ice cream that stays fresh in the freezer …
Photo: Courtesy of the Retailer
There are plenty of dairy-free ice-cream options available nowadays, but as Strategist writer Chloe Anello writes, "Just because options exist doesn't mean they are created equal." To find out which ones are actually worth buying, she spoke to 44 folks about their favorites. Van Leeuwen was a runaway favorite with 26 people recommending it, but Milliner-Waddell claims SweetPea "beats it." She says, "It's so creamy, like Ample Hills–level creamy, and the consistency is the closest I've ever had to dairy-based ice cream." It's the only ice cream listed that's chickpea-based, and Milliner-Waddell assures that, by taste alone, you would never know it's made from beans. Another reason it rises above its competition: "A lot of dairy-free ice cream, including Van Leeuwen's, can get freezer burn after just a couple days of being open, but I've worked through one pint of SweetPea over the course of a month and never had that issue until the very end."
… and an (on-sale) mini-fridge that keeps beauty products fresh
As we rummaged through the sales this week, we found plenty of great finds at Anthropologie's weekend sale. One of those items was this Cooluli mini-fridge, which one Strategist contributor says "runs almost silently" and uses "about as much power as a 50-watt light bulb." It stores things in the 46-to-50-degree range, which is ideal for extending the shelf life of most creams, serums, and moisturizers — keeping them cool without freezing them.
Colorful tumblers for carrying cocktails inconspicuously
"During the pandemic, the to-go cocktail was a silver lining of an otherwise dark time in the city — and a lifeline for struggling bars and restaurants," writes Strategist senior writer Karen Iorio Adelson. After Governor Cuomo pulled the plug on to-go drinks in June, she went in search of convenient and attractive drinking vessels so you could continue your newfound habit of public consumption. Multiple drinks experts she spoke to like Corkcicle's colorful tumblers for carrying mixed drinks inconspicuously. It keeps drinks cold for up to nine hours even without ice, which is "way longer than you'll need to finish drinking it," says Matt Hechter and Chris Brandon, founders of Tequila Tepozán. And Alyssa Sartor, co-owner of the cocktail bar and restaurant August Laura in Carroll Gardens, likes it for hot toddies in the winter. "It will keep it nice and steamy for three hours," she says.
An "adaptable" weekend duffel bag
If you're planning to squeeze in a weekend trip (or two) before summer is over, you might want a bag that's compact and convenient to carry around. When we spoke to frequent travelers for recommendations, this Longchamp duffel was brought up by Kathleen Hyppolite, owner and creative director of Kat Flower. "I'm an exuberant packer, so I need a bag that can handle the bulk while maintaining a level of chic simplicity," she says of the more structured bag. She calls it "a real workhorse" since it's "durable and completely adaptable to all environments," including a weekend away at your boss's country home or a beach holiday with your friends.
Earbuds with better battery life
"For me, earbuds have always been a trade-off. I love the seamlessness of the AirPods Pro I use most days, but I wish they had a better battery," writes Strategist tech writer Jordan Bowman. Finally, he found some that check off all the boxes: Sony's new XM4 earbuds. Unlike their predecessor, the "cumbersome" XM3s, these are "small and lightweight" and even water resistant enough to "withstand sweat from your most intense workouts and even light rain." As for the battery life, Bowman "barely even thought about charging the XM4s," since they can last up to eight hours with noise-canceling enabled and "a stunning 12 hours" if you don't want noise-canceling on. He adds, "The sound is also incredible … No matter what I played, voices and instruments were always clear and discrete, even at high volume." While there are still lighter and smaller options out there, he writes, "if you're looking for the best noise-canceling earbuds on the market right now, your choice is simple. The Sony WF-1000XM4 is a master class in how to improve a good pair of earbuds and make them great."
Ceremonial-grade matcha powder for sipping and cooking
Matcha powders vary from tin to tin, so we asked experienced matcha drinkers about the powders they whisk into their chawans (tea bowls) and mugs every day. Karina Hoshikawa, a beauty and wellness writer at Refinery29, calls the powder from Ippodo "the best matcha I've ever had." Her go-to is the "earthy, creamy" Ummon matcha, which she drinks plain, preparing it "the way my obachan taught me: with the whisk (chasen) and li'l matcha bowl." Chef Justin Iso also likes using Ippodo's Ummon matcha for cooking, finding its "forward flavors" with "more umami and astringency" perfect for savory foods and desserts.
And a "reliable" stain remover for slipcovers
If you own a white slipcover sofa, you're probably concerned about stains. While they're conveniently machine washable, there are plenty of other things you can do to extend the life of your slipcover. Slipcover-maker Karen Powell recommends using this stain remover as a spot-cleaner before throwing a slipcover in the wash. She calls it "the most reliable and versatile stain remover I've ever used on natural-fiber slipcovers" because it's "safe to use on all washable fabrics — meaning it won't discolor a textile or leave a ring around the spot when it dries." The product is also "odorless and doesn't contain any harsh chemicals like bleach, alcohol, or solvents," yet it's so effective that she has "removed red wine, blood, coffee, and even dog drool and crayon from my slipcovers with this product."
The Strategist is designed to surface the most useful, expert recommendations for things to buy across the vast e-commerce landscape. Some of our latest conquests include the best acne treatments, rolling luggage, pillows for side sleepers, natural anxiety remedies, and bath towels. We update links when possible, but note that deals can expire and all prices are subject to change.