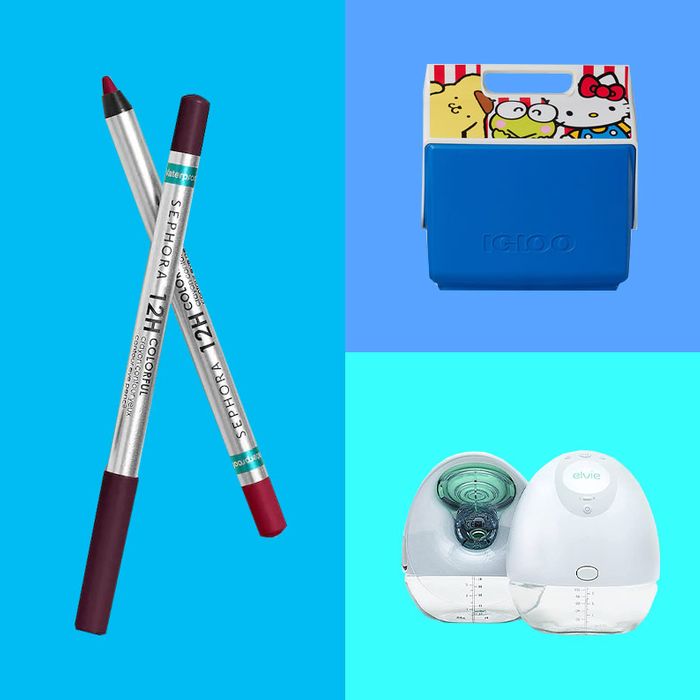 We write about hundreds of products a week. Here, in our version of the Sunday circular, we've plucked out some of our favorites — expert-recommended essentials, life-changing stuff you didn't know you needed, newly launched gizmos, and the very good deals we uncovered while trawling through the vast online-shopping universe this past week, including a retro-cooler collection, sweat-wicking wool for blisterless walks, and "yummy"-smelling bug spray.
Eyeliner-slash-eye-shadow that's easy enough for teens
"Teens today have more access to makeup than ever before," writes senior writer Liza Corsillo. To find the best makeup for teens, she consulted seven experts, including makeup artists and dermatologists, who recommended products that work according to skin type and are easy to apply. All of the makeup artists said graphic eyeliner is a "huge and really fun makeup trend right now." Makeup artist Janice Kinjo recommended these Sephora eyeliners since they have a great range of colors and are long-lasting, making them perfect for beginners. "The 12-hour contour pencils are good for those really just starting out who need more control over eyeliner shape and placement. The multi-stick is wider in shape and highly pigmented in color and can also be blended out with fingers into an eye shadow," she says.
A retro-cooler collection
In our most recent installment of Don't Dillydally, we found a special-edition Hello Kitty cooler by Igloo "just in time for summer picnics and trips to the beach." The seven-quart cooler features "retro vibes that are enhanced by the pastel Hello Kitty design." And it "can hold up to nine cans or whatever little snacks you want to bring to your next park hang." Smaller coolers and the insulated bags are already sold out, so snag this while it's still available.
The breast pump one writer used during a Disney fan convention
Writer and podcaster Doree Shafrir spoke to us about the items she loves from her baby registry — and some things she'd do over. One thing that falls into the latter category is this breast pump, which she claims "changed my life." Instead of being immobile and attached to a machine, the Elvie is "basically two pods that you put in your bra — they suction and collect the milk into these vessels that attach to the pumps, and you're not chained to anything." She even used it while reporting a story from the audience of a Disney fan convention. "I was just sitting there at the conference, pumping, because you can just do that with the Elvie; it's amazing. I eventually slipped out from my seat, went to the bathroom, removed the units from my bra, poured the collected milk into a storage bag, and that was it."
Angélique Kidjo's stage earrings from the Met
When we spoke to Angélique Kidjo about the things she can't live without, she mentioned these drop earrings she found at an airport Met store. "Everything looked so elegant and beautiful. I found myself looking at the prices and, compared to the cost of other jewelry, I thought they were a win," she says. These "very regal" earrings have become something she wears during performances since they "add something to my stage outfits without being tacky." She loves the "sharp blue" color because "it complements my skin tone and is as efficient as the color black but adds a pop to whatever you're wearing." And she adds that "the earrings aren't too heavy, either. If you wear heavy earrings onstage and move around, you can break a tooth if one hits your face."
Sweat-wicking wool for blisterless walks
Strategist contributor Aleta Burchyski has tried countless products to safeguard her feet from friction on backpacking treks. "I've tried just about every single product in the foot-care aisle of the drugstore, with little success," she writes. After many blistering hikes, she finally found something that "guarantees miles of comfort": the eNZees Foot Soother. She wraps a "generous puff" of the wool around her toes or against her heel and says it "provides pillowy softness that absorbs every bit of pressure and rubbing." What's better is that wool is antimicrobial and sweat-wicking, "which makes for happier, healthier feet," and "it's so lightweight, I don't even notice it's there." Burchyski has been carrying it around in her backpack for four years now and has been able to walk "previously-unheard-of feats like hike six-plus miles a day for a week straight without shredding my heels or turning my toes into grapes."
A cystic-acne treatment that won't upset temperamental skin
Writer Rio Viera-Newton typically relies on "soothing and calming ingredients" on her temperamental skin. But when a cystic zit the "size of a small blueberry" popped up on her chin, "none of [her] old tried-and-trues worked." A friend and esthetician recommended using PanOxyl foaming wash as a spot treatment because it could "deliver the pimple-busting benefits of a high concentration of benzoyl peroxide while avoiding the potential irritation that might occur with an overnight spot treatment." To her delight, the "zit resolved gradually. By the fourth day of washing with PanOxyl, the giant zit had shrunk by about a quarter of its size … And the best part: There was absolutely no irritation, dehydration, or flakiness." She even noticed that "all the textural issues, blackheads, and congestion along my chin and jaw started to fade away." It's so effective that it became a staple in her evening anti-acne routine.
"Yummy"-smelling bug spray …
The smell of bug spray isn't particularly pleasant — even the ones that are DEET-free may repel humans along with bugs. This was the case for Strategist contributor Aleta Burchyski, whose husband hated the smell of her citronella-based bug spray. "Since I like being bug-bite free and being near my husband, I knew I had to find an alternative," she writes. She finally landed on something strong enough for the woods that also smelled "downright fantastic." Kinfield's Golden Hour, which was described by senior editor Crystal Martin as smelling "yummy," uses lemongrass, vanilla, and a little clove instead of astringent notes like geranium, eucalyptus, and oregano. "The result is a much less sharp scent: more like citronella served with a dollop of whipped cream," Burchyski writes. "It smells so good, in fact, I've caught my husband using an occasional spritz as cologne. And it works, too. My mother, who is even more beloved by biting insects than I am, wore it on a marshy family hike and didn't get a single nibble."
… and the perfume Sasha Spielberg sprays for "instant validation"
Actress Sasha Spielberg is a bit of a scent obsessive and typically wears perfumes seasonally. "The thinking behind this is that when I am 90, I can smell a bottle and be transported back to the summer of 2014 or a particularly emotional breakup," she explains. But recently, she worries "that 90-year-old Sasha will have a harder time conjuring specific chapters of her 30s, because I've already spent an entire year of that decade wearing a particular scent that I can't seem to abandon: Sophia, a fragrance oil from 1509." Spielberg, who likes the "instant validation" of people asking what scent she's wearing, writes that the Sophia has "garnered countless compliments, including from double-masked people who stopped me to ask what I was wearing." Instead of fading away, "its opening and dry-down scent are the exact same, which is why I like to compare wearing it to an extended honeymoon," she writes. "The way it lingers reminds me of when you borrow a sweater from a really-good-smelling friend on a chilly night and, days later, can still smell that sweater."
On-sale Strategist-approved ecofriendly mattresses
Today is the last day for plenty of Fourth of July mattress deals, all of which you can find here. If you're looking to replace yours, Strategist readers can save $250 off the brand's Organic Luxury Plush mattress with code STRATPLUSH, and $100 off the Green, Vegan Hybrid, Latex, or Vegan Latex mattresses with code STRATAVO. We dubbed the Green mattress one of the best ecofriendly mattresses because it provides "a lot of support plus cushioning" and "the layers of organic wool and cotton help to regulate body temperature and wick away moisture for warmer sleepers, too."
A cheap (but expensive-looking) summery dress