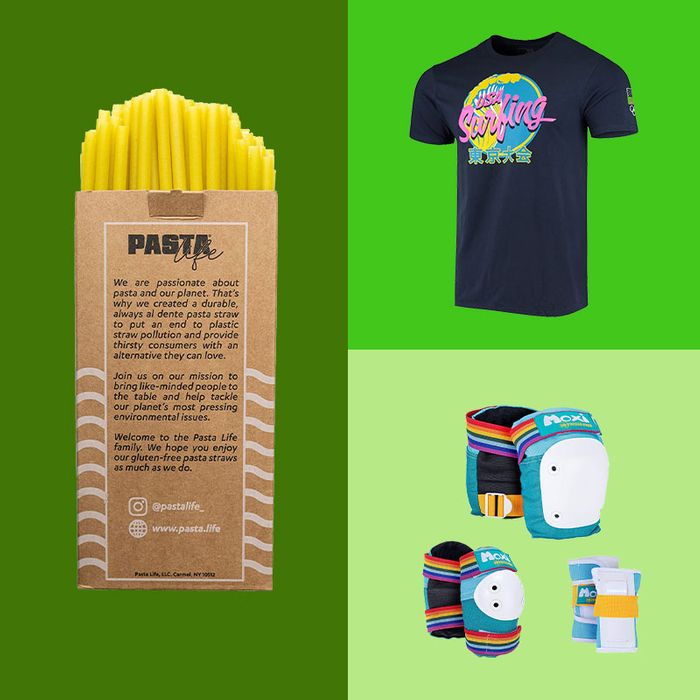 Photo-Illustration: The Strategist; Photos: Retailers
We write about hundreds of products a week. Here, in our version of the Sunday circular, we've plucked out some of our favorites — expert-recommended essentials, life-changing stuff you didn't know you needed, newly launched gizmos, and the very good deals we uncovered while trawling through the vast online-shopping universe this past week, including a board for surfing off-season, cream blush that lasts, and Chani Nicholas's "life-changing" water-boiler.
Sustainable starchy straws
Photo: retailer
When Strategist contributor Natalie Toren dined at Popina recently, she noticed the straw in her Spindrift was "thick and rigid" but also "a little starchy to the tongue." It turned out to be a gluten-free pasta straw. "The pasta straw that delighted me at Popina was from Pasta Life, which was founded by a pair of tristate-area entrepreneurs," Toren writes. "Instead of wheat, its straws are made from a blend of rice and tapioca flour and dyed fun colors with natural ingredients, including turmeric, beetroot, and butterfly-pea flowers." She found that "a growing number of Italian joints" in New York City have these sustainable straws in stock, because as Bar Primi's managing partner Justin Sievers explains, they're "more consistent in size and don't break as easily" as paper and grass-and-bamboo options. Toren has ordered the straws for herself and has since used them at home "in various drinks, from iced coffee, to hibiscus tea, to a blueberry smoothie, to ice water, all of which tasted as they should (not of rice and tapioca flour)." She can attest that while they're "not a perfect swap for metal or their now-shunned plastic counterparts" — they tend to "warp into a kind of Memphis–esque bendy straw" after 30 to 35 minutes in a cold beverage — "pasta straws are far superior to paper."
The tank top Leon Bridges wears under Bode
"The tank top ain't nothing fancy, but in the right hands it's an undefeatable piece of summer clothing," writes Jordan Bowman, who spoke to seven stylish guys about their favorites. An affordable option, the Hanes ComfortSoft tanks were recommended by Grammy-winning musician Leon Bridges. "I typically wear them under everything, onstage and just on the street," says Bridges, who buys them in packs of 12. "There's this Bode piece that I love to wear, and the fabric is see-through, so it's good to rock a tank underneath that. I'm not trying to go bare-chested anytime soon. They also look good just rocked alone tucked into some high-waisted pants. It's pretty simple, but it's a really dope look."
"Cushy" skate pads
If you're new to roller-skating or recently picked it up, a good set of skate pads is an essential (along with a helmet). Writer Dominique Pariso spoke with seven experts to find the best ones, including budget-friendly choices and options designed for plus-size skaters. 187 Killer Pads came up the most among the experts because the brand offers "nice and cushy" knee pads, elbow pads, and wrist guards that can "withstand all of the falls you take as a beginner." These pads, which were made in collaboration with Moxi, offer the same support but have "more pizzazz." Roller skater Bara Camilla S. told Pariso, "If you ever spot me on the street skating, you will probably see me skating in these."
A board for surfing off-season …
Instead of roller-skating, Strategist contributor Alex Olivo picked up another hobby early last year: surfing. But as winter rolled around, she was "not ready to brave the bigger waves (and frigid temps)" and hung up her wet suit for the season. While she found other ways to supplement her surfing, the Ebb & Flo Rail-to-Rail Surf Balance Board "seemed like a perfect solution" for the colder months. She found that unlike other stationary boards, it "uses a rail-to-rail system, meaning its roller runs parallel to the length of the board" to simulate "trimming and carving down the face of a wave." After a few months — and "nearly wiping out a few times" — she noticed her "balance had definitely improved." The true test came when she went back on the water. She writes, "I was pleasantly surprised that I wasn't as rusty as I expected to be after months out of the water. Once up and standing on my board, I felt much more comfortable than I had anticipated."
… and a Team USA surfing shirt that's actually stylish
In our latest advice column, "Ask the Strategist," we were asked to do a roundup of cool Olympics merch. Writer Jenna Milliner-Waddell found the best of the official, traditional, and unexpected merchandise out there, including this T-shirt that reps Team USA's surfing team. Milliner-Waddell likes that it "moves away from the traditional red, white, and blue color palette and throws in some splashes of yellow and pink. It's not obviously Olympics merch until you see the rings and American-flag patch on the shoulder." Plus, she adds that it "commemorates the first year surfing will be a sport at the Olympics, making it a special buy."
Cream blush that lasts and hydrates
As writer Tembe Denton-Hurst notes, blush is "having a moment." But instead of "ultrapigmented and powdery" blushes of yesteryear, she's seeing cream blush that looks "punchy yet natural and moves with the skin." Part of its appeal is that cream blush is "notoriously easy to apply and difficult to mess up," but the one downside is that "it's subject to sliding and fading over time, especially if your skin is oily." A blush that actually lasts long are Axiology Balmies, which were recommended by the director of creative development at Teen Vogue, Mi-Anne Chan. "I love these on days when I know I'm going to be sweating a little more than usual but still want a nice glow," says Chan. They have a "slightly waxier consistency" than other blushes and contain ingredients like elderberry, hemp, and plum oil, which work together to hydrate while also adding a punch of color.
A subtler Space Jam watch
In our most recent installment of "Don't Dillydally," we unearthed one of the supposed "200 brand collaborations to commemorate the release" of Space Jam's much-hyped sequel. Fossil's watch collection features one of the film franchise's most recognizable characters on each watch face and a color-coordinated silicone watchband (which can be swapped for leather for an additional fee). And the watch comes in a limited-edition tin featuring a cartoon LeBron James and characters like Daffy Duck and Bugs Bunny. If you're looking for "something that doesn't scream Tune Squad fan, we recommend the Daffy Duck watch, which has the iconic duck inside the watch's face, subtle orange inlay, and a sleek black band."
Chani Nicholas's "life-changing" water-boiler
When we spoke to astrologer Chani Nicholas about the things she can't live without, she described this Zojirushi water-boiler as "life-changing." After discovering it at a friend's house, she came home and bought one immediately. "Now it's the pinnacle of our kitchen," she says. "It gives you hot water on demand … Before this, we would be pressing the kettle button, like, 17 times a day. I don't know how many hours of our lives we used to spend waiting for the kettle to boil. Also, this plays the cutest song when the water is ready."
Structured jeans for plus-size petites
"Shopping for the perfect pair of jeans is very needle-in-a-haystack-y. But for the petite, the search is even more winding," writes junior writer Arielle Avila. To find the best jeans for petite women, she spoke to ten stylish women — all five-foot-three or shorter — about the pairs that fit them just right. Tinsaye Berhanu, a five-foot-two petite-plus fashion influencer, recommended Madewell as an option for plus-size petites since the brand offers a wide range of waist sizes in addition to its three inseam options. And she notes that its jeans are more "structured, tailored" than other plus-size jeans. "A lot of brands don't make those in plus sizes," she says. "They think that jeans need to slip on and be like leggings and don't give a rigid option." Because the jeans tend to be pricier, she buys them in "a more classic wash with those, no distressing, so I can wear the heck out of them and can get my money's worth out of them."
Sets of (on-sale) cooling sheets