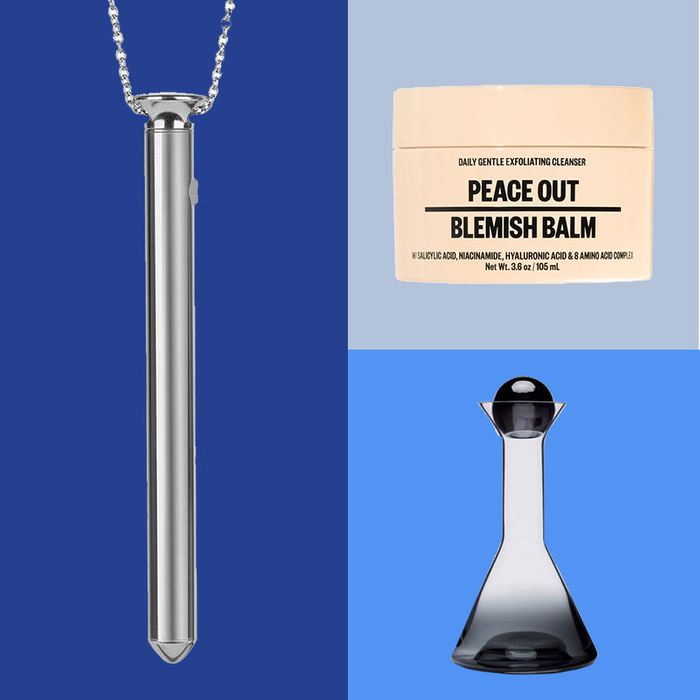 Photo-Illustration: The Strategist; Photos: Retailers
We write about hundreds of products a week. Here, in our version of the Sunday circular, we've plucked out some of our favorites — expert-recommended essentials, life-changing stuff you didn't know you needed, newly launched gizmos, and the very good deals we uncovered while trawling through the vast online-shopping universe this past week, including a cleanser for fighting maskne, a dainty pair of ceramic earrings, and a carrier that's comfy enough for cats to nap in.
Kyle Kuzma's chic decanter
When we asked Washington Wizards player Kyle Kuzma what he can't live without, he described his habit of drinking wine "maybe every two days off-season" and stressed the importance of letting 20 or 30 year old wines "breathe after being in the bottle for that long." He's a fan of this artistic-looking black Tom Dixon decanter, calling it "sleek and sexy — it looks beautiful just sitting out on my table" and reports that he gets "a lot of compliments… and it sparks conversation."
An on-the-go vibrator
All six experts we spoke to about the best travel-friendly sex toys mentioned Crave's Vesper bullet vibrator, which is so discreetly-designed it can be worn as a necklace. The toy combines form and function with an "easy to transport" design that also "packs a lot of punch." Certified clinical sexologist Gigi Engle says that the vibrator "offers intense pinpoint clitoral stimulation" but she's also managed to successfully wear it through airport security with no one the wiser.
Cleanser for zapping zits
When Strategist writer Chloe Anello found herself struggling with mask-induced acne, she decided to give this Peace Out Blemish Balm a try. She reports that the balm "felt gritty, but in a good, gets-deep-in-your-pores kind of way" and that after six days of continuous use, "there was no trace of my maskne." She even got her boyfriend to try the cleanser, and even though he has sensitive, eczema-prone skin, the cleanser didn't break him out and in fact gave him "a brighter complexion and cleared up a few zits he had around his T-zone."
A standing desk converter for your Zoom meetings…
Chiropractors and other experts have told us that a mix of sitting and standing is ideal for most people who work at a desk. But if you don't want to commit to a full-on standing desk for your at-home workstation, a cheaper standing-desk converter might be just what you're looking for. This one from Flexispot is currently on sale for 41 percent off. It tops our list of the best standing-desk converters, with more than 7,500 happy shoppers reporting that it's extremely easy to set up and that the multi-level design is capable of accommodating a monitor, laptop, keyboard, and mouse.
…and shorts to wear during your call
Sweat shorts sometimes make Strategist associate editor Louis Cheslaw feel "a little schlubby, like I'd chosen to take the day off," but he says this Paper Project pair "feels a little more put together, like a deliberate fashion choice." The shorts are crafted from a blend of cotton and Japanese paper yarn, which, according to Cheslaw, results in a "crisper, drier, and more breathable texture" than you get with full cotton or cotton-polyester fabrics.