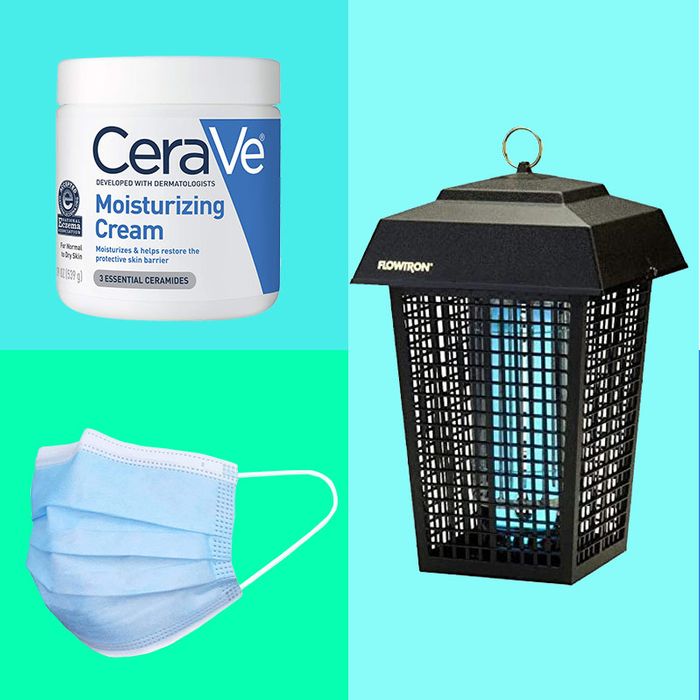 Photo-Illustration: retailers
Welcome back to Your Shopping Cart, where we break out the top-ten products that you, devoted Strategist readers, all bought in droves. Think of this as the tl;dr of the Strategist. If your like-minded brethren are buying these items, maybe you'd like to, too.
We may have spoken too soon last month. With reports of COVID cases unfortunately on the rise, readers were back to stocking up on masks, with three top spots nabbed by masks that were regularly showing up in your carts during the thick of the pandemic. But shoppers also took advantage of the long summer days with some new items appearing on our list for the first time: an easygoing pair of Madewell shorts and an electronic insect killer to keep bugs at bay during your backyard barbecues. And, of course, we saw the return of some familiar faces, including an oscillating floor fan to beat the heat and two cult-favorite moisturizers.
Readers decided to replenish their reserves of these expert-approved disposable face masks from EcoGuard, which we tested back in November. Made out of three layers of non-woven fabric, we reported that they were "very comfortable" and fit "pretty well without much need for adjustment." We even put them through the candle test — first introduced by Bill Nye on TikTok — and when we tried our darndest to blow out the flame of a lighter, "it wouldn't even budge."
With breakthrough cases on the rise, more people may be considering double masking to stay safe, which these disposable masks are perfectly suited for. The South Korean version of N95s, they were the top choice among readers back in May and feature a chin guard and adjustable ear loops. These masks also come highly recommended by Camilla Cho, Strategist's senior vice-president of e-commerce, who especially likes that their tight fit doesn't fog up her glasses.
The epitome of easy-breezy, these Madewell pull-on shorts are making their first appearance on this list. We suspect it's because we raved about them in one of our recent Deal of the Day posts, saying that they "come up high on the waist" and have a "similar vibe to the Strat-favorite Patagonia Baggies." Available in both black and olive, they're also on sale with special code PSST, so now's the time to snag yourself a pair before summer is over.
This is the third month in a row where readers flocked to this oscillating floor fan from Lasko, which we've ranked as both the best tower and floor fan on Amazon, thanks to its nearly 20,000 five-star ratings. Reviewers say this "gorgeous cooling tower" is "the fan I've been dreaming of for years" due to how "whisper quiet" and "unobtrusive" it is. It's also a favorite of interior designer Ariel Okin, who uses this Lasko to cool down her apartment before her building turns on its central AC.
This Powecom mask is one of the most popular masks among non-health-care workers, which is why we included it on our list of the best disposable masks and the best KN95 masks. We concluded that they are "soft on the skin and create a tight seal all the way around, from the bridge of the nose to the underside of the chin." And according to Jacob Cohen, a second-grade teacher in Brooklyn, this mask fits more snugly than other KN95s he's tried and doesn't move when he's talking.
After making its first appearance on this list last month, this Harperton nail-clipper set is back for round two, proving its chops as one of the highest-rated sets on Amazon. One five-star reviewer out of nearly 17,000 reports that its sharp, precise blades cut "very well, very cleanly, and very satisfyingly." It also features a built-in nail file, which another reviewer calls "very useful" and "great for smoothing rough edges after clipping."