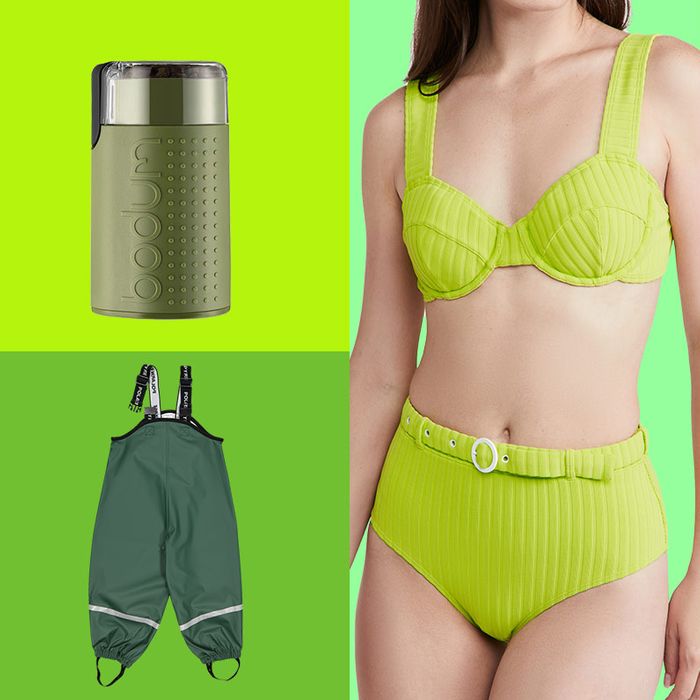 Photo-Illustration: Retailers
If you follow our monthly feature "Your Shopping Cart," you know we have some eerily good intel on what you all are buying. Which led us to think that, as Strategist editors, we could turn the tables and highlight all the things we've been buying for ourselves. As you'll notice, it's both a blessing and a curse to be a Strategist editor; we're picky, but sometimes we just have to get on with it. (It's online-shopping expertise meets IRL needs.) Below, what we bought in August.
Liza Corsillo, senior writer
I'm a big fan of children's book illustrator Christian Robinson, especially his drawings for Last Stop on Market Street. So when I saw that he was doing a collaboration with Target, I got really excited about the clothes or baby blankets I might buy for my infant niece. Then I saw these smiling sun and moon bookends and immediately clicked "add to cart." The entire Christian Robinson collection is beautiful and fun (there's even a wooly mammoth rug!), but the painted iron bookends don't feel like kid stuff. They're more like artsy pieces of home décor or Matisse cutouts in 3-D. At the moment, I don't even use them as bookends. Instead, I keep the sun on my desk next to a few plants where I can glance at it for a boost of happiness anytime I start to drag.
A few weeks ago, I was watching Erin Boyle's (@readtealeaves) Instagram Story tutorial for DIY canvas window shades. I was impressed by her skills and creativity, but I was actually way more impressed by a rust-colored bralette she was wearing about midway through. It's at the part where she installs brass cleats into the window frame barefoot. She looked so damn cool and strong in her bra and cutoff shorts that I went searching for it right away. I don't remember how I ended up finding it at Arq, but it was a quick search. More importantly, the bra is one of the softest and prettiest things I now own, and because of the puckered chest it makes me feel a little bit like a ballerina.
Chloe Anello, writer
I bake a lot, and the other day, my sheet pan from a rather reputable brand warped in the oven while baking something at only 400 degrees for a short period of time. I heard a violent pop that set my dog into a barking fit and knew the pan was forever ruined. Understandably, I was very annoyed, especially because that pan wasn't exactly cheap. While talking to our kitchen and dining writer Emma Wartzman, she told me she uses Nordic Ware, which actually did come up on our list of best sheet pans. I didn't want to spend too much on a new sheet pan, since I already had my eye on other baking equipment to buy, so the price was appealing, as were the expert reviews. I immediately bought it. And so far I'm impressed. It's not nonstick, but I always use parchment paper when I bake, so that's not much of a problem for me. My oven is pretty uneven, so I decided to get the slightly more expensive Prism collection because it supposedly creates better airflow than the brand's non-ridged option. Hopefully it does make a difference.
I really wanted waffles one day, but no one around me makes gluten-free waffles. I went to Target and bought this on-sale one on the spot along with some batter mix because it was the best (and cheapest) solution. It's … fine? You can't remove the plates to clean them and you can't put the whole machine in the sink to wash it. It also stays hot for hours post-waffles, which altogether created quite the conundrum. But overall, it makes decent waffles. I've used it a handful of times now and learned that the only acceptable setting for perfect waffles is the max one — all the other settings undercook the waffle and leave you with a very sad, mushy waffle. All in all, for a quick craving fix, it's not bad. And I just got Jon Gray's waffle mix, too, since I now have the tools to try it out.
Ambar Pardilla, writer
I've been looking for a new scrub for a while now. I have oilier skin and like to use an exfoliator weekly to get back some shine (that isn't actually from oil). But scrubs I've used in the past have been super-stripping — leaving my face a red-hot mess. So I decided to search for one that would be more sensitive and came across this one from Strategist favorite skin-care brand La Roche-Posay. Admittedly, I thought the scrub would be bigger — it's smaller than the size of my hand — but a little truly goes a long way. After a few weeks of washing my face with it, I've noticed that my skin feels softer and looks less dull. The particles being extra-fine helps keep it from feeling harsh like sandpaper scraping against your skin (which some scrubs are, if we're honest). It's definitely earned its own special spot on my vanity now.
There's not a lot of good-looking shoe storage. The Open Spaces rack is one of the few exceptions. It's been on my wish list for months. And over the course of last year, I've actually invested in much more comfortable flats (gone are the days of trying to squeeze into uncomfortable heels). So to keep them all organized (and so I don't drag in dirt, grime, and germs from the outside), I went ahead and bought it. I can say now that it's worth the hype. I got it in the dark-green shade (you can choose between navy, light blue, cream, and light pink, too). It looks like something I got at MoMA's Design Store rather than a shoe rack. The rack holds 12 pairs of shoes and looks very good while doing just that. Surprisingly, this rack is easy to assemble, as well — it took about 30 minutes to put all the pieces together.
Maxine Builder, editor
My dad and I spent a couple of weeks in Jackson, Wyoming, this month, mostly hiking and camping in Grand Teton National Park. And while he was busy buying bear spray and fuel canisters, I grabbed this ENO hammock. It's surprisingly sturdy and comfortable, even though it's just a giant sheet of nylon that's been strung up between two trees. When I wasn't hiking, I was lying in this hammock, doing some combination of drinking beer, reading, filling out crossword puzzles, and napping — and it was a perfect way to spend my summer vacation. (I also got the Appalachian Trail Conservancy colorway, which warms my East Coast heart.)
The hammock's suspension system is easy to use, too — and a must-have for quick setup — though it is sold separately.
Lauren Ro, writer
Didn't think I could get so excited about trash cans, but here we are. First of all, they cost $30 — for two! That's how much a single (smaller) Simplehuman costs. Second, they just look nice. They're slim and square, making them more streamlined than your typical round bathroom trash can, which means they fit into narrow spaces better. I also like that they're white instead of chrome, which you don't see too often. Did I mention they cost $30 — for two of them? (I first spotted them at Costco a couple months ago where they were actually even cheaper — $20! — and the only reason I didn't get them was because there was no more room in my cart. Luckily, I found them on the website. If you don't have a Costco membership, you can get a pair on Amazon for $10 more, but only in black.)
Our toddler looks the cutest when his hair is off his forehead (otherwise he looks like Ralph Wiggum), but my husband's mousse was too strong and crusty for his baby tresses. I found this matte hairstyling cream for kids and kind of love it. Although it's actually pretty expensive for what it is, it smells good, works well, and you only need a little bit.
Karen Adelson, senior writer
I haven't bought a new bathing suit in a few years, so I thought I'd treat myself this summer — especially because I actually had a few trips planned in August. I've heard good things about Solid & Striped and this two-piece doesn't disappoint. The color is a very bright and fun neon green, and I love the belt detail on the bottom. The suit has plenty of coverage and is sturdy enough to stand up to actually spending some time in the pool. I've worn and washed it a few times already, and it still looks great.
Kelsie Schrader, editorial coordinator
After breaking yet another pair of headphones and going for a few sad, headphone-less walks this month, I decided it was time to invest in a pair of wireless earbuds. I was planning to think on it for a few months, but the Pros happened to be on sale for $180 at Best Buy one day, so I just went for it. (I put a lot of trust in our tech writer Jordan's written assurances that AirPods are among the best.) Aside from my unceasing fear that the earbuds are going to fall out and get crushed by a car or plop into the East River, I'm not upset about the money spent on them. They're worth it.
I also decided it was time to upgrade my coffee routine just a tiny bit with freshly ground beans. I didn't want anything fancy to start — just a simple grinder. This one was on sale for $16 and came in a soothing green color. I got an on-sale French press, too, so shipping was free. Both are making me happy each morning.
Jenna Milliner-Waddell, writer
I did a little shopping on my recent vacation and picked up this mini-bag perfect for going out. The color immediately caught my attention and I loved that I could wear it like a wristlet without it looking anything like a wristlet. Between the magnet closure and the fact that I can carry it on me all night without it being a bother means I'll likely make it home with all my belongings in tow, which is a plus in my book.
In my opinion, Australia really has a lock on fast fashion. It's not the cheapest out there, but the quality matches the cost, and even though the clothes are coming from halfway around the world, the items usually arrive in just a couple days thanks to DHL. This was my first purchase from Verge Girl and it did not disappoint. I was nervous about the sizing, but it fit, the fabric was nice and heavy, and it washes well.
Leah Muncy, deals writer
I visited my best friend on Cape Cod a couple of weeks ago, and we decided to stop by a shoe outlet to kill some time before dinner. Most of the shoes were fugly at worst and orthopedic at best, but I did happen to find these supportive foam flip-flops. According to the brand, they "absorb 37 percent more impact than traditional footwear," which is a fancy way of saying they're unbelievably comfortable. They're so comfortable, in fact, that my best friend also bought a pair, and then later that night we realized her dad was wearing them too. Her mom promptly bought a pair the next morning, and the rest is history.
I also commissioned this lumbar pillow from Brooklyn-based textile artist John Sohn. I first discovered his pillows at Beverly's, an impossibly cool homeware and specialty shop in Midtown. I won't lie to you: It was expensive, but it's also the most beautiful lumbar pillow I've ever seen. The stitching and ruching are impeccable, and the pillow has this really wonderful weight to it. It'll outlast anything I could have purchased at Target or CB2.
Tembe Denton-Hurst, writer
Photo: Publisher
This month, I bought four books: Afterparties by Anthony Veasna So, Filthy Animals by Brandon Taylor, Intimacies by Katie Kitamura, and Something New Under The Sun by Alexandra Kleeman. I'm most excited to get into Kleeman's second novel, which takes place in a near-future California where it's almost uninhabitable due to climate change. This is the backdrop for a novel that's partly speculative (there's a shady company that manufactures synthetic water) with some Nancy Drew–level detective work thrown in — a.k.a., my type of book.
Anthony Rotunno, senior editor
Earlier this year, after reading this package our associate editor Daniel wrote when he was back at GQ, I decided I needed a set of Murano drinking glasses. While my cabinets are already filled with eight-piece Duralex sets in three different sizes, none are nearly as fun to behold as the perfectly imperfect glassware handmade in Venice with centuries-old techniques. (The one Murano glass I previously bought met a cruel fate not long after I got a cat who apparently thought it looked better shattered on the floor than as the pencil-and-pen holder I'd been using it as.) Such singular pieces, as you might suspect, can quickly get expensive — a six-pack that I bookmarked from one authentic retailer went for $268. When I couldn't bring myself to buy that set, I earmarked it as a birthday-present idea for my parents, who are always asking. When they couldn't bring themselves to buy it, I searched a bit more and stumbled across this 12-piece set from a just-as-authentic vendor that sells its wares on Etsy, making them even easier to order. Its price — $120 — breaks down to $12 a glass, which is honestly not much more than you're going to pay for some generic thing at Crate & Barrel. These, though, are anything but generic. Each has its own slightly different pattern that makes it very clear it is blown and fashioned by hand, and they all came in particularly secure packaging that nodded to their quality.
Dominique Pariso, writer
Did Big Bud Press have an August mystery sample sale? Yes. Did I add yet another one of their jumpsuits to my collection? Also yes. The fun part of their sample sale is that you select the item and size you want and then they randomly select the color for you. As my collection grows, I do run the risk of getting a color I already own, but I maintain that snapping up a $178 jumpsuit for $45 is worth rolling the dice.
I have a wedding coming up in October and needed a dress for the rehearsal dinner. I spotted this baby in the sale section at LSG and was very drawn by the mid-length and puffed sleeves. I've never ordered anything from their site before and it is final sale, but the name of the game this month was taking retail risks, so I added it to my cart and am now praying it fits when it arrives.
Emma Wartzman, kitchen and dining writer
I've been in a lifelong struggle with my partly curly, partly wavy, very thin, frizzy hair. I take supplements, I've tried what feels like a thousand shampoos, and am always game to try a new after-the-shower product. The problem is that those usually end up either not doing anything or being so heavy that they make my locks look dirty and oily. That is, until I found Davines' This Is an Oil Non Oil. I found the name intriguing — and boy, does it work. It's ultralight, but still gives me some definition and tames all the frizz. It makes my hair look hydrated, but doesn't weigh it down. After having to dump what was left of my first bottle at the airport in Los Angeles due to the longest security line to check bags I've ever seen, I promptly ordered a new one in the terminal, not wanting to go a day without it.
I love trays. I use them for everything around the house — sponges near my sink, oils and salts on my counter, keys and masks at my entryway. They make all knickknacks look more organized, even when they're not. My collection is pretty big, but I recently bought a few Kaleido trays from the Swedish brand HAY, and I absolutely love them. One of their signature designs, they come in five different sizes and many colors, and are all made to nestle into each other so you can mix and match and move them around as you like. Bonus: You can also rinse them off in the sink or wipe them down with a damp cloth without ruining them, once they collect enough dust to warrant a clean.
Kitty Guo, junior writer
I'd been hedging my bets with a rickety old umbrella that had been falling apart at the seams for nearly a year, and lo and behold, it finally gave out on me right in the midst of a particularly blustery storm. I managed to take refuge in a nearby Barnes and Noble, where I picked up this ShedRain umbrella with a fun chevron pattern. I like that it opens up at the push of a button, and folds up nicely into a compact little cylinder that's easy to toss into any tote bag. Plus, ShedRain offers a Lifetime Warranty, so if (or when) this one bites the bullet, I can simply mail it in for a replacement.
I fell head over heels for this adorable conjoined-bear soap dish, but I needed something to hold two small soap bars side by side and wasn't sure it would be roomy enough. After consulting with Rene, the very sweet and accommodating owner behind the Etsy shop, she was able to fire up a custom three-bear tray for me. It arrived very securely packaged, turned out to be the perfect size, and makes me smile every time I see it. Two's company, after all, but three's a party!
Jessica Silvester, contributing editor
My 4-year-old will be attending a forest preschool this year — meaning they spend most of their time outdoors, even when it's pouring or freezing — and oh, how excited I am to find him all the right gear for it. First challenge: rain clothes. I used to live around the corner from the Swedish store Polarn O. Pyret in Tribeca and would stop in during sales, and everything I've ever bought from there has lasted literal years (their garments are often made to grow with kids, and my son somehow still fits in a snowsuit sized for 2-to-3-year-olds). This time, I felt I could justify shopping their full-priced items, and went for the waterproof suspender rain pants and coordinating jacket and hat. I love the classic Scandinavian look of it all, and the shade of green that's like a fog-veiled spruce tree. And I'm jealous they don't come in my size.
The Strategist is designed to surface the most useful, expert recommendations for things to buy across the vast e-commerce landscape. Some of our latest conquests include the best acne treatments, rolling luggage, pillows for side sleepers, natural anxiety remedies, and bath towels. We update links when possible, but note that deals can expire and all prices are subject to change.