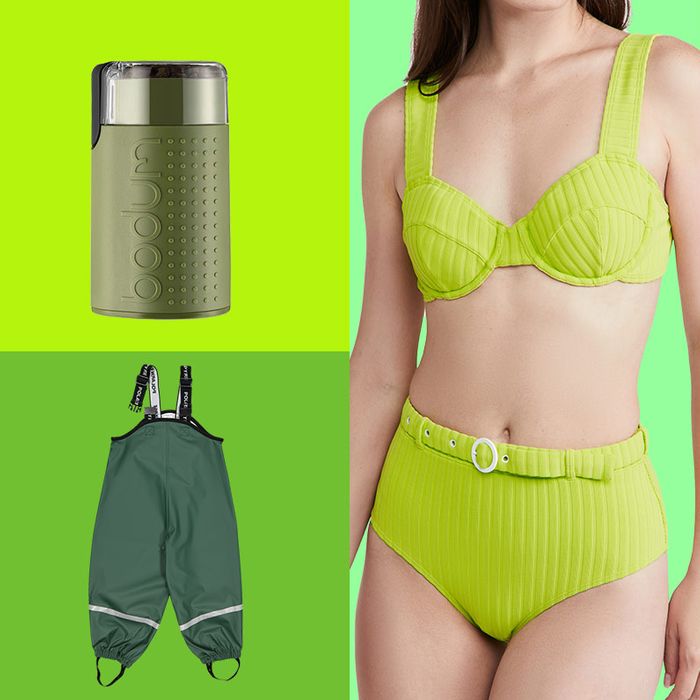 Photo-Illustration: Retailers
If you follow our monthly feature "Your Shopping Cart," you know we have some eerily good intel on what you all are buying. Which led us to think that, as Strategist editors, we could turn the tables and highlight all the things we've been buying for ourselves. As you'll notice, it's both a blessing and a curse to be a Strategist editor; we're picky, but sometimes we just have to get on with it. (It's online-shopping expertise meets IRL needs.) Below, what we bought in August.
Liza Corsillo, senior writer
I'm a big fan of children's book illustrator Christian Robinson, especially his drawings for Last Stop on Market Street. So when I saw that he was doing a collaboration with Target, I got really excited about the clothes or baby blankets I might buy for my infant niece. Then I saw these smiling sun and moon bookends and immediately clicked "add to cart." The entire Christian Robinson collection is beautiful and fun (there's even a wooly mammoth rug!), but the painted iron bookends don't feel like kid stuff. They're more like artsy pieces of home décor or Matisse cutouts in 3-D. At the moment, I don't even use them as bookends. Instead, I keep the sun on my desk next to a few plants where I can glance at it for a boost of happiness anytime I start to drag.
A few weeks ago, I was watching Erin Boyle's (@readtealeaves) Instagram Story tutorial for DIY canvas window shades. I was impressed by her skills and creativity, but I was actually way more impressed by a rust-colored bralette she was wearing about midway through. It's at the part where she installs brass cleats into the window frame barefoot. She looked so damn cool and strong in her bra and cutoff shorts that I went searching for it right away. I don't remember how I ended up finding it at Arq, but it was a quick search. More importantly, the bra is one of the softest and prettiest things I now own, and because of the puckered chest it makes me feel a little bit like a ballerina.
Chloe Anello, writer
I bake a lot, and the other day, my sheet pan from a rather reputable brand warped in the oven while baking something at only 400 degrees for a short period of time. I heard a violent pop that set my dog into a barking fit and knew the pan was forever ruined. Understandably, I was very annoyed, especially because that pan wasn't exactly cheap. While talking to our kitchen and dining writer Emma Wartzman, she told me she uses Nordic Ware, which actually did come up on our list of best sheet pans. I didn't want to spend too much on a new sheet pan, since I already had my eye on other baking equipment to buy, so the price was appealing, as were the expert reviews. I immediately bought it. And so far I'm impressed. It's not nonstick, but I always use parchment paper when I bake, so that's not much of a problem for me. My oven is pretty uneven, so I decided to get the slightly more expensive Prism collection because it supposedly creates better airflow than the brand's non-ridged option. Hopefully it does make a difference.
I really wanted waffles one day, but no one around me makes gluten-free waffles. I went to Target and bought this on-sale one on the spot along with some batter mix because it was the best (and cheapest) solution. It's … fine? You can't remove the plates to clean them and you can't put the whole machine in the sink to wash it. It also stays hot for hours post-waffles, which altogether created quite the conundrum. But overall, it makes decent waffles. I've used it a handful of times now and learned that the only acceptable setting for perfect waffles is the max one — all the other settings undercook the waffle and leave you with a very sad, mushy waffle. All in all, for a quick craving fix, it's not bad. And I just got Jon Gray's waffle mix, too, since I now have the tools to try it out.
Ambar Pardilla, writer
I've been looking for a new scrub for a while now. I have oilier skin and like to use an exfoliator weekly to get back some shine (that isn't actually from oil). But scrubs I've used in the past have been super-stripping — leaving my face a red-hot mess. So I decided to search for one that would be more sensitive and came across this one from Strategist favorite skin-care brand La Roche-Posay. Admittedly, I thought the scrub would be bigger — it's smaller than the size of my hand — but a little truly goes a long way. After a few weeks of washing my face with it, I've noticed that my skin feels softer and looks less dull. The particles being extra-fine helps keep it from feeling harsh like sandpaper scraping against your skin (which some scrubs are, if we're honest). It's definitely earned its own special spot on my vanity now.