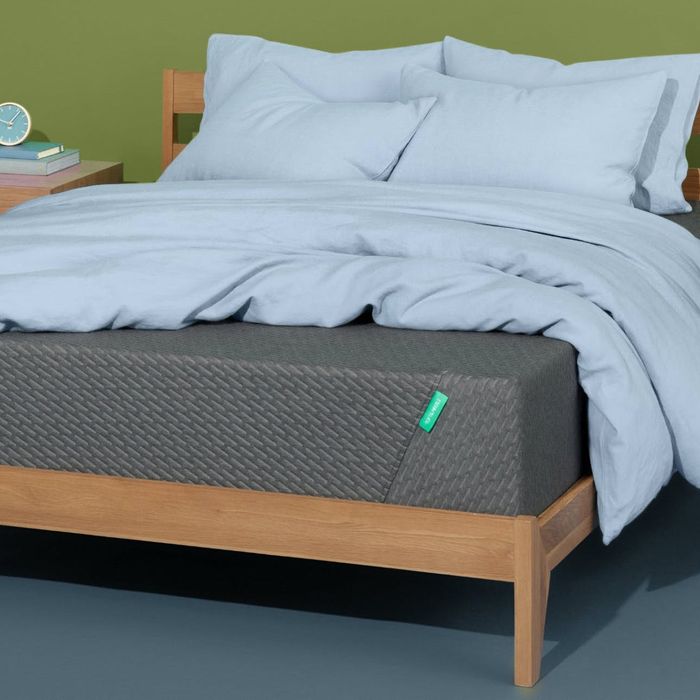 Among all of the Labor Day sales, mattress deals are always some of the best. Almost all of our go-to mattress brands are offering serious savings on mattresses — we're talking hundreds of dollars off top-rated models — plus throwing in extra discounts on bed frames, sheets, and pillows. To level the playing field a bit, we're featuring the prices of queen-size mattresses, but all of these mattresses are available in other sizes. Not sure which one to pick? We suggest checking out our mattress guide, where we've tested just about everything you'll find below.
Allswell
If you want to "float firmly atop the mattress instead of nestling in," we've found this to be one of the best firm mattresses available. You can now get it 20 percent off with code STRATLABORDAY. If you're in the market for new linens, its bedding and towels are also 25 percent off with code LABORDAY2021.
Aviya
Get $200 off the Aviya mattress, which we've said works for pretty much any sleeper looking for an innerspring mattress, using code STRAT200.
Avocado
Avocado, our pick for the most ecofriendly mattress, is offering several deals this Labor Day: You can take $250 off the brand's Organic Luxury Plush mattress with code LUXE250, and $150 off the Green, Vegan Hybrid, Latex, or Vegan Latex mattresses with code LABORDAY. If you're just looking for a bedding refresh, you can also take 10 percent off duvet covers, no code necessary.
Bear
Photo: Courtesy of the vendor
With code STRAT25, you can get 25 percent off at Bear, which includes the brand's mattresses, adjustable bed bases and bed frames, and pillows. If you do buy a mattress from Bear during the sale, you automatically get two free cloud pillows and a sheet set.
Birch by Helix
This "supportive yet plush" mattress is made of organic wool and ecofriendly rubber. With code STRAT400, you get $400 off the purchase price plus two free pillows.
Casper
Several of our writers and editors have slept on this Casper mattress, and basically everyone (except for particularly hot sleepers) have found it comfortable. It's moderately firm, "but cushy enough that collapsing into it at the end of the day [feels] like a reward." And right now, you can take up to 15 percent off your order of a Casper mattress, and get 10 percent off of everything else with code SLEEP21.
Cocoon by Sealy
We've previously said that this mattress will eliminate any "roll-out-of-bed lower-back creakiness." Not only does it ease back pain, but right now it can be yours for 35 percent off — no code required.
Eight Sleep
This high-tech mattress from Eight Sleep will automatically adjust the temperature of the bed, monitor your heart rate, and wake you up with a gentle vibration. As part of the brand's pre-Labor Day sale, you can take $150 off the Pod Mattress, $75 off mattress covers, and 20 percent off accessories with Pod or cover purchase.
Emma
Exclusively for Strategist readers, Emma is offering a whopping 50 percent off the brand's Original Mattress, which we called "a solid choice for side-sleepers who get hot easily," with code STRAT50 at checkout.
Helix
Photo: Courtesy of Helix
Helix offers a wide range of mattresses, but as we've written before, all tend to err on the soft side. You can take the company's sleep quiz to find the best fit for you, then use our code for a discount. With code STRAT100, you get $100 off when you spend $600 or more. With code STRAT150, you get $150 off when you spend $1,250 or more; when you spend more than $1,750, you get $200 off. With each tier of this deal, you also get two Helix pillows for free.
Layla
The Layla sale includes discounts on a wide range of bedroom gear, including mattresses, pillows, and weighted blankets. This memory-foam mattress is $150 off for everyone, but with the code STRATEGIST, you get an extra $10 off. (Look, a discount is still a discount.) You'll also get two free memory-foam pillows with a mattress purchase.
Leesa
Depending on which Leesa mattress you buy — the Original, Hybrid, Legend, or Studio — you can get up to $500 off, no code necessary. We've tested the Original mattress and found it offers plenty of pressure relief for any type of sleeper. The brand will also include two free pillows with any mattress purchase.
Molecule
Molecule (not the one that makes air purifiers) is taking up to 20 percent off everything sitewide with code LABORDAY20, including the Molecule 2 Airtec Mattress, mattress toppers, bedding, bed frames, and even pet beds. The brand will also throw in a free sheet set with