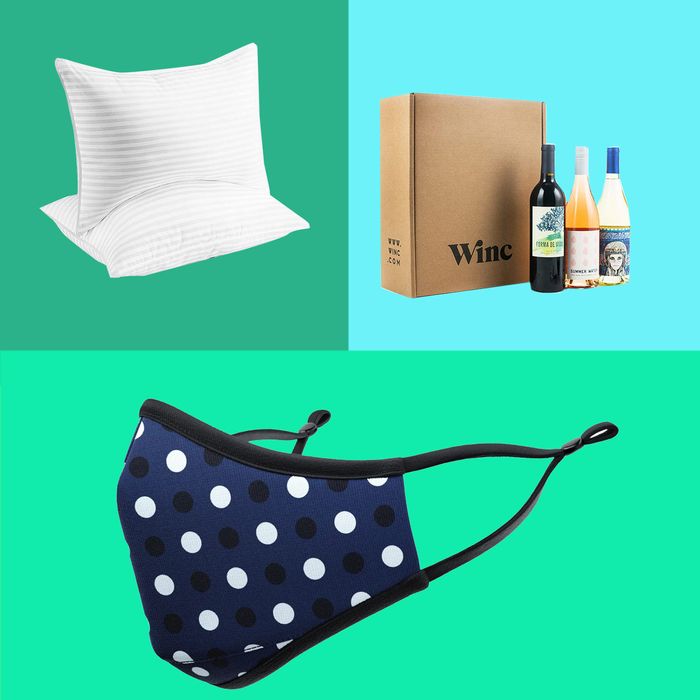 Photo-Illustration: retailers
Welcome back to Your Shopping Cart, where we break out the top-ten products that you, devoted Strategist readers, all bought in droves. Think of this as the tl;dr of the Strategist. If your like-minded brethren are buying these items, maybe you'd like to, too.
Strategist readers continued masking up throughout August. So much so that masks took the top-eight best-seller spots this month. This is the first time we're seeing kids' masks on the list since last October, presumably because in-person schooling began during the unfortunate rise of the Delta variant. We also saw the return of some shopper all-time favorites — the Beckham Hotel gel pillows and the Winc monthly wine-club subscription.
Returning to the No. 1 spot for the first time since May are these KF94 masks, which are the South Korean equivalent of N95s. This particular brand is a longtime favorite of Strategist senior vice-president of e-commerce Camilla Cho. She says these masks are tight enough so as not to cause her glasses to fog up, and she likes that the adjustable straps make for a comfortable fit.
As far as reusable masks go, these from Vistaprint continue to be a popular choice, reappearing on the list for the seventh time since 2020. In case you need a refresher, we tested them last year and they proved to be a writer favorite. Senior writer Liza Corsillo told us that they are "made to ensure proper filtration, breathability, and comfort," so it comes as no surprise that they were recommended as a top layer for double-masking, too.
Another tried-and-tested mask that's highly popular among non-health-care workers are these Powecom KN95s, which appear on both our roundups of best disposable masks and best K95 masks. We write that they are "soft on the skin and create a tight seal all the way around from nose bridge to under the chin." When we gave one to Jacob Cohen, a second-grade teacher in Brooklyn who has tried a lot of KN95s this fall, he said they fit more snugly than the other KN95s he has tried and don't move at all when he is talking.
Jumping down to the fourth spot from last month's top spot are these expert-approved disposable face masks from EcoGuard. When we tested them back in November, we wrote that they're "very comfortable" and fit "pretty well without much need for adjustment." In addition to these, the black EcoGuard masks have also been a reader favorite.
We identified these WeCare masks as the first bona fide mask trend at the end of last year. Since then, they've been in readers' carts through most of 2021. When we spoke to wearers, they told us they serve as an insouciant way of masking up. "Most of the time, you desperately want to forget the mask is there, and you want it to blend in and not be a topic of conversation or thought," Laura Naparstek, a product marketing manager at Braze, told us. "The black surgical mask means you're going to follow the rules and protect other people and yourself, but you're not that precious about it."
Yet another top choice from our list of best disposable masks are these from Evolvetogether, which subtly feature New York City's global coordinates. These are one of the only disposable-mask brands donating masks and sale proceeds to a good cause. Sales of these specific green masks benefit One Tree Planted, a global-reforestation nonprofit.