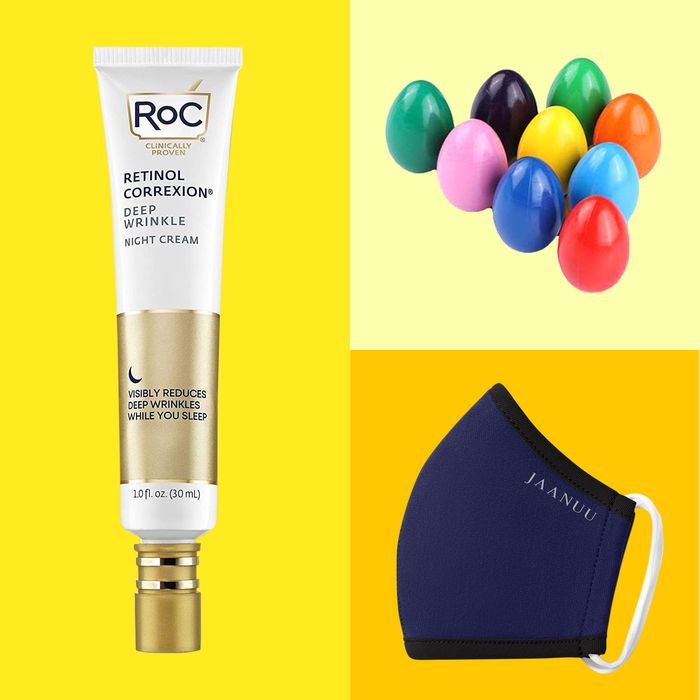 Photo-Illustration: The Strategist. Photos: Retailers
Welcome back to Your Shopping Cart, where we break out the top-ten products that you, devoted Strategist readers, all bought in droves. Think of this as the tl;dr of the Strategist. If your like-minded brethren are buying these items, maybe you'd like to, too.
With the fall back-to-school season rolling around, Strategist readers continued to mask up throughout the month of September; six top spots were taken by masks, including kids' masks to protect students as they start trickling back to in-person school. We also witnessed the return of some familiar faces, such as the RoC anti-wrinkle retinoid cream and the Oral-B nighttime dental guard, both of which we hadn't seen since earlier this year. And an adorable set of rotund crayons, which last turned up on this list in the fall of 2020, also made a surprise appearance.
Same as last month, these KF94 masks are once again in the top spot, retaining their status as one of the best disposable face masks. The South Korean equivalent of KN95s, some studies have shown that they might possibly be better at blocking droplets — but without any head-to-head testing between the two, which one you choose mostly comes down to personal preference. Strategist senior vice-president of e-commerce Camilla Cho prefers these because they don't cause her glasses to fog up, and she likes that you can pull "on the little front loop [to] adjust the tightness around the ears, nose, and sides."
Climbing back up to the second spot from last month's fourth, these ubiquitous disposable face masks from EcoGuard are consistently comfortable and easy to wear. Our tests concluded that they "fit pretty well without much need for adjustment," and they passed the lighter test with flying colors. Readers bought both the blue and black colorways in bulk, with the blue just edging out the black in terms of popularity.
And remaining in the third spot from last month, the Powecom KN95 mask is always a solid choice, included in both our roundups of the best disposable masks and the best KN95 masks. Though technically nonmedical, they appear on the FDA's list of approved emergency PPE as they claim to filter out 95 percent of particles. They're also "soft on the skin and create a tight seal all the way around from nose bridge to under the chin."
If you prefer a reusable mask, we tested this Vistaprint mask last year and it rated among our favorites — and yours, too, as it's popping up for the eighth time on our list. Senior writer Liza Corsillo says they "don't feel constricting or heavy and they look cute enough and feel really well-made." You can also buy reusable filters from Vistaprint that slide easily into the mask's inner pocket.
This is the ninth time since 2019 that this RoC anti-aging night cream has appeared in readers' carts; the last time we saw it was in May. It topped our list of the best wrinkle creams, with dermatologists agreeing that the retinol in this product is key for reducing fine lines and wrinkles. "When I think about the best anti-wrinkle creams, I immediately think about which over-the-counter creams contain retinols — which, in my opinion, are the No. 1 most important ingredient when looking for an anti-aging cream," says Morgan Rabach, a dermatologist at LM Medical NYC. She adds that the RoC is great because it's gentle enough to use on more sensitive, wrinkly skin around the eyes, too.
As the days grow colder and the sun starts setting earlier, snuggling up under the covers is looking like a more and more attractive prospect — and these Beckham Hotel gel pillows are a perennial reader favorite for upping the comfiness of your bed. One Amazon reviewer says their entire family sleeps on these pillows and they all "absolutely love [them]; my neck pain is gone and I sleep much better now. I am 60 and my wife is 56. Comfort is important at this stage in our lives and these pillows provide it!"