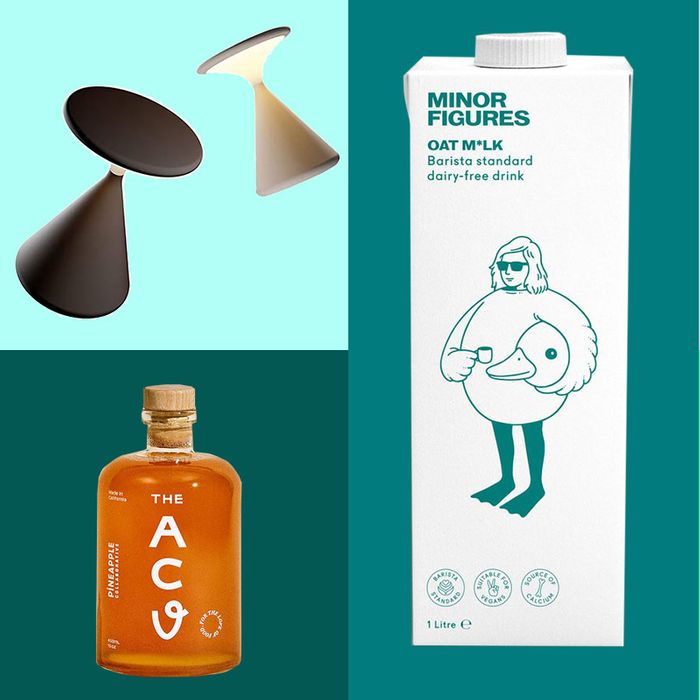 Photo-Illustration: retailers
We write about hundreds of products a week. Here, in our version of the Sunday circular, we've plucked out some of our favorites — expert-recommended essentials, life-changing stuff you didn't know you needed, newly launched gizmos, and the very good deals we uncovered while trawling through the vast online-shopping universe this past week, including an elegant wall ladder, Rose Matafeo's go-to oat milk, and Glossier's latest skin-care launch. (And if you want even more Strategist stories sent straight to your inbox, sign up for our email newsletter.)
The best bicycle basket
Photo: retailer
After a recent move to Highland Park, Illinois, Strategist contributor Ariel Kanter felt like she'd found herself in the "biking capital of America." She began looking for a bike basket to make her errand trips a little easier, and finally settled on these Baba Tree ones at Goodee. They're "handmade in Ghana with vetiver grass that is woven nice and tight, so there's no risk of a baguette, or even the stem of a freshly cut flower, slipping through," she writes, and "each has handsome leather belts with big bronze buckles to attach to the bike." The basket's intricate design belies its hardiness and carrying capacity: It held firm with her 15-pound pup inside and has plenty of room for her "cross-body bag and water bottle — with space enough to fit a towel and a loaf of bread from the local French bakery when I'm riding to the park or beach."
Glossier's new skin-care product
Everyone's favorite beauty brand, Glossier, launched a new product this week: a retinoid that's a hybrid of pure retinol and sunflower-seed fatty acids. The unique formulation is meant to prevent the dryness and flakiness that retinoids are notorious for causing, and reviewers say it's getting the job done: "The texture is rich and creamy, and it leaves my skin feeling soft and moisturized each time I use it," one writes. "If you're nervous about getting into retinol, this one is gentle and a great place to start." Priced at just $35, we suggest you don't dillydally if you want to test it out for yourself.
A two-toned button-down
Strategist writer Ambar Pardilla asked more than a dozen stylish women about their favorite button-downs for larger busts — no gaping or straining here. Emma Zack of Berriez, a vintage shop that curates clothes for curves, owns several of these House of Tame button downs that are made from two different shirts spliced together. "Truthfully, it feels like a regular button-down," she says, but she likes that it contains a "hint of edge — you feel extra cool when you're wearing a shirt that's actually two shirts fused together." Her favorite is one that's half-chambray and half-orange, but this gold-and-white combo is just as eye-catching.
Oat milk for your morning coffee …
Comedian Rose Matafeo is neither vegan nor vegetarian, but she's "not the best of friends" with lactose, and for her "milk is definitely the worst offender over, say, butter and cheese." That's why she can't live without this Minor Figures oat milk, which she says "tastes delicious, like drinking porridge." She's also a fan of the carton design; if she "[spies] it in a café I'm visiting, I know I'm going to like it there."
… and vinegar for your afternoon salad
When kitchen and dining writer Emma Wartzman went searching for the best vinegars around, this apple cider vinegar from Pineapple Collaborative came up as a favorite of multiple gastronomic experts. It's made from three varieties of apples and aged in whiskey barrels to impart a slightly smoky flavor, making it much more "apple-y" than what you would find on a grocery store shelf. Pineapple Collaborative founder Atara Bernstein says you can "really taste the fruit, both the skin and the flesh. But it's very mellow at the same time." She loves using it in dressings and marinades and even drinks it straight every morning for its health benefits.
An anxiety-soothing blanket