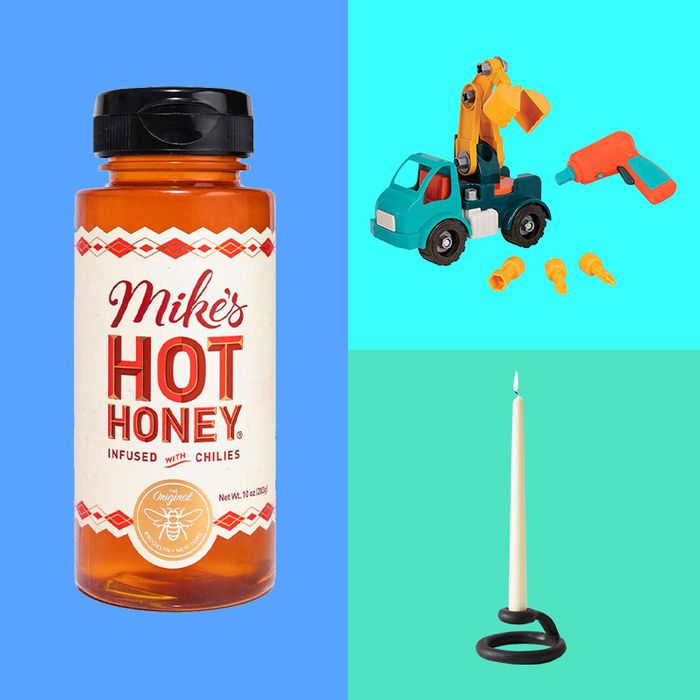 Photo-Illustration: The Strategist; Photos: Retailers
We write about hundreds of products a week. Here, in our version of the Sunday circular, we've plucked out some of our favorites — expert-recommended essentials, life-changing stuff you didn't know you needed, newly launched gizmos, and the very good deals we uncovered while trawling through the vast online-shopping universe this past week, including leather trucker boots, sweet-and-spicy honey, and a lamp for battling SAD. (And if you want even more Strategist stories sent straight to your inbox, sign up for our email newsletter.)
Esther Perel's go-to lipstick
Psychotherapist Esther Perel can't live without this Bobbi Brown lipstick, which she has been wearing since 2006. "When I was on my first book tour, I was offered a session to learn how to do makeup at the Bobbi Brown counter. I had never done press interviews and presentations of the book, so it was a lesson of how to put myself together," Perel says. She calls this peachy nude color "gentle, subtle, but you know it's there. It's visible without being the only thing you see."
Leather boots at a low price
It's not often we find something stylish and on-trend that's also on sale for an exceptionally low price, but every once in a while we stumble on a hidden gem — like these leather Western-inspired boots from ASOS. Priced at just $26, they're currently 70 percent off, and if you think it's too good to be true, think again: Reviewers attest they're just as cute and comfortable as they look. With their sleek, workwear-inspired silhouette, these boots are without a doubt destined to become your new fall-wardrobe staple.
A wireless keyboard for improving your office …
Photo: Courtesy of the Vendor
With WFH becoming a long-term possibility, you might be ready to invest some more time and money in your home-office setup. Strategist senior writer Karen Iorio Adelson talked to several experts about the best ergonomic equipment — and this wireless keyboard comes recommended by chiropractor Cariann Paul for promoting proper wrist and elbow positioning. "When it comes to our wrists, we want them to be neutral so they aren't in a position of stress," says Paul. "A smaller keyboard tends to force us to close our chest, making it easier to round our backs, which can increase back and shoulder pain."
… and a candleholder for improving your living room
Strategist writer Emma Wartzman talked to several people about the best candleholders, and this stylish one from West Elm has taken pride of place in Girls' Night In founder Alisha Ramos's home for years. Ramos says these candleholders are "true works of art that are basically like sculptures, sure to add fun visual interest to a mantel, desk, or coffee table." The holder also comes in a speckled white and an earthy terra-cotta.
A take-apart toy crane
Strategist writer Lauren Ro's 2-and-a-half-year-old son, Augie, loves assembling and disassembling his toys, so Ro decided to buy him this Battat toy crane that can be broken down and built back up again. When it arrived, "Augie was immediately interested in examining all the pieces. There are 30 in all, including a chassis, a cab, wheels, a truck bed, a crane, and an excavator, plus all the necessary screws, nuts, and bolts — a dream come true for a little boy who's obsessed with vehicles," Ro writes. Simultaneously fun and educational, these toys teach "problem-solving, fine motor skills, and shape-sorting and require sustained concentration," useful skills to have for an engineer in the making.