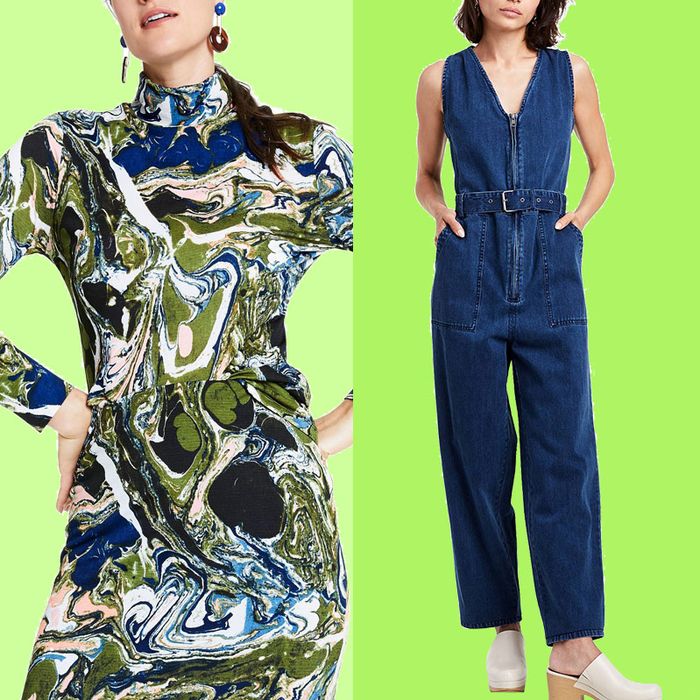 Photo-Illustration: retailers
First thing Monday morning, I got a ding from my Strategist staff Slack group: "Did anyone have success with the Target designer collab this weekend?" Staff writer Chloe Anello had shopped the retailer's highly anticipated collaboration with Victor Glemaud, Nili Lotan, Rachel Comey, and Sandy Liang. Naturally, this wasn't the first time we'd discussed the collection. Early in the month, senior writer Liza Corsillo asked us to join her online at 3 a.m. on launch day (September 25), when the collection would go live. And for almost three weeks, our Slack kept buzzing with shopping plans: We were in awe of how inexpensive everything was and landed on early favorites (the Rachel Comey marble turtleneck and Sandy Liang cottagecore sweaters were top picks). As for strategy, some writers settled on wee-hours online shopping, while others planned to show up in person at their local Target. In the end, those who tried all ended up with some very cool, very affordable clothes (out of a wish list of eight, I snapped up four items). Below, we've rounded up what we got our hands on and how we pulled it all off.
Photo: retailer
While many things in the collection have sold out, it seems like some things are still undiscovered by Target shoppers. Anello saw this in person and was sold. "I showed up at Target at 8 a.m. thinking a lot of people would be there, and it was completely empty," she says. The traffic around this jacket is similarly dead online, but that just means you can still get your hands on this gem before it blows up. It's still available in every size.
New York deputy editor Alexis Swerdloff shopped from her phone at the park this past weekend. "I went into the Target fall collection with a plan: what would I actually wear, and what felt unique/worth it enough to pounce on while huddled under the slide at the playground with my 3-year-old on a Saturday morning," she says. After consulting with "an equally obsessive friend," this jumpsuit met the criteria. At $55, this was worth it because it looks like an actual Rachel Comey jumpsuit, Swerdloff says.
Photo: retailer
In the hopes of wearing it under the jumpsuit, Swerdloff also bought this mint-green Sandy Liang pointelle top.
Surprisingly, these tie-dyed-ish jeans are still in stock in every size. Swerdloff says, "I got them in a size up than my usual with the hope that they'd make for a slouchy look."
The team had its eyes on this Rachel Comey turtleneck from the beginning, but only writer Ambar Pardilla and I were able to get it. "I'm sort of a sucker for any printed turtlenecks — I have a drawer filled with them (including one printed with actual leopards, as in the animals, not just the spots), so I immediately knew I had to get my hands on this shirt," says Pardilla. "It looks like you were running down the street and were splattered by a truck filled with paint. The colors shouldn't really work together, but they do." Everyone anticipated it to go quickly, but when I signed on around 4:30 a.m. Saturday, I was surprised to see so many sizes still in stock.