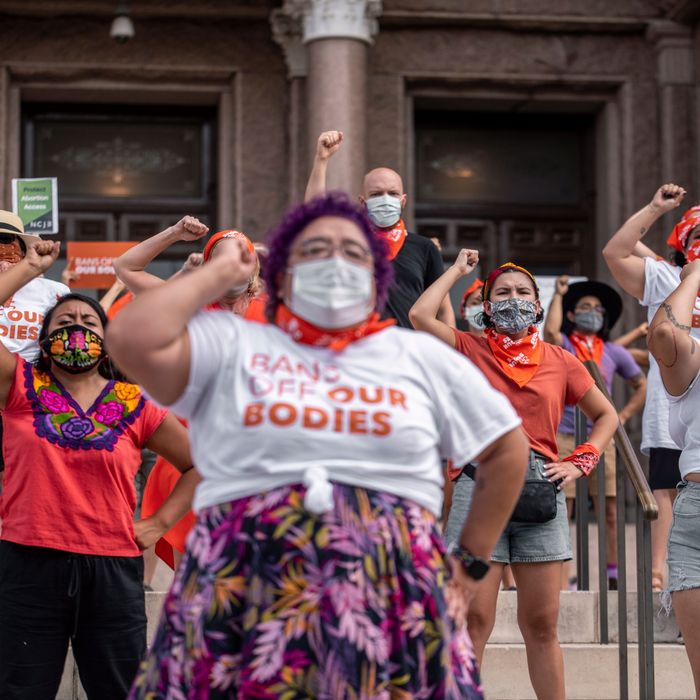 Photo: Getty/The Washington Post via Getty Im
In Texas, it's now illegal to get an abortion after the first signs of a fetal heartbeart, which amounts to around six weeks, or about two weeks after a missed period. The law, officially titled Senate Bill 8, went into effect on Wednesday when the Supreme Court refused to block it. It also allows private citizens to sue abortion providers (and anyone they suspect of aiding someone get an abortion). This is now the most restrictive anti-abortion legislation in the country.
Reproductive-rights activists have long warned about the rise of abortion bans; the Supreme Court is set to hear a Mississippi case challenging Roe v. Wade next year. Shae Ward, the hotline director of the Lilith Fund for Reproductive Equity, the oldest abortion fund in Texas, told the Cut: "It's sad and heavy when you think of all the Texans that are going to have to struggle even more just to get care. I feel like what we've been focusing on is, what are our options? How can we comply with the law and still make sure that people can get seen?" Ward suggests those interested in supporting abortion care in the state should donate to clinics, funds, and other community organizations.
Similar to other lists we've compiled on how to help with Haitian earthquake relief and give back to Asian communities, the following are organizations that are fighting for abortion access in Texas.
If you're wanting to make one donation and have it split between different nonprofits and organizations, you can donate through ActBlue. It automatically splits contributions evenly between the Bridge Collective, Clinic Access Support Network, Whole Woman's Health Alliance, Inc., Texas Equal Access Fund, West Fund, the Lilith Fund, Support Your Sistah at the Afiya Center, Frontera Fund, Fund Texas Choice, and Jane's Due Process (more on them below). There's also an option to customize how much money goes to each charity.
The Dallas-based nonprofit Fund Texas Choice assists Texas residents with lodging and transportation expenses to abortion clinics in and out of state. It also provides information on organizations that can help with funding the procedure.
Texas Equal Access Fund provides funding to low-income people in the north, east, and Panhandle regions of Texas who can't afford an abortion. It also offers emotional support through a confidential text line, support group, and virtual clinic companion program.
The Lilith Fund, an Austin-based nonprofit, provides direct financial assistance to Texans in central and southern regions of the state who need an abortion. It also offers an emotional-support hotline.
Avow (which was previously NARAL Pro-Choice Texas) fights for abortion rights through community building, education, and political advocacy. The Avow Foundation funds research, public education, organizing, and more to educate Texans on the importance of abortion access.
Jane's Due Process helps young Texans navigate parental-consent laws and confidentially access abortion and birth control. It offers Texas teens and young people free legal support, one-on-one case management, and a text line for those needing information on birth control and family-planning services without parental involvement.
Whole Woman's Health is an independent abortion provider that has gone to the Supreme Court multiple times to fight for abortion access in Texas. It has clinics across central and north Texas, as well as in four other states. It also provides services to the nonprofit organization Whole Woman's Health Alliance (WWHA), which seeks to open abortion clinics in parts of the country most impacted by anti-abortion legislation.
Stigma Relief Fund (SRF) is an abortion fund for anyone who seeks abortion care at Whole Woman's Health. It provides financial support to those who can't afford the cost of an abortion. This fund also goes toward the cost of travel, lodging, food, and other costs associated with abortion care.