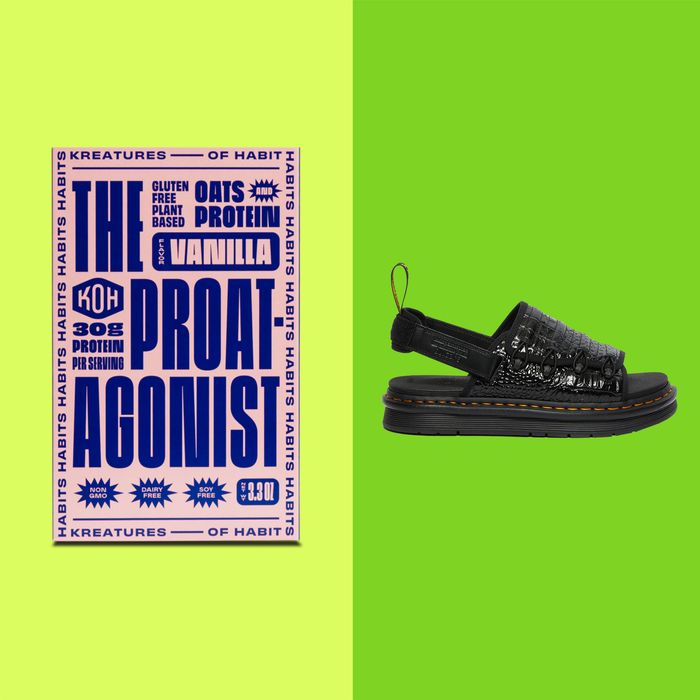 Photo-Illustration: The Strategist; Photos: Retailers
For this week's Don't Dillydally, we've surfaced a range of things we're sure will sell out, including new skin care from Glossier, Peppa Pig back-to-school merch, and a fancy oatmeal to add to your grocery list.
Glossier
This week, Glossier expanded its skin-care offerings to include retinol. If you've had bad experiences with this powerful ingredient before, Glossier's version may be worth a try. It's a hybrid of pure retinol and sunflower-seed fatty acids, so you get all the benefits of a retinoid without the side effect of sensitive, dry skin. It's been out for only a few days but has already garnered positive reviews. "The texture is rich and creamy, and it leaves my skin feeling soft and moisturized each time I use it," one reviewer writes. "If you're nervous about getting into retinol, this one is gentle and a great place to start." Another notes how quickly they've seen results: "As I head into my third week, I do notice that my skin is brighter when I wake up in the morning." The price is also impressive. Some retinol serums can be close to $100 (sometimes more), so at $35, we imagine Glossier's will fly off the shelves.
Tilit x Tom Colicchio
Top Chef judge and restaurateur Tom Colicchio partnered with chefwear brand Tilit on a collection of aprons. We've written about the brand before. Jeff Seizer, owner of the French American restaurants Royale Raleigh and Lucarne in North Carolina, calls Tilit's aprons "top-notch." He appreciates their utilitarian pockets and handsome design. This collaboration offers more of the same with a few luxe details like a leather neck strap and water-resistant zippered pocket. In addition to the cream color pictured, it comes in a stylish green and blue.
Hunter x Peppa Pig
If you're the parent of a Peppa Pig stan, we've got the perfect add to your back-to-school shopping list. This ten-piece collection of rain boots, boot socks, backpacks, and umbrellas is covered in prints of Peppa and her little brother, George, enjoying rainy days. It's a limited-edition collection, and we know how the kids love Peppa so definitely don't dillydally.
Helinox x Filson
Outdoorsy people will love this coming together of two of the industry's top brands. This limited-edition collaboration marries Helinox's performance, durability, and portability with Filson's style. The collection includes a tactical table and this camping chair. It's similar to other Helinox chairs we've written about in that it collapses into a bag the size of a fanny pack. The Sunset chair features a high back for more support and longer legs so you sit higher off the ground. Like the table, the chair comes in two Filson colorways: camo and flame orange.
Crosby Studios x Yellowpop
This three-light collab pairs Crosby's minimalist designs with Yellowpop's signature LED technology. Starting with this pink circle, the collection increases in size to a medium blue circle and a large size in white. Style them together for an illuminated art installation right at home.
Kreatures of Habit