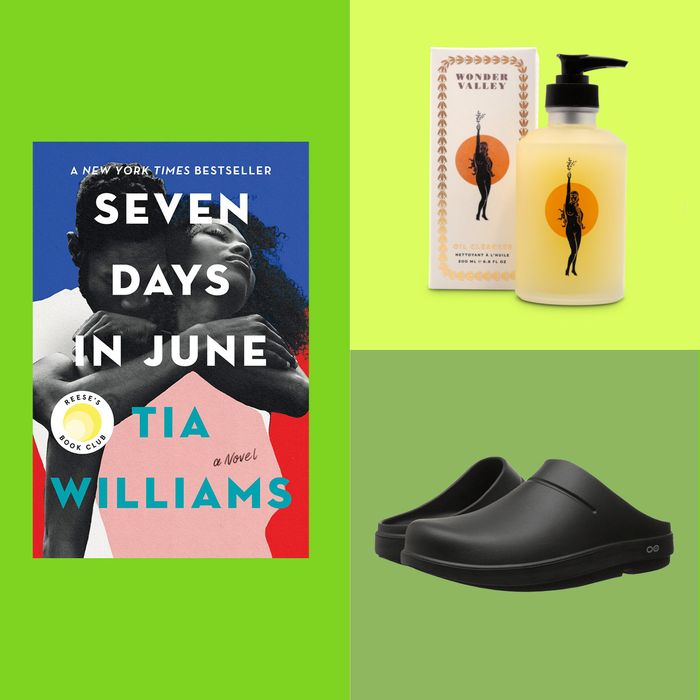 Photo-Illustration: The Strategist. Photos: Retailers
If you follow our monthly feature Your Shopping Cart, you know we have some eerily good intel on what you all are buying. Which led us to think that, as Strategist editors, we could turn the tables and highlight all the things we've been buying for ourselves. As you'll notice, it's both a blessing and a curse to be a Strategist editor; we're picky, but sometimes we just have to get on with it. (It's online-shopping expertise meets IRL needs.) Below, what we bought in September.
Leah Muncy, deals writer
Ever since Welly bandages hit the market, I've gone back and forth on buying a pack just for the cute little tin. (What is it about tins?) Its first-aid kits are expensive, however, and I don't often need bandages, so I would usually have to give myself a stern talking-to in the Target first-aid aisle and keep walking. But when I ran out of acne patches this month, I decided this acne patch kit would be the perfect excuse to splurge: The pink tin fits easily into my makeup bag, and the patches are quite large — I sometimes even cut them in half for smaller zits. At $15 for 72 pimple patches and a cute little tin, I say that's not a bad deal.
A friend of a friend of mine just started selling her ceramics online, and it took a Herculean amount of self-restraint (and a quick look at my bank account) not to just purchase the whole collection. I ended up going with one of her stilted vases, which has a sturdy square shape and a wabi-sabi-esque earth-toned glaze. It'll be the perfect vessel for cuttings, cutlery, or even pencils and pens. The one I purchased is now unavailable, but this larger version is still in stock.
Chloe Anello, writer
When it comes to gluten-free baking, you can't just use one flour. Most of my recipes require three or more flours in order to get the consistency regular flour provides, and to simplify it, many books use different blends, which consist of set measurements of alternative flours all, well, blended together. Instead of telling you which flours to use and how much, they tell you to use one of the premixed blends. At first, I kept them all in plastic bags because it was economical, and I really only used two books. But after investing in more cookbooks once I cooked my way through what I already had, I decided I needed a better solution for storing my flour mixes. I bought two sets of these jars. So far, I like them. They fit under my awkwardly sized apartment cabinet and are easy to get utensils in and out of when I go to scoop out flour.
My favorite blemish balm, which I wrote about over a month ago, was on sale. The first one lasted about three months after being used almost daily by two people (I share it with my boyfriend), which by my standards is pretty good. I also threw in this Peace Out retinol eye stick, too, mostly because I wanted to meet the shipping minimum but also because the idea of eye cream in stick form seemed handy.
Maxine Builder, editor
I started Accutane right after Labor Day, so I spent a lot more money on skin care than usual in an attempt to protect and moisturize my increasingly dry and sensitive skin. I got a lot of stuff on sale, like this extra-large pump bottle of Supergoop's Everday Lotion and the "gratitude-size" bottle of