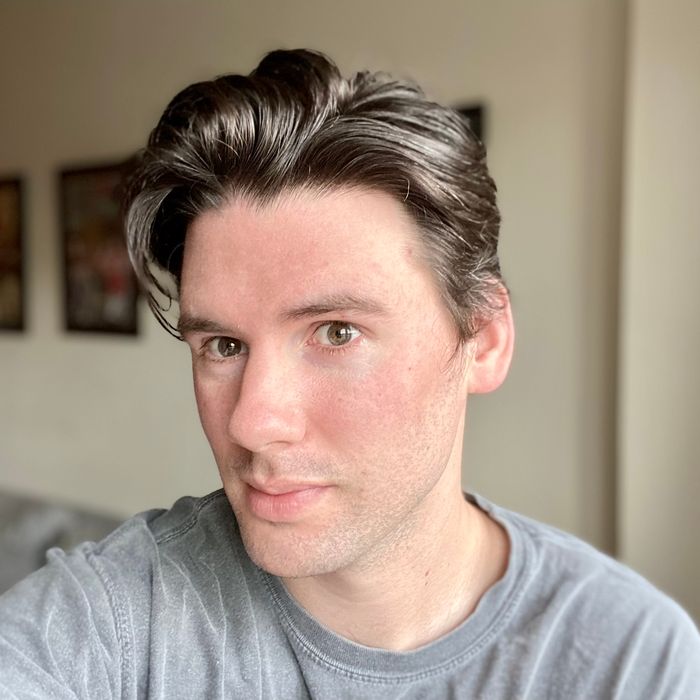 Photo: Courtesy: Nolan Feeney
There are plenty of things about my hair I'm grateful for — it's soft, thick, and has a decent sheen. But I've resigned myself to a few rules about what I can do with it: Resistance against my stubborn cowlick is futile, and fighting where it flops is always an uphill battle. I've spent a lot of effort trying to tame my bangs, but looking a bit like a mildly hungover Ted Lasso has often felt like the best I could do. I could use pomade to help push my bangs in the right direction — always to the left, lest I resemble a Warped Tour tragedy — but the stiff, motionless hold left a lot to be desired.
Back in June, I got my first proper haircut since the start of the pandemic. I mentioned to my longtime hairstylist, Chansophalla — co-founder of the new East Village salon 1-900-BLEACH ME — that I love that piece-y, styled-by-saltwater-and-sun quality my hair gets after a trip to the beach. It was the first time we had talked in-depth about texture, so she introduced me to the world of salt sprays — a fairly common product that does some of the work of styling and holding that pomades do, but with more flexibility. Plus, "spray is a lot easier than a putty or a cream because you distribute it through your hair more evenly, instead of just a clump in the front," Chansophalla explains when I call her a few months later to ask how it works.
She recommended I try her favorite: the Balmain Texturizing Salt Spray. I have to admit I was skeptical. A spray seemed unnecessary. How much could some droplets really do? Still, when I couldn't quite recreate the straight-out-the-salon look at home in the days after my haircut, I gave in and ordered and used it the very day it arrived. After stepping out of the shower, I cautiously worked several spritzes into my hair and waited to see the results as it dried. My bangs gently started to mold in whatever direction I wanted, and before long, I felt like I had the easy, swoop-y volume and definition to live up to my high-school graduation superlative (Most Likely to Join a Boy Band). Since then, the salt spray has become a foundational step of my routine, but it works almost just as well in a pinch: When I don't feel like putting much effort into my appearance but need to tidy up before a surprise Zoom call or drinks with a friend, a few spritzes help me achieve artful bedhead and I-woke-up-like-this confidence.
Chansophalla says the Balmain spray works so well because of its premium ingredients that you rarely find in cheaper sprays, like silk protein and argan oil, two ingredients which help hair feel soft and luxurious. At $44 for a small bottle, it's definitely on the higher end, but it also doesn't take much product to see results: I've been sharing the bottle with my partner, and after four months of using it several times a week — sometimes multiple times a day! — I still have a little under two thirds of it left. "I feel like the difference between Balmain and a lot of other textured salt sprays is that it's very workable," Chansophalla says. "It doesn't feel like it's too hard or too stiff but still has amazing style memory."
I have very straight hair, but Chansophalla says the Balmain spray works with all types of hair, especially anything with some natural texture or curls. The spray's versatility is also well-suited for amorphous pandemic life, when one day often rolls into another and you might not be showering during any of them. I can enhance its effects with a little added pomade, but it never turns oily or sticky enough on its own that I have to wash it out. And similarly, unlike with some pomades and creams, going to bed with some salt spray left in won't feel like taking a bath in Elmer's glue.
The one downside: If I get carried away and spritz too recklessly, there can be a slight sting around my hairline. But as someone who rarely suffers for beauty, that brief wince (and the fact that Balmain smells like a five-star resort) only adds a glamour and novelty to it all. After a few seconds, I'm ready to treat the sidewalk like my own personal runway, with a self-esteem boost strong enough to straighten my spine and perfect yet pliable hair I barely had to work for. "It doesn't look like you have product in your hair, and it doesn't feel like you have product in your hair, so that's my favorite part about it," says Chansophalla. "It's not like you can't put your hands through it, because you're probably doing that a lot more often with the Balmain salt spray."
She's right: Running my hands through my hair after applying the spray (and throughout the day) is a big part of the fun. At the onset of the pandemic, when everything felt so bleak and pointless, all my little daily rituals melted away, including my semblance of a skin-care routine. Now, there are still so many things out of my control. So, I've been clinging to my Balmain spray. It's a reliable bolt of joy any day, any time — one small thing I do for myself to feel more like me.
The Strategist is designed to surface the most useful, expert recommendations for things to buy across the vast e-commerce landscape. Some of our latest conquests include the best acne treatments, rolling luggage, pillows for side sleepers, natural anxiety remedies, and bath towels. We update links when possible, but note that deals can expire and all prices are subject to change.