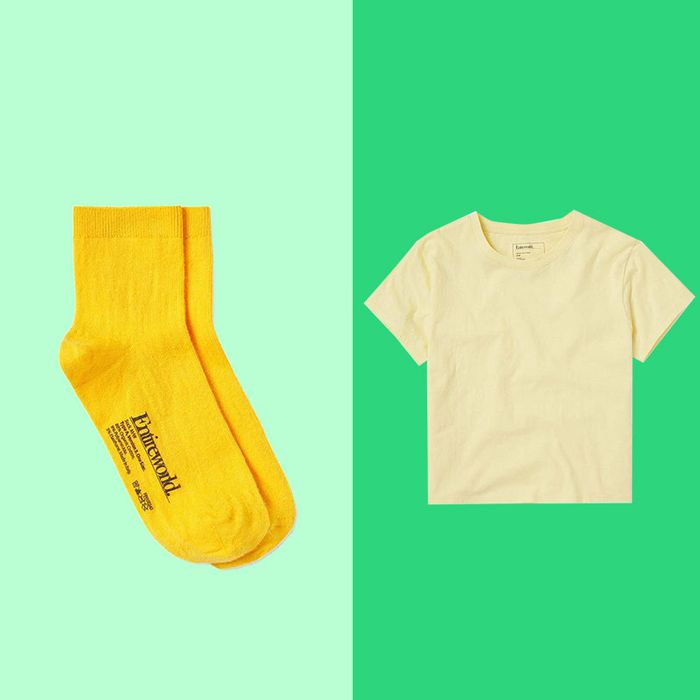 Photo-Illustration: retailer
In August of 2020, the New York Times ran a feature titled "Sweatpants Forever." Clothing sales had fallen 79 percent in the United States since the start of the pandemic, but sweatpant sales were up 80 percent, and direct-to-consumer sweat-suit brand Entireworld was at the heart of it. (According to the Times, the brand grossed more in the first two months of the pandemic than in its entire first year in business.) Entireworld's basics line quickly became a must-have for the work-from-home creative class, many of whom had fallen for the brand's vintage-inspired fits, upbeat colors, and comfortable cotton fabrics. And as the Times' headline implied, Entireworld's newfound success — built upon a sustainable, ethically conscious, slow-fashion model — seemed destined to last.
Yet, as the brand's founder Scott Sternberg revealed in an Instagram post early this morning, the brand's sweatpants are not forever: "Entireworld is a big idea, a massive undertaking, which would require significant capital to be able to compete with the countless brands out there," Sternberg wrote. "Just a few weeks ago, we were closing an acquisition deal that … would have finally given us a shot at realizing the financial potential of the brand. But that deal disappeared in a flash, leaving us and our factories high and dry and giving us no choice but to shut things to down."
It's difficult news to take, especially since nearly all of Entireworld's offerings, from socks to tees to sweatpants, have become Strategist staples. When the brand put their entire website on sale last month (which, looking back, we should have taken as a sign), Strategist writer Chloe Anello admitted she owns about a dozen of their women's tees and several pairs of their men's socks, which she wears just about weekly.
Now, for the final time, the entire website is on sale — with some discounts as deep as 70 percent off. Other styles may be added over the next couple of weeks, too, so we recommend checking back daily for new deals. Note that all sales are final, and, as Sternberg writes: "Dare I say, everything must go. So stock up."
Women
Several Strategist writers, columnists, and cool people we've spoken to consider this unisex French terry sweatshirt a daily essential. Model and actor Miles Garber told us that both the sweatshirt and matching sweatpants have a good amount of structure, "so you don't look like you're just schlepping around," and that their unexpected color palette and not-too-relaxed fit set them apart from other matching pairs on the market.
While you're at it, why not pick up those (now under-$50) matching sweatpants?
Made from organic cotton with a wide, relaxed fit, Strategist writer Chloe Anello says these tees are "easily a top-five favorite" among "the 60 different T-shirts from all different brands" that she owns.