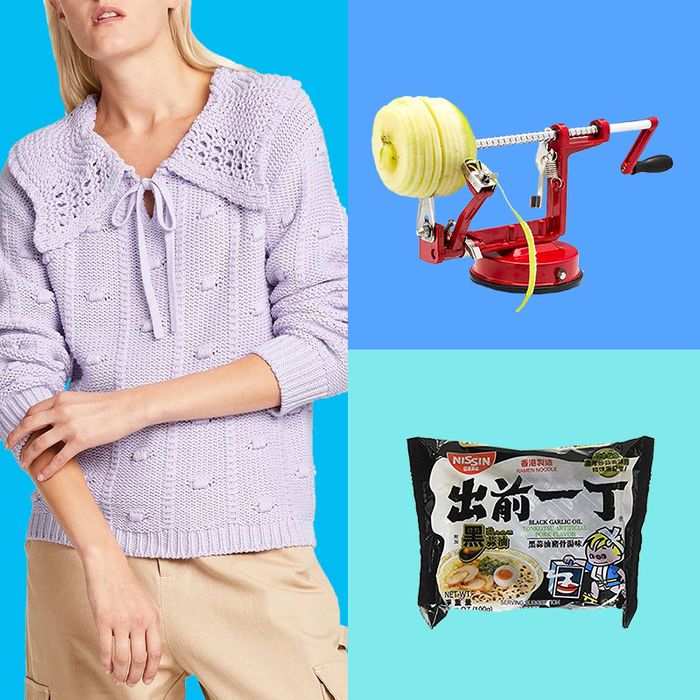 Photo-Illustration: The Strategist; Photos: Retailers
We write about hundreds of products a week. Here, in our version of the Sunday circular, we've plucked out some of our favorites — expert-recommended essentials, life-changing stuff you didn't know you needed, newly launched gizmos, and the very good deals we uncovered while trawling through the vast online-shopping universe this past week, including athleisure with ample storage space, cottagecore-esque pullovers, and fancy instant noodles. (And if you want even more Strategist stories sent straight to your inbox, sign up for our email newsletter.)
Athleisure with ample storage space
If you've ever struggled to carry your phone, snacks, and other goodies on hikes, Outdoor Voices has a new line of athleisure with "impressive amounts of storage space." The collection, we write in "Don't Dillydally," is "designed with long, hands-free outdoor treks in mind." The leggings feature a shirt loop, a pocket to hold your water bottle, and a removable mini-backpack big enough for lip balm or doggie bags. And the sports bra even has a pocket that we note is "big enough to hold your phone."
A cheap Julia Child–inspired kitchen renovation
A kitchen renovation sounds like a costly task, but it doesn't have to be. Strategist contributor Morgan Goldberg consulted designers, food-world people, and other folks with great taste and unearthed more than a dozen ways to "improve a kitchen without taking it down to the studs." Elise McMahon, a sustainable-furniture designer, picked up inspiration while visiting Julia Child's kitchen years ago. "Her wall-mounted pegboard with hanging pots, pans, and utensils always stuck with me as an open-storage solution I want for my future house," she says. The look can be achieved with this inexpensive pegboard, which McMahon plans to paint a "strong sunshine yellow" or keep "glossy white."
Jay Shetty's cure for headaches, stress, and tension


"Peppermint Halo is a staple," Jay Shetty told us when he talked about the things he can't live without. The podcaster and life coach says it "relieves headaches, stress, and tension in a matter of minutes — literally minutes." You simply roll it "on your temples, your forehead, and in between your eyebrows, as if you're drawing a halo around you," he explains. "I tell everyone to use this instead of popping a pill or drinking coffee to cure headaches."
A deep-red lipstick suitable for all skin tones
As Strategist writer Diksha Basu began adding lipsticks back into her routine, she found herself returning to one from over a decade ago: Black Cherry, by Revlon. It's even better than the cult-favorite Clinique Black Honey, which she says "does next to nothing for me" because it "shows up as little more than a barely tinted lip balm and wears off quickly." By contrast, Black Cherry "seems to last for hours, through lengthy Zoom meetings and three-hour-long classes," and when it does eventually start to fade, "it does so without going cakey or changing color," she writes. Plus, Basu notes that the deep-red shade is "perfect for all skin tones, with varying degrees of intensity. On my white friends, it shows up as a deep, dramatic red, perfect for a night out. On my skin and my other brown- and black-skinned friends, it gives a sexy, mysterious effect that's made-up but not dramatically so (which I can amp up as needed by layering it)."
Cottagecore-esque pullovers
Last weekend, Target released its highly anticipated collaboration with designers Victor Glemaud, Nili Lotan, Rachel Comey, and Sandy Liang. And in true Strategist fashion, it has been on our radar for a while. "Early in the month, senior writer Liza Corsillo asked us to join her online at 3 a.m. on launch day (September 25), when the collection would go live. And for almost three weeks, our Slack kept buzzing with shopping plans," Strategist writer Jenna Milliner-Waddell explains in a roundup of the "very cool, very affordable" clothes the writers and editors were able to snag before they sold out. One such item that's actually still available in most sizes is this Sandy Liang x Target pullover sweater, which writer Ambar Pardilla bought. "I just really like the idea of wearing pastels in the winter, and this crochetlike sweater spoke to me," Pardilla says. "It's very cottagecore-esque, with a Peter Pan collar and bow tie in the front, but I really like that. Plus, the knit actually looks well made from the photos and not just poorly pieced together."
Disposable keepsakes for lasting memories
In our latest installment of "Steal My Vacation," we followed journalist and podcaster Marjon Carlos on her weeklong trip across Jamaica with five of her friends. Their trip consisted of massages by the pool, rafting down the Rio Grande, paddleboarding in lagoons, and other memorable activities. To "help preserve memories," Carlos says, she bought these disposable cameras for everyone on the trip "as a way to capture rare, fun moments."
An all-in-one spiralizer
Pie season is officially here, so we took it upon ourselves to make the whole pie-making experience a little less stressful. Strategist kitchen-and-dining writer Emma Wartzman spoke to pastry experts about their must-haves and exactly how to use them. Emily and Melissa Elsen of Four & Twenty Blackbirds swear by this $20 apple peeler for getting the job done in record time. "We were skeptical of this contraption at first — it looked like it was going to be much more trouble than it was worth — but we were so wrong," they say. "This peeler is the easiest way to peel, core, and slice all at once." Best of all, it can be used to peel other produce, like potatoes and pears, too.
"Fancy" instant noodles
Photo: Retailer
"Anyone who has walked through an instant-noodle aisle knows what it's like to be confronted by shelves upon shelves of identically shaped packets, their glossy exteriors promising bowl after bowl of slurpable noodles in hot, savory soup," writes Strategist newsletter editor Mia Leimkuhler. With so many options out there, she sought out expert advice to find the absolute best. After talking to chefs, food writers, cookbook authors, and other foodies, she rounded up a list of soupy, saucy, and spicy instant noodles. Favorites of the food writer Cathy Erway, author of The Food of Taiwan, are these noodles that come with something extra. "They have this little packet of black-garlic oil, which creates these little droplets of black oil across the top of your bowl — a nice touch that feels kind of fancy for instant noodles," she says. To elevate the dish even more, Erway recommends cracking an egg into the noodles as they cook.
An artist-recommended book for other artists
Graphic novels often get equated with superhero comic books, but there are plenty of literary reads in the genre. To find the best, Strategist junior writer Arielle Avila spoke to librarians, book reviewers, and artists about their favorites. Wendy: Master of Art, by Walter Scott, was recommended by graphic novelist Kristen Radtke and artist Janie Korn for being "deeply hilarious" and relatable. "Anyone who's ever been to art school or wanted to be an artist or, like, failed in an artistic endeavor will see themselves in these pages," says Radtke, who recommends this book to artists. Korn, who "absolutely adored being an interloper at the University of Hell, Canada," notes that she enjoyed the book's "chaotic, hilariously art-world antics."
Calming (on-sale) under-eye cream