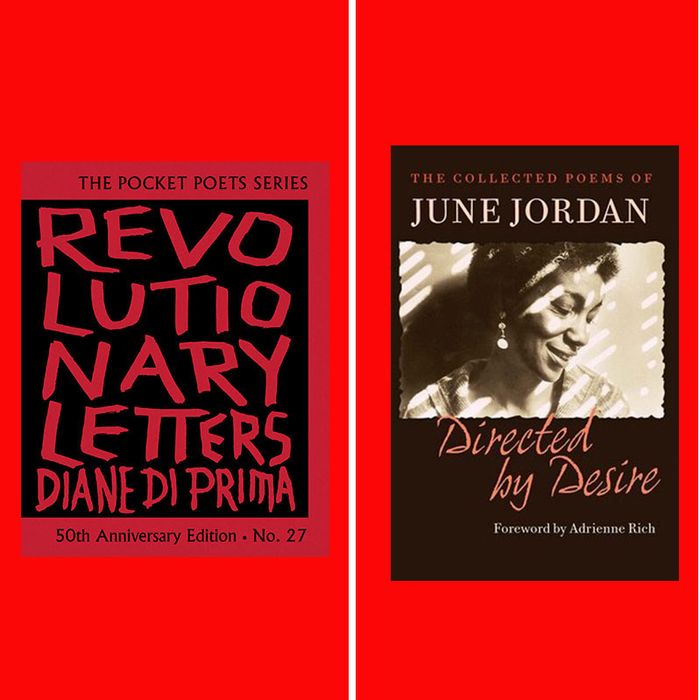 Photo-Illustration: The Strategist; Photos: Retailers
Poetry can be one of the more intimidating literary genres to shop for, especially if you're buying a book for someone else. While the likes of Amanda Gorman, Ocean Vuong, and Rupi Kaur have recently entered the canon with viral vengeance, it can still be hard to reach beyond your high-school English syllabus without expert guidance.
With this in mind, we asked some of our favorite contemporary poets, as well as the curator behind popular online poetry Instagram and Patreon community @PoetryIsNotaLuxury, to pick out the books they themselves would be happy to give or receive. Rather than the Beat poets or Gertrude Stein, you'll find 21 thoughtful recommendations here that will please longtime poetry fans and newcomers alike, from publishers like Copper Canyon Press, Wave Books, Soft Skull Press, and more. And if you're still hungry for even more poetry, almost everyone we spoke with recommended visiting your local independent bookseller and asking them what they're into.
Poetry collections
Photo: The Strategist; Photo: Retailer
Two of our poets came in strong with recommendations for June Jordan. Erin Taylor, whose debut collection, Bimboland, will be published in December, says The Essential June Jordan is an "instant classic" by a "legend." If you want to "really go for it," according to Emily Kendal Frey, whose new book, Lovability, was published earlier this year, level up and purchase Jordan's Directed by Desire: The Collected Poems. The latter edition encompasses even more of Jordan's oeuvre — including some poems unpublished in her lifetime — and has an introduction by Adrienne Rich. For something more specific, Kendal Frey suggests a collection dedicated to Jordan's love poetry.
Photo: The Strategist; Photo: Retailer
Nikki Wallschlaeger, who recently published her third collection, Waterbaby, has been teaching this book at the Iowa Writers Workshop. While she notes that Baldwin is mostly known for his novels and his essays, he was also a prolific poet, and Jimmy's Blues contains lyrical poems that are "sharp, critical, and infused with the Black American blues tradition." She recommends it especially for fans of music who are looking to make the leap to poetry.
Photo: The Strategist; Photo: Retailer
"Clifton's work is well-known, and yet not well-known enough," says poet Gabrielle Bates, whose own collection, Judas Goat, will be published by Tin House in 2023. She likes this particular hardcover edition because, with its smart black-satin bookmark, it "looks, feels, and reads like a gift," and it features an introduction written "with great tenderness and care" by Aracelis Girmay.
Photo: The Strategist; Photo: Retailer
Poet and visual artist Bianca Stone says that any lover of John Ashbery's work will appreciate this "wonderfully assembled" collection of poems and facsimiles of the lauded poet's drafts, which includes a section of notes and annotations that a poetry lover will "dork out over," and will "lead down fun rabbit holes."
Photo: The Strategist; Photo: Retailer
Bell, who passed away in 2020, published more than 20 volumes of verse in his lifetime. Wallschlaeger calls this book, which spans three decades of his poetry, "a mature collection" that takes the reader through the struggles of a character named the Dead Man, whose voice hovers "between the internal world of introspection and external action." She says it's a contemplative, ruthless, and compassionate book about what it means to be a modern being in "a world of intellectual uneasiness and political confusion."
Photo: The Strategist; Photo: Retailer
This collection presents poems that lead directly up to Argentine poet Alejandra Pizarnik's tragic death by suicide at age 36 — including a final piece of verse found written on a chalkboard after her death. Rachel Rabbit White, writer and author of the poetry collection Porn Carnival and the expanded Porn Carnival: Paradise Edition, highly recommends gifting these enigmatic poems, which depict a world "without much hope for transcendence" but are still written with wry humor.
Contemporary poetry books
Photo: The Strategist; Photo: Retailer
"I'm hard-pressed to think of a single collection of poetry from the last few years that has moved and awed me more than Aria Aber's Hard Damage," Bates says, adding that the lines contained within this recent collection hold up to repeated readings. The book is even more impressive, she adds, when considering that Aber wrote these poems in her third language.
Photo: The Strategist; Photo: Retailer
Poet Chen Chen, whose latest book, Your Emergency Contact Has Experienced an Emergency, is forthcoming next year, says this collection "contains poems that are immediately accessible as well as poems that reward more patient reading and deeper knowledge of the art." He notes that Smith's poems explore grief and existential questions, but with a point of difference: "kitschy sci-fi, and shoutouts to David Bowie!"
Photo: The Strategist; Photo: Retailer
Not your average book of love poetry, Rabbit White praises this book for its "hypnotic and at times aphoristic" lines that "take on the narrative of romance in order to dismantle it, to find its core, and ask if it is inevitably violent." A great gift for the recently heartbroken, she says that Kahn's collection "is a book for anyone who has been in or out of the 'lie' of love," promising that its lines will stay with you "like a haunted chorus."
Photo: The Strategist; Photo: Retailer