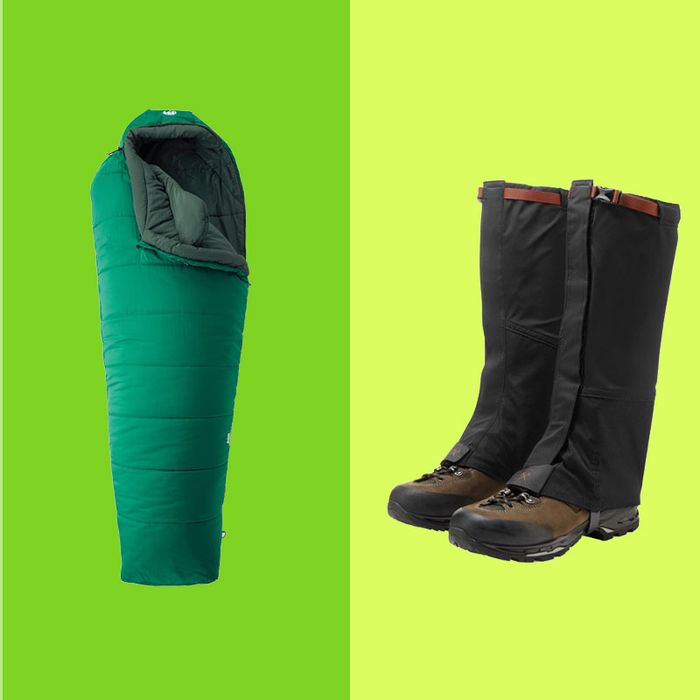 Photo-Illustration: The Strategist; Photos: Retailers
While winter hiking may conjure up visions of soggy clothes, muddy trails, or even dramatic mountainside helicopter rescues, many outdoor enthusiasts actually enjoy hitting the trails or camping in the cold. "I love winter hiking," says Kathryn Herndon-Powell, regional manager of the Appalachian Trail Conservancy. "You get so many more views with the leaves off the trees, you get more solitude, and there's something cozy about breathing that cold air while you're cuddled up in a sleeping bag." Scott Wilkinson, communications director at the Pacific Crest Trail Association, says that winter might be his favorite season to hike and backpack. "When I think about the most rewarding days I've ever had in wild and scenic places, they've always been in the winter," he says. "Beautiful sunny days when there's ten feet of snow, and it's sparkling and quiet."
In order to make some of those memories for yourself, preparation is key, and it begins with understanding the weather patterns wherever you're planning to hike or camp — particularly as they relate to elevation. "The temperature is colder the higher you go," says Wilkinson. "Rain at lower elevations may turn into snow at higher elevations, even in places where snow never happens at sea level." Plot your route by underestimating your fitness and navigational skills. "In winter, scale back your goals," says Wilkinson. "You might be really fit and spend a lot of time outdoors, but when you go out in winter, reduce your daily mileage by as much as half." In snow especially, understand that you'll be moving at a slow pace. "Be prepared for everything to take longer if hiking in the snow," says Christine Parker, operations lead at AllTrails. "An easy hike that may be listed as taking one hour in the summer could feel more challenging and take 1.5 hours or more, depending on the conditions."
Most of all, don't hike or camp in winter without the right gear. We asked Wilkinson, Herndon-Powell, Parker, and four other experienced hikers, backpackers, and outdoor-gear experts to help us put together this packing list for a cold-weather trip, including what to wear, what to bring in your backpack, and how to prepare for emergencies.
Base layers
Effective layering is key when hiking in winter, starting with long underwear. Quality base layers will wick sweat from your skin, keeping you warm and dry. All the experts we talked to recommended long underwear made from merino wool, which is exceptionally warm and breathable, even if it gets wet, and also fights odors. For overnight trips, REI's virtual outfitting team lead, Forrest Jarvi, suggests packing a spare pair of long underwear for sleeping in if you can sacrifice the weight.
Chyla Anderson, founder of the outdoor representation company Outdoorism, calls her Smartwool base layers "much softer and cozier than others I've tried," adding that they don't itch either. The brand was mentioned by everyone we talked to and is a perennial Strategist favorite for cooler months.
If you don't have the budget for wool base layers, our experts advised that synthetic ones will still work — just make sure that you don't buy anything made of cotton, which dries slowly and doesn't retain body heat.
Middle layers
Whatever you put on top of your base layers will act as insulation, and there are a variety of materials that can serve this purpose, including synthetic fleece, wool, and down. If you're working up a sweat at a lower altitude and aren't dealing with too much wind, rain, or snow, you might not want to wear a full puffer jacket while on the move — a lighter fleece option, or even a T-shirt, may be more comfortable. Just make sure you're carrying something thicker for when you stop. "You can get cold really fast," warns Herndon-Powell. "So it's important to change your layers before you even need to." Wilkinson agrees, adding that you should be constantly layering up and down while on the trail, to the degree that it feels like work. "It's a hassle, it really is," he says. "But just take the time; it will make the trip so much better."
For those hikers who run hot, Kindra Ramos, communications and outreach director at the Washington Trails Association, suggests a fleece vest to keep your core warm but your arms "free and cooler" while you hike.
This jacket from Smartwool has all the benefits of merino wool, which our experts emphasized was the gold standard for winter hikers and backpackers. The full zipper also allows for temperature regulation while on the move.