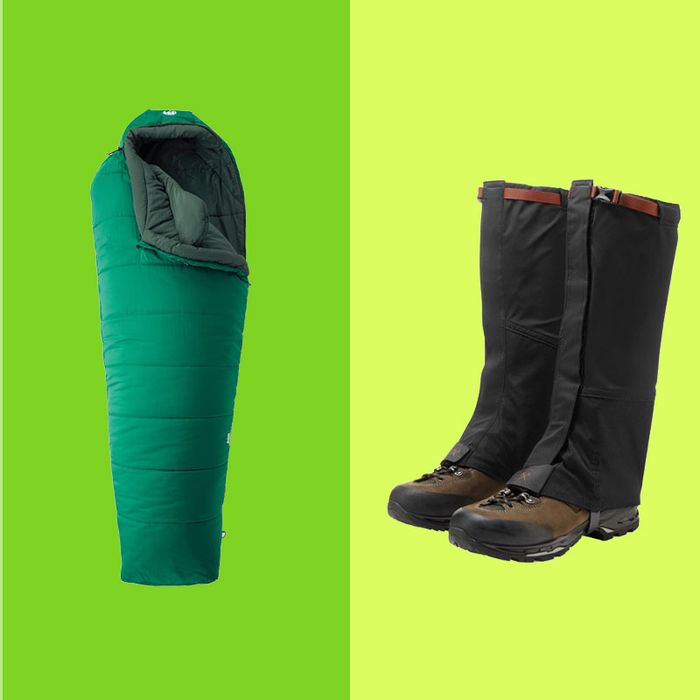 Photo-Illustration: The Strategist; Photos: Retailers
While winter hiking may conjure up visions of soggy clothes, muddy trails, or even dramatic mountainside helicopter rescues, many outdoor enthusiasts actually enjoy hitting the trails or camping in the cold. "I love winter hiking," says Kathryn Herndon-Powell, regional manager of the Appalachian Trail Conservancy. "You get so many more views with the leaves off the trees, you get more solitude, and there's something cozy about breathing that cold air while you're cuddled up in a sleeping bag." Scott Wilkinson, communications director at the Pacific Crest Trail Association, says that winter might be his favorite season to hike and backpack. "When I think about the most rewarding days I've ever had in wild and scenic places, they've always been in the winter," he says. "Beautiful sunny days when there's ten feet of snow, and it's sparkling and quiet."
In order to make some of those memories for yourself, preparation is key, and it begins with understanding the weather patterns wherever you're planning to hike or camp — particularly as they relate to elevation. "The temperature is colder the higher you go," says Wilkinson. "Rain at lower elevations may turn into snow at higher elevations, even in places where snow never happens at sea level." Plot your route by underestimating your fitness and navigational skills. "In winter, scale back your goals," says Wilkinson. "You might be really fit and spend a lot of time outdoors, but when you go out in winter, reduce your daily mileage by as much as half." In snow especially, understand that you'll be moving at a slow pace. "Be prepared for everything to take longer if hiking in the snow," says Christine Parker, operations lead at AllTrails. "An easy hike that may be listed as taking one hour in the summer could feel more challenging and take 1.5 hours or more, depending on the conditions."
Most of all, don't hike or camp in winter without the right gear. We asked Wilkinson, Herndon-Powell, Parker, and four other experienced hikers, backpackers, and outdoor-gear experts to help us put together this packing list for a cold-weather trip, including what to wear, what to bring in your backpack, and how to prepare for emergencies.
Base layers
Effective layering is key when hiking in winter, starting with long underwear. Quality base layers will wick sweat from your skin, keeping you warm and dry. All the experts we talked to recommended long underwear made from merino wool, which is exceptionally warm and breathable, even if it gets wet, and also fights odors. For overnight trips, REI's virtual outfitting team lead, Forrest Jarvi, suggests packing a spare pair of long underwear for sleeping in if you can sacrifice the weight.
Chyla Anderson, founder of the outdoor representation company Outdoorism, calls her Smartwool base layers "much softer and cozier than others I've tried," adding that they don't itch either. The brand was mentioned by everyone we talked to and is a perennial Strategist favorite for cooler months.
If you don't have the budget for wool base layers, our experts advised that synthetic ones will still work — just make sure that you don't buy anything made of cotton, which dries slowly and doesn't retain body heat.
Middle layers
Whatever you put on top of your base layers will act as insulation, and there are a variety of materials that can serve this purpose, including synthetic fleece, wool, and down. If you're working up a sweat at a lower altitude and aren't dealing with too much wind, rain, or snow, you might not want to wear a full puffer jacket while on the move — a lighter fleece option, or even a T-shirt, may be more comfortable. Just make sure you're carrying something thicker for when you stop. "You can get cold really fast," warns Herndon-Powell. "So it's important to change your layers before you even need to." Wilkinson agrees, adding that you should be constantly layering up and down while on the trail, to the degree that it feels like work. "It's a hassle, it really is," he says. "But just take the time; it will make the trip so much better."
For those hikers who run hot, Kindra Ramos, communications and outreach director at the Washington Trails Association, suggests a fleece vest to keep your core warm but your arms "free and cooler" while you hike.
This jacket from Smartwool has all the benefits of merino wool, which our experts emphasized was the gold standard for winter hikers and backpackers. The full zipper also allows for temperature regulation while on the move.
As a reliable synthetic mid-layer, Jarvi recommends Arc'teryx's Atom LT hoodie, which is lightweight and reliable even when wet. He says it's probably "my single most-used piece of clothing living in Colorado."
Whitman says the classic Patagonia Nano Puff, which is more windproof than other options mentioned here, is both warm and nice to walk in.
Whitman is also a fan of the Marmot Tullus, especially for mountain climbing, due to its tighter sleeves that allow for more dexterity.
Anderson recently traded in her bulky Columbia 3-in-1 for this puffer coat from Amazon Essentials and has been pleased with the results. "It's reasonably priced, comes in a variety of colors and — surprisingly — it holds up in cold weather," she says. "I've got the dark camel color and love how neutral it is. So far, this coat has kept me warm in the desert and in the mountains."
Outer layers
Our experts advised packing a shell layer of clothing that will protect you from wind, rain, and snow. Because you're already trapping heat with your base and mid layers, something light but waterproof will work here. "I like a thin, all-season raincoat that's big enough to fit over a puffer," says Herndon-Powell. Rather than waterproof pants, several of our experts favored leg gaiters, which allow for more flexibility on the trail.
Jarvi says your regular rain jacket will probably suit non-extreme trail conditions. If you're looking to upgrade, the Patagonia Snowshot is beloved among winter hikers and backpackers because "it's built like a ski jacket but without a ton of extra insulation." The jacket is constructed with extra length, "which is great because you don't have a seam riding up behind your backpack." If you're shopping around, Parker adds that any Gore-Tex jacket "is a great investment, as it will keep you from getting wet from falling snow."
Wilkinson tells us gaiters are too frequently overlooked. He calls them "a fantastic piece of gear" for insulating your legs, keeping snow out of your shoes, and avoiding snags when heading off-trail. Ramos adds that they're also "much easier to take on and off" than rain pants.
Pants
Winter hiking pants mainly come down to personal preference and the weather conditions at hand — especially if you've got a pair of gaiters to protect your boots. Some of our experts go winter hiking in their base-layer tights, perhaps with shorts and gaiters worn over the top, while others prefer to don trekking trousers over their base layers. If you do opt for trousers, Jarvi says to go for a "soft-shell pant that stretches and sheds snow really easily."
Jarvi says these pants, which would suit all seasons, have "good stretch," plus a snap at the bottom that you can clamp to your hiking boots to create a makeshift gaiter. They've also got plenty of snack pockets.
For more of a performance fit, Jarvi mentioned this slimline option from Arc'teryx, which "feels like a climbing pant." 
Shoes
"It's not necessarily always true that everyone's going to need insulated boots in the winter," says Wilkinson. "So much of that depends on temperature, weather conditions, whether it's wet or dry, and the individual: Some people's feet are always freezing, and they're going to need more insulation." Budget-wise, you're better off investing in a quality waterproof boot that can be used in all seasons, like these Gore-Tex Salomons that Whitman uses in both winter and summer. Regardless of whether you're wearing trail runners, light boots, or heavy boots, Wilkinson notes that "it's absolutely critical" to maintain circulation in your feet. "The best way to do that is to be sure you get footwear that's at least one size bigger than what you normally wear," he says. "Toes need room to spread out and wiggle around."
Socks
Contrary to what you might assume, thick hiking socks are less effective than slim insulating ones. The material your socks are constructed from is much more crucial than weight, and again our experts were evangelical about the benefits of wool. "Cotton socks in particular, if they get wet, they'll stay wet forever and you're going to be miserable," says Ramos. "Material really does make a difference in winter conditions." Parker agrees: "If there is only one wool item you're going to invest in, make sure it's wool socks." Vermont brand Darn Tough, which advertises a lifetime warranty for its socks, was mentioned favorably by everyone we spoke to. Jarvi says it's worth paying extra for the brand's merino wool socks when embarking on multi-day trips, because they're anti-odor. "Which is handy, especially if you're sharing a tent."
Gloves
Gloves are an important item to pack on any winter expedition, especially if you're using hiking poles and exposing your fingers to the elements. As with other winter hiking clothing, layering is key here. Herndon-Powell wears tight, soft-shell liner gloves while on the trail but keeps a waterproof pair handy to slip on top. Jarvi and Whitman do the same, but they opt for mittens as their second layer, for extra warmth. Just note that you won't have much dexterity with these.
Hats
A warm hat makes all the difference when hiking in the cold. When shopping for one, our experts say, opt for something that fully covers your ears. As long as that requirement is fulfilled, a cute beanie that looks good in the photos isn't actually a bad idea, Ramos says. "Because if you don't like your hat, you won't wear it."
Jarvi says this beanie "has the most boring name imaginable but is extremely comfortable and fits well under a helmet if you're backcountry skiing."
While it's probably unnecessary for many trips, a few of our experts said a merino balaclava or neck gaiter like this one from Smartwool would make a nice investment.
If you're hiking in rainy conditions, do as they do in the Pacific Northwest and don a Seattle Sombrero. Ramos says these wide-brimmed rain hats are particularly useful if you wear glasses.
Sunglasses
Polarized sunglasses are underrated if you're hitting the mountains on a clear winter's day. "Especially if you are hiking at a higher altitude, the sunlight can be incredibly powerful, particularly when reflecting off of the white snow," Parker says. While you're at it, don't forget the sunscreen.
Backpacks
While many outdoor-gear manufacturers produce winter backpacks constructed from rugged materials, our experts don't necessarily recommend the splurge. Especially as, according to Jarvi, these packs "don't breathe as well in the back panel, so if you're in mixed weather conditions, you might have a sweaty back." You're better off investing in a reliable pack that you can use in all seasons — several of our experts cited Osprey as a brand to trust — as well as an additional rain cover. These "are really nice if you're setting your pack down in the snow or the rain or something like that," Jarvi adds.
Water storage
"People are amazed by how quickly water can freeze in your pack," Wilkinson says. To keep water liquid, you can invest in an insulated bottle or bladder, but a non-insulated vessel stored close to the body will do. It'll also come in handy at night: both Herndon-Powell and Jarvi mentioned the old backpacker's trick of heating up some extra water after dinner and using a Nalgene as a literal hot water bottle. Just make sure the lid is screwed on tight.
Food
When making a meal plan for the trail, Herndon-Powell says you should prioritize "anything dense and high calorie." If you're heading out on a shorter trip and aren't so concerned about weight, take advantage of the cooler temperatures and bring perishable food instead of dull freeze-dried meals. "You can get extra fancy because your food won't go bad," she says. "You can even carry cheese." Handy as they are for cheese storage, those below-freezing temperatures can turn some energy bars and blocks of chocolate into tooth-chipping bricks — so be sure to store snacks close to your body, rather than in exterior pockets on your pack. "Keep things well insulated and stick with food that will be chewable below freezing, unless you're pitching camp and boiling water," Wilkinson says. Whatever food you bring, make sure there's a lot of it: the more you eat, the easier it will be to keep warm. "It helps to make sure that there is not only enough food, but a couple of different types of food," Ramos says. "Having both salty and sweet options tricks my brain into eating when I'm not necessarily hungry." And if you're camping in the cold, Parker says, "food that cooks quickly is even more important in the winter."
For die-hard bar lovers, Jarvi recommends these dense, grain-based options from Kate's Real Food, which have a low water content and won't freeze on the trail.
Macaroni and cheese is the ultimate backpacker comfort food, especially in winter. And there's an easy way to upgrade your meal. "One of my favorite things to do in winter is carry butter," says Herndon-Powell. "Macaroni and cheese or other backpacker foods will taste so much better, and it won't melt when it's cold out."
Similarly, Wilkinson suggests olive oil as a gourmet calorie booster. "A lot of long-distance hikers on the PCT will bring a small bottle with them, just to add calories," he says.
Heat packs
"I always carry Hot Hands," says Herndon-Powell. "They won't save your life, but they're nice to have, especially if you don't have good circulation in your hands and feet."
Seat pad
Jarvi says that a sitting pad, be it inflatable or made from folding foam, makes meals — or "any time you're sitting outside" — a lot more comfortable. "They only weigh a couple ounces, so you're not adding a lot of your pack," he says.
Tents
You can bring your summer backpack on a winter trip, but not your summer tent. "A three-season tent is not going to be adequate for a lot of winter use, unless you live in Florida or SoCal," says Wilkinson. "This is absolutely one of the few areas where spending the extra money to get good quality gear is always, always worth it." A four-season tent will be designed with thicker nylon and a larger rain fly that stretches down to the ground, heavier poles that can withstand wind, and smaller ventilation panels. While there's no limit to how much you can spend on a winterized tent, and your choice will depend on terrain, how many people you're camping with, the weather conditions you're facing, and what your weight limits are, Jarvi recommends REI's relatively lightweight and inexpensive Arete as an entry-level option.
Sleeping bags
As with tents, our experts emphasized that a summer sleeping bag just won't do for winter conditions. When shopping for a four-season bag, look for a "mummy" shape, which is designed to minimize cold airflow around the feet. There are always trade-offs when it comes to sleeping-bag design — whereas a down sleeping bag is warmer, lighter, and more compressible, a synthetic bag fares better when wet. Sleeping-bag manufacturers use a standardized temperature rating system, which means you can find out the average nighttime temperature of your winter camping destination and pick a bag accordingly. But note that this rating is based on survival rather than comfort. "My personal experience over the decades is that sleeping bag ratings are almost always on the low side," says Wilkinson. "You need to add 10 to 15 degrees to get the true, real-world rating."
For a down bag, Jarvi likes this mummy design from Mountain Hardware, available in both men's and women's sizing. "I find that it's a really good option for backpacking without spending $400 or $600," he says.
Jarvi calls this synthetic bag one of his "favorite budget picks for winter camping." While a little heavier than a down bag, at only $105 for a 5-degree rating, it's "pretty great warmth for the dollar."
Whitman uses a synthetic Marmot Trestles bag, calling it a reliable pick that "has been around for years" and has all the winter comfort features you need.
Anderson says this sleeping bag is an "affordable and ethical" alternative to a down sleeping bag. "It's comfortable, it packs down easily, and it adapts to the cold," she says. "It's gotten me through winter nights in the desert and a couple of freezing nights on my Kilimanjaro trek."
It's possible to further winterize a 30-degree bag by adding a liner like this one, Jarvi says, although it may be physically difficult to fit into a tight mummy bag.
Sleeping mats
When settling in for the night, you'll want to have a barrier between you, your sleeping bag, and the ground. This means investing in "a good sleeping pad that offers a significant amount of insulation," Wilkinson says. "It can be foam or inflatable — both kinds can work really well." For optimum comfort, he notes, a lightweight air mattress is probably preferable. Or why not both? "Put a cheap, lightweight foam pad underneath your existing sleeping pad, and you'll add a ton of warmth," Jarvi says. "It'll be especially good if you're camping on snow."
Stove