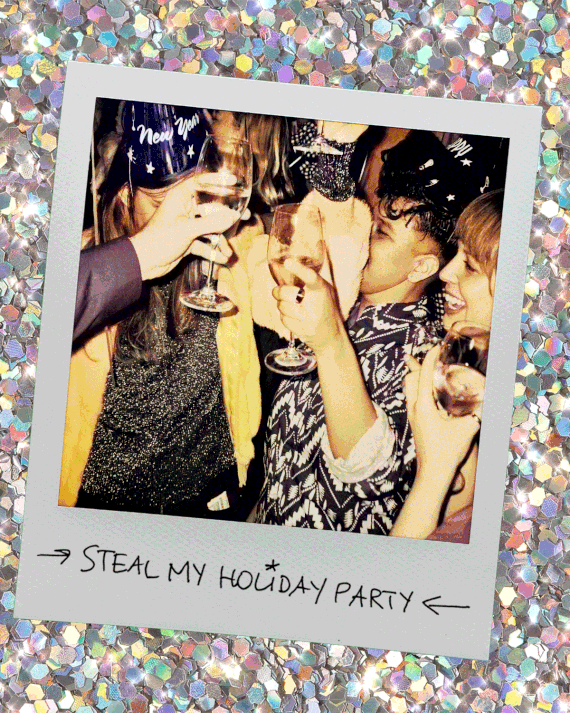 Photo-Illustration: The Strategist; Photo: Chris Bernabeo
The holiday season is much more fun when there are parties to attend, but actually hosting a holiday gathering is another story (especially if you've forgotten how to entertain after a year of sitting at home alone). In this series, we ask veteran party-throwers to walk us through their process for a foolproof celebration — from baking cookies two weeks in advance, to greeting their guests with tarot cards, to, finally, hitting the Hanukkah-themed shotski.
For starters, you can replicate Lilli Sherman's New Year's Eve dinner party by serving Ruffles potato chips with the caviar. "They're thin but can still hold the toppings without breaking," explains Sherman, who's the founder of Oma Loves Fun. Plus "they're salty but not too salty." She also suggests putting chicken wire in your flower vases ("you can space out the stems more easily this way and have such an easier time making an arrangement you're impressed by"). And for later on in the night, she says a colored-light machine is "the best $15 you'll ever spend."
Beyond all these little details that go a long way, Sherman has also shared her entire multicourse menu for this ten-person party, which she has been hosting on and off for the past seven years. Cocktail hour involves the aforementioned caviar, plus DIY poached shrimp with cocktail sauce and mortadella on buttered toast with chives. For dinner, she does a rib roast with horseradish crème fraîche. Alongside the meat are freshly baked rolls, creamed greens, a chicory-and-radicchio salad, and a no-dairy shingled-potatoes recipe, which was created by her chef-fiancé, Patch, the culinary director of Row Seven Seeds. For dessert: individual Baked Alaskas with Tartine Bakery brownie bases, store-bought ice cream, and Italian meringue. (There are also frozen pigs in a blanket in the freezer — what Sherman calls her "late-night party trick.")
Even if you'd rather stick to your own go-to dishes, the steps below include plenty of advice to help you dramatically elevate any meat-and-potatoes meal — as will some Champagne and sparkling wine, of course. "If anyone coming asks what they should bring," says Sherman, "I tell them their favorite bottle of bubbles, any color."
One week before: Order the caviar
I order about three tins of caviar from various producers. You can stick to one kind, of course, but I consider it the educational portion of the evening and like to get a few to try. These are two of my favorite brands and they will ship across the U.S. A hot tip: If you're in a bind and need last-minute caviar, Pearl Street has an NYC-based text messaging service with same-day delivery.
I place our meat order with our local butcher shop for the main dish, too. We get one 3-bone standing beef rib-eye roast, chine bone removed, bones unfrenched, as the recipe states. It should be about six pounds in total. Our shop has pickup available and we set that for a couple of days before the party.
A few days before: Write out the menus
I'm by no means an artist, so I just take watercolor paper and then use different colors to write each course of the meal in script. Because this is such a small party, I don't do name cards, but placing the menus on each person's plate makes it feel special.
Two days before: Make the baked alaska brownie base
This brownie recipe comes from Tartine and has an almost hot-fudge quality instead of being cakey. The instructions say to bake it in a nine-by-13-inch baking dish, but we spread the batter out on a quarter sheet tray so that there's more surface area. When it's done baking, instead of cutting it into squares, we punch out circles with a mold and wrap them tightly in plastic wrap.
The day before: Prep and store the appetizers and sides
You don't want your fridge bursting at the seams from groceries for so many days, so the shopping and bulk of the work happens the day before. We clean and poach the shrimp. We make the cocktail sauce (if we didn't buy it that year from our local fish shop, Greenpoint Fish and Lobster Co.). We make the horseradish sauce. We assemble and bake the potato dish (this one is a recipe from Patch, basically a potato gratin that's dairy free and vegan). We clean our lettuces. We make an herby, garlicky vinaigrette for the salad. And we take the butter — a really nice French one — out of the fridge so it comes to room temperature for the toasts the next day. We love deli containers for storing everything. We have all the different sizes, all of which stack.
The evening before: Set the table
I set out the plates and silverware and cloth napkins — definitely cloth napkins.
I put out water glasses and then an assortment of coupes from my vintage collection. The more mismatched, the better.
The center of the table gets a couple of ceramic vases for small bouquets. I make balls of chicken wire and stick one in each vase. I think a secret not enough people understand is if you have chicken wire in a vase, you will have such an easier time making an arrangement that you're impressed by. You can space out the flowers more easily this way and not overstuff the vase.