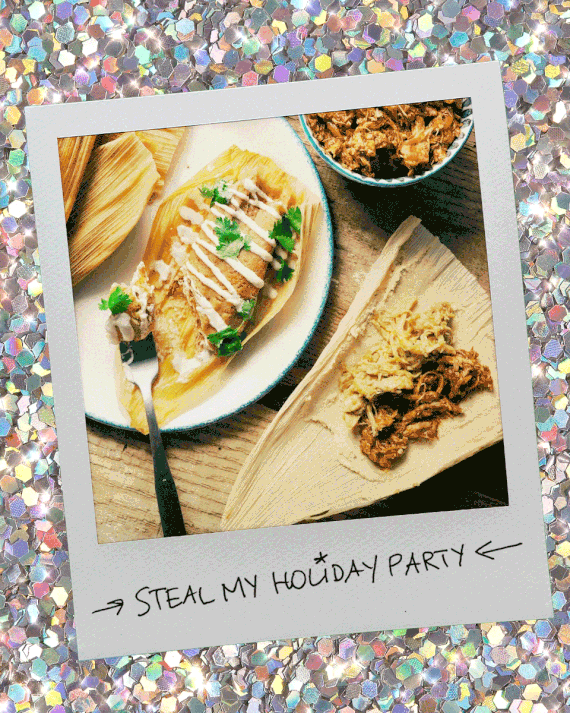 Photo-Illustration: The Strategist; Photo Siete Family Foods
The holiday season is much more fun when there are parties to attend, but actually hosting a holiday gathering is another story (especially if you've forgotten how to entertain after a year of sitting at home alone). In this series, we ask veteran party-throwers to walk us through their process for a foolproof celebration — from baking cookies two weeks in advance to greeting their guests with tarot cards to, finally, hitting the Hanukkah-themed shotski.
You need to invite at least ten people for a proper tamalada, according to Scarleth Aguilar, a Siete Foods chef who grew up attending the tamale-making gatherings. She didn't call them "tamaladas," though: When she and her family traveled from South Texas to the parties her aunts would host in Calico, Mexico, "we just knew that a lot of people were going to come over, and we were going to have to work for our food that day," she says.
The "work" is done on an assembly line: One group is in charge of prepping the corn husks or banana leaves; another layers on the masa; another spoons out the pork and chicken and refried-bean fillings; and another wraps up the tamales and places them in the steamer. Aguilar and her oldest sister, who both live in Austin, co-host the affair at her sister's home, among 20 or so friends and family members (including Aguilar's 4-year-old twins, and nephews ranging in age from 2 to 18). Everyone arrives in the early afternoon, spending about an hour at their stations, waiting another couple of hours for the food to cook, and drinking margaritas and playing Loteria in between. By 5:30 p.m., they all take turns plucking the tamales out of their giant pot and — finally — sit down to eat.
A week before: Take stock of assembly-line supplies
This party revolves around the assembly line to make the tamales, so you have to make sure you have everything you need to set that up in an organized way — a station for each job.
At the beginning of the assembly line, you'll have your leaves or husks set out on trays. You want something flat. If you're using husks, you'll drain them first, of course, and lay down a few sheets of paper towel on the bottom so they're not making a big puddle of water. The first group of people, facing each other, will be getting the wrappers ready — making sure they're pliable, making sure there's not dirt that is stuck, making sure they're the right size. Then they'll pull them one by one and hand them to the second people.
The second group will be spreading masa, which I divide evenly into bowls. They're scooping and swooshing a sort of rectangular layer in the center of the wrapper with a border of leaf or husk around. There's also a tool that can help with this — sort of like a bench scraper but meant for masa. It's especially helpful if your masa is on the slightly wetter sider, like with the consistency of thick frosting. This is one of the parts that can take the longest and bottleneck the line. So if you have extra people, this is where I might add them in.
The third people will be spooning the filling on top of the masa. I do at least three types: I'll make a chicken one and a pork one, each with either tomatillo sauce or red sauce, and then a vegetarian refried bean and cheese (maybe with pickled jalapeños). More on that process in a minute, but these are the containers I use to store them in the fridge in the days leading up to the party.
The fourth people will be wrapping the tamales up and placing them in a steamer, which I fill with water and line with extra leaves or husks to create a nice seal before placing it on the assembly line table. This is another step where extra hands don't hurt. Typically, you use the same pot for all the fillings.
Three days before: Make the tamale fillings
Not only do you want to get the fillings out of the way, but they're actually better if you make them ahead of time; the flavors kind of set in and meld.
If you're hosting a smaller group, or if this is your first time hosting a tamalada, you can stick to two types of fillings — a meat and a vegetarian. But I do at least three types. I'll make a chicken one and a pork one, each with either tomatillo sauce or red sauce. For these, I like to cook the meat in a carbon steel pan because of its great heat conductivity. Plus, it's much lighter than cast iron. As for the sauces, these Siete ones are a great hack; you don't necessarily have to do everything from scratch to get an amazing tamale.
For the vegetarian refried bean and cheese, you can't go wrong with making them in an Instant Pot. I presoak the beans, drain the water, add them to the pot with stock, onions, and chiles, then pressure cook them until tender. I then add a generous amount of avocado oil and salt, and mash that and cook it down.
You should account for, I'd say, at least four or five tamales of each variety per person. You want to consider not only what they're going to eat there, but also that everybody is going to want to take home tamales. If there are not enough, then that's not a good tamale party. Basically, make more than you think you might need. The fillings can always be frozen and used later for enchiladas or a casserole or anything else — but they're not something that you can just whip up on the spot the day of if you run out.
And then I store them in those containers in my fridge.
10 a.m.: Make the masa
In the morning, I go over to my sister's house with the fillings. We work together for the next few hours preparing everything else. The very first thing we do that day is make the masa. Technically, you can do this the day prior, but it will stiften up, and you'll need to whip it again to get it nice and soft and spreadable. So I always recommend doing it the morning of, before everybody gets there, and then keeping it at room temperature.
If you've never made tamales, always go with a recipe, and even watch a video, which will help you know what the masa should look like. If you add too much liquid, or not enough, that will definitely mess up the cooking time and the actual texture of the tamale. We have a great grain-free recipe on Siete Foods, too.
So I make the masa all in one large bowl and then divide it up, depending on how many fillings I have.
11 a.m.: Prepare the wrappers
Next come the wrappings, which are either corn husks or banana leaves. Corn husks are generally easier to find in stores, and are shelf-stable. Banana leaves have a higher water content in them, which is helpful for keeping things moist. I make tamales with both, but whichever one you go with, it needs to be prepped.
For the corn husks, you want to rinse them first. They're often tightly packed and have some dirt in there. Then, submerge them in a bowl of warm water. I typically put a very heavy plate or two on top to make sure they're completely covered, since they will want to float. I leave them like this for a couple of hours.
The banana leaves can be big, so you might have to cut them down to about 8-by-10 inches. Then, they need to be wilted. You pass each one directly over a flame on one side, moving them constantly back and forth with a pair of tongs, until the surface starts to glisten a bit. That takes about five to ten seconds per leaf. You'll start to see that they become almost glossy and more pliable.
12 p.m.: Batch the margaritas
I use this margarita recipe (without egg white), and make it times five, since it serves four people. Whatever recipe you follow, though, it's key to use fresh lime juice. I pour the batch into a large pitcher.
12:45 p.m.: Set the assembly line
We use two big tables, with guests sitting across from each other down each end. You'll have one person doing one job over and over again. It just goes a lot quicker this way. I've been in situations where it's not organized, and someone's reaching over for the filling, and someone's reaching over for the masa. That just takes a lot longer.
1 p.m.: Guests arrive and start snacking and drinking
In addition to the margaritas, we have a full pot of coffee on when they come through the door (Greater Goods makes delicious coffee, but they are also our friends here in Austin, and every bag of coffee purchased supports one of four local Texas nonprofits). The snacks can be as simple as chips and dips — I like a salsa and guacamole. And then some Siete Cinnamon Crisps (our take on buñuelos) to go with the coffee. They're so good if you dip them. There's going to be a good amount of time between the tamale assembling and eating where people are just going to be hanging out and drinking and playing games.
1:30 p.m.: Assign guests to their posts and start tamale assembly
About a half hour in, enough guests are there to start assigning tasks. I gently say to them, "Okay, you're going to go do this or that." As the host, you typically don't go in there and help. You do the assigning, and then problem-solving and rearranging if anything isn't going right. You make sure the whole operation is running smoothly. Depending on how many people you have and how fast they work, the process can take somewhere between an hour and two hours.
3:30 p.m.: Steam the tamales
Once all the tamales are assembled and stacked in the pot, I add more leaves or husks to the top, and then tuck a damp kitchen towel underneath the lid, which creates the tightest seal possible. If steam is being released the whole time, the tamales are going to take forever and not cook evenly.
I place them on the stove over high heat until the water starts to boil. Then, I keep it at medium high the rest of the time so there's constantly steam being produced. Some people put a coin at the very bottom of the pot, just in case they run out of water. If all the liquid evaporates, the coin will start to shiver and you can hear the noise and know you need to add more.
The tamales typically steam for about an hour and a half to two hours, but they're also very forgiving. Those wrappers hold the moisture really well, so you can leave them on the burner with the heat off if you want to eat a bit later. Since they're so tightly packed and sealed in, they'll keep the heat for a long time.
4 p.m.: Play games to pass the time
Once the tamales are going, I clear the workstation, because that's where everyone will eat. There's typically not a huge mess, because everything was in bowls. If there's any extra fillings, I just throw those in the freezer. (Don't freeze the masa, though; that won't work.)
While the tamales steam, I refill drinks and set out all the snacks in the living room — adjacent to where our workstation was. We love to play Charades and Loteria during this time.
5:30 p.m.: Dinner time
A tamalada isn't super formal, so it's not like, "I'm going to serve you a tamale." It's more like, once they're done cooking, I throw a stack of plates down in the kitchen and everyone comes in and grabs them with tongs directly from the pot. I serve them with a fire-roasted salsa (basically blended dried chiles, onions, and garlic) and some crema on the side. When it's over, I say, "Here's some foil. Wrap up however many tamales you want and take them home."
The Strategist is designed to surface the most useful, expert recommendations for things to buy across the vast e-commerce landscape. Some of our latest conquests include the best acne treatments, rolling luggage, pillows for side sleepers, natural anxiety remedies, and bath towels. We update links when possible, but note that deals can expire and all prices are subject to change.