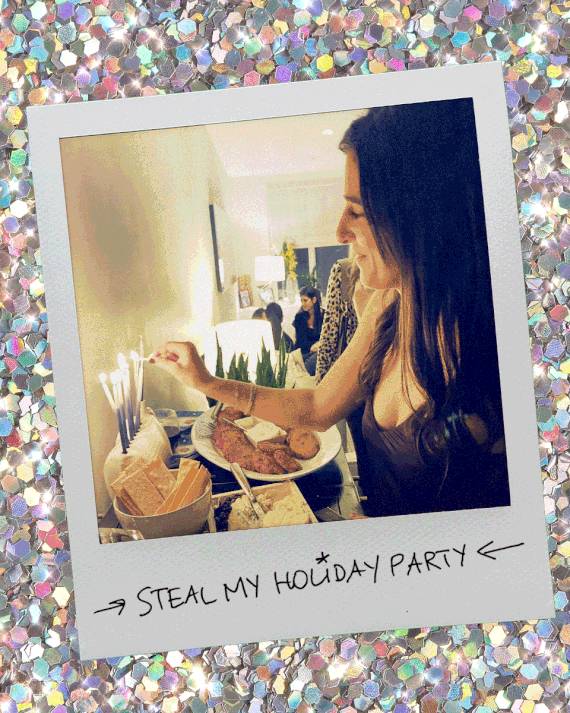 Photo-Illustration: The Strategist
The holiday season is much more fun when there are parties to attend, but actually hosting a holiday gathering is another story (especially if you've forgotten how to entertain after a year of sitting at home alone). In this series, we ask veteran party-throwers to walk us through their process for a foolproof celebration — from baking cookies two weeks in advance to greeting their guests with tarot cards to, finally, hitting the Hanukkah-themed shotski.
It doesn't take much time for Rebecca Litt to pull together the Hanukkah party she has been hosting for 13 years and counting, ever since she settled in New York City after college. Litt, the head of video at the Skimm, sets the start time for 9 p.m., so guests arrive having already eaten dinner — all they need are some noshes like Russ & Daughters latkes, unfancy cheese, and a few festive desserts (including a giant, menorah-shaped Rice Krispies treat). She "decorates" with scattered gelt, Star of David confetti, and any candles she can find. And then come the guests.
About 70 or so friends show up throughout the course of the night. Litt's minimal-prep, the-more-the-merrier approach is in the tradition of the kids' Hanukkah parties her mother would throw when she was growing up: She attended an Episcopal school outside Washington, D.C., and by inviting over Litt's entire class for cupcakes and dreidel dances ("You would get a partner and spin"), her mom was able to share their religion in a "super-accessible" way, Litt says. The gatherings grew so big and boisterous they "just totally took over the house."
In recent years, Litt held the party at her 950-square-foot Greenwich Village apartment, but she doesn't think the vibe will change much now that it will be at her and her husband's more spacious new home in the suburbs. And for the wee-hours crowd, she still very much plans to bust out the shotski with Hanukkah-blue shot glasses. "As host," she says, "you set the tone with your energy."
One week before: Order the latkes and sweets
I've learned that mini-latkes are easier to eat at a party than the big ones. We'll order 50 of them. Or you can do 25 full size and cut them in half. I always debate how many to order because people don't really eat. It's very weird. I reduced over the years, and there are still leftovers.
The desserts are always Hanukkah-themed and double as décor. I'm not getting chocolate-chip cookies; I'm not getting brownies. Our desserts might be from Jars by Dani or Magnolia Bakery, but Goldbelly is also a good resource; they curate a Hanukkah-themed page to shop from, which I very much appreciate. My favorite is a big custom-made, menorah-shaped Rice Krispies treat from Misterkrisp. She's local to New York, but the point is to find fun Hanukkah-themed desserts wherever you live.
We like a full bar, so we get about six bottles of vodka, maybe four of tequila, and then a bottle or two of everything else. People should be able to drink a martini, a margarita — whatever they want. We order about 10 bottles of wine (people will inevitably bring extras) and 100 to 120 cans of beer too. The morning of the party, we slip a note under all our neighbors' doors saying, "We're having a party. Stop by for a drink. Sorry for the noise." That goes a long way.
10 a.m.: Prep the bar (and snack bar)
I open the folding sleeves of a credenza we usually use for storage so it can function as the food buffet. The opening-up feature is amazing to have in a relatively small apartment. The dining-room table gets pushed slightly back against one wall and becomes the bar.
We don't regularly use the pieces from our bar kit at home, but they're essential for this so people can have whatever drink they want. We also make sure to have extra olive juice because we love dirty martinis and don't want to run out. As the party got bigger and bigger over the years, we started hiring two bartenders; I found them through NYC Waiters and Bartenders ($35 per hour; 4-hour minimum).
We always have a big bucket next to the bar that we fill with ice and beer. This allows people to help themselves. When there's inevitably a line, it helps with traffic.
12 p.m.: Add the menorahs
I pull out the menorahs — we have about five in total — and place most of them in the living room on the big windowsill directly opposite the bar (one might go on the buffet table or coffee table too). That's what you see when you first walk in. They're the centerpiece of the party. I have a drawer full of ones I've collected over the years: a Jonathan Adler one gifted to me by my best friend, a Michael Aram one that I got as a wedding present (Michael Aram is the gold standard of Judaica, but it's expensive). This is the menorah I gift to other people with kids, but the point is: Each one should have a story. The mix should be distinct and eclectic.
Even if the party happens to fall on the first night of Hanukkah, the menorahs are so sad with one candle, so I fill them up. All menorah candles burn pretty fast, but some are cheap and burn extra fast (like these that I use when we're just lighting them on a regular night). For the party, I go with the nicer ones, which last longer — about 20 minutes.
I scatter ten or 15 white tea lights around — some with the menorahs, some on the bar, buffet, and coffee tables. I use any Diptyque candles I have lying around, too — definitely in the bathroom and then wherever else there's space. I really lean into the fact that it's the festival of lights.
3 p.m.: Booze and flower delivery
The booze goes on the bar table. I also order a few small flower arrangements, usually white and green. With the food, menorahs, and décor, there's not enough space for the big arrangements, so I find it's better to just add in a few little ones here and there.
4 p.m.: "Decorate"
Once I'm showered, it's full setup mode. I scatter some dreidels, confetti, and gelt on the windowsill and some confetti on the buffet table. I put the rest of the dreidels and gelt in a big bowl and place that on the buffet as well.
The main food buffet gets disposable Hanukkah-themed plates and napkins and some forks too. I go kitschy here.
There's a big platter and a server for the latkes and a couple of bowls for the applesauce and sour-cream accompaniments. Additional bowls for nuts and hummus go on the coffee table and buffet.
6 p.m.: Dessert delivery
The desserts get delivered around this time; I place them on either end of the bar. And I put out a Murray's cheese platter on the buffet. The latkes are still in the fridge at this point — to be reheated when the party starts.
8 p.m.: The bartenders arrive
They unpack all our booze and help with other last-minute setup like adding nuts and hummus to those snack bowls and putting them out.
8:55 p.m. Finishing touches
I turn on the music — a mix that of course includes some Hanukkah songs (you've got to get Adam Sandler in there and "Hanukkah, Oh Hanukkah," which was actually written by my great-aunt). This is around when I'll dress the dogs: I got two golden retrievers this year, and I ordered them these bandanas. The pets have to be on theme. I light all the candles save for the menorah candles. You want those to burn during the height of the party.
9 p.m.: Party time
Everyone leaves their coats on the clothing rack I place outside my door in the hallway. This way coats don't pile up on your bed and become hard for people to find at the end of the night. This rack totally collapses, so can you put it away for the year and bring it back only when needed.
At this point, it's time to reheat the latkes, plate them, and bring them out to the food table. This is also around when I light the menorah candles.
11 p.m.: Time for the shotski
As the night progresses, it has hopefully turned into a dance party. We bring out the shotski, which is basically a long ski with shot-glass holders in it. Four people do a shot off it all at once. I've ordered blue shot glasses to be on color theme. They're plastic because you obviously don't want glass breaking in this process, but they're still cuter than mini Solo cups or those thin clear ones that crinkle really easily. Someone made us one for our wedding, and I highly recommend it for the fun it adds to the party.
The next morning: Latkes for breakfast
As I mentioned, I inevitably order too much food, and we always have those leftover latkes for breakfast. Eggs over easy with latkes. Perfect for a hangover.
The Strategist is designed to surface the most useful expert recommendations for things to buy across the vast e-commerce landscape. Some of our latest conquests include the best acne treatments, rolling luggage, pillows for side sleepers, natural anxiety remedies, and bath towels. We update links when possible, but note that deals can expire and all prices are subject to change.