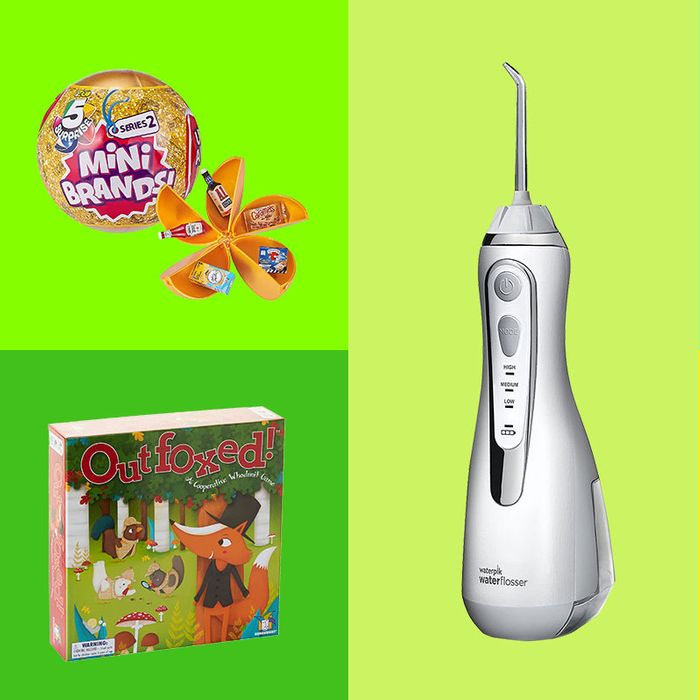 Photo-Illustration: The Strategist; Photos: Retailers
Welcome back to Your Shopping Cart, where we break out the top-ten products that you, devoted Strategist readers, all bought in droves. Think of this as the tl;dr of the Strategist. If your like-minded brethren are buying these items, maybe you'd like to, too.
While masks still took up the top two spots this month, Strategist readers seem to be stocking up for the holidays. With festivities and cold weather just around the corner (and predictions of supply-chain issues), October brought new top picks, including a reviewer-favorite heater and giftable toys. But it wouldn't be a Strategist shopping-cart roundup without a few reader staples, like dermatologist-recommended wrinkle cream, luxurious gel pillows, and a nighttime dental guard.
For the third month in a row, these KF94 masks take the top spot, proving that they're one of the best disposable face masks. The South Korean equivalent of N95s are a longtime favorite of Strategist senior vice-president of e-commerce Camilla Cho. "Pulling on the little front loop adjusts the tightness around the ears, nose, and sides," she says. After she tested both these masks and other KN95s, these were her clear winner because they were so much more comfortable and they didn't fog up while she was wearing glasses.
Keeping its spot at No. 2 are these disposable face masks from EcoGuard, which are made in the USA out of three layers of non-woven fabric. When we put them to the test, we found that they are "very comfortable and fit pretty well without much need for adjustment" and easily passed the lighter test. This month, the black colorway outsold the ubiquitous blue masks.
Jumping up to the third spot from the fifth last month is this reader-favorite night cream. (It's also the tenth time it appeared in readers' carts since 2019.) Plus, it's both a budget-friendly retinol product and one of the best wrinkle creams, according to dermatologists. Dr. Ellen Marmur, associate clinical professor at Mount Sinai's Department of Dermatology, says it's a "retinol that combines the retinoid with oxygen and antioxidants to make it safe and mild enough for everyday use."
The Beckham gel pillow is back for the ninth month in a row, establishing itself as a reader mainstay. On top of that, it's also praised highly by Amazon reviewers. One reviewer with insomnia calls the set of pillows "magical" and was shocked after they were able to sleep for 11 hours straight: "I woke up and was SO comfortable and the pillows were still soft and fluffy. And I was so cozy, I could have fallen right back to sleep."
Making its first appearance on this list is this dentist- and hygienist-approved cordless Waterpik. Experts recommend it for people with limited space or those who might want to use it in the shower to minimize the potential mess. Dr. Inna Chern of New York General Dentistry, who uses this model herself, says, "I like it because we have limited bathroom-counter space and it easily goes into our medicine cabinet. It is much easier and more efficient than flossing. This model and all Waterpik-brand flossers are excellent for braces, whether conventional or clear aligners. And for people with dexterity issues, it's a very easy-to-hold model, lightweight (under a pound), and versatile."
Climbing the list from No. 9 to No. 6, this Oral-B dental guard was even more popular with readers in October, which we've presumed might be an indication of stressful times. For those looking for a well-fitting, over-the-counter alternative to a custom mouth guard, this one is the best, according to dentists, thanks to its "boil and bite" design. Plus, it also covers all the teeth, which makes it safer than partial appliances because there is less of a chance that your teeth will shift.