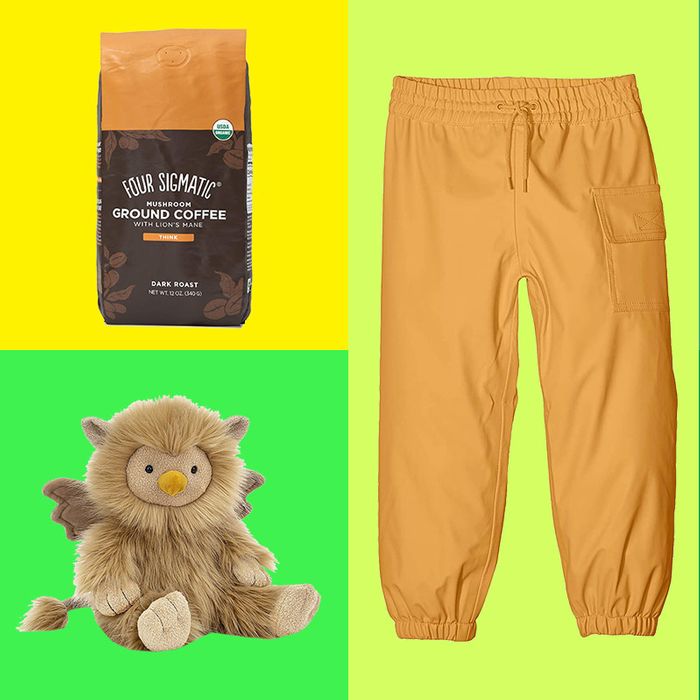 Photo-Illustration: The Strategist; Photos: Retailers
If you follow our monthly feature Your Shopping Cart, you know we have some eerily good intel on what you all are buying. Which led us to think that, as Strategist editors, we could turn the tables and highlight all the things we've been buying for ourselves. As you'll notice, it's both a blessing and a curse to be a Strategist editor; we're picky, but sometimes we just have to get on with it. (It's online-shopping expertise meets IRL needs.) Below, what we bought in October.
Maxine Builder, editor
Last December, I bought a little handheld milk frother from Bodum, and I still think it's a great little gadget in that it does the thing it's supposed to do incredibly well. The problem was me and my microwave: I couldn't reliably dial in the temperature of my oat milk. It'd either come out scalding or too cool, in which case I'd nuke it again until it was scalding, and I'd be left with a gross-tasting — but perfectly foamy — cappuccino. So I ordered this all-in-one milk frother from Amazon — the same model that Jordan bought earlier this year — to fix the issue. And it rules. All I have to do is pour milk into the machine, slap on the lid, and press a button to make perfectly foamed oat milk at a perfectly drinkable temperature, no microwave-watching or burned roofs-of-mouth required.
Liza Corsillo, senior writer
I have been doing a major closet purge this fall and finally retired a very loved but very ratty gray hoodie after years of wearing it. To replace it I bought this classic and slightly cropped Champion hoodie in the exact same gray as my old one. I have a few fancier sweatshirts, including one I love from Buck Mason, that are amazing but too nice to wear while hiking or gardening, in my opinion. This hoodie is cozy without looking sloppy and the fit is incredibly flattering. I brought it on a recent trip to Delhi, New York, and wore it almost every day. The material is thick so I know it will last, and the ribbed side panels make it easy to move in despite the slim fit.
While staying in an Airbnb upstate last week I made a big pot of this mushroom coffee each morning for myself and my travel buds. The bag I brought on our trip was sent to me but it was such a huge hit, so tasty and impossible to screw up, that I bought a new bag as soon as I got home. The rich and creamy brew doesn't taste like mushrooms at all but it does have a special indescribable something that separates it from the taste and caffeine high of other ground coffees. It's also a favorite of my parents — two people with very high standards. Next up I'm going to try the decaf.
Leah Muncy, deals writer
I've never been all that interested in place mats, but I couldn't help but stop and admire (and ultimately purchase) these woven ones while shopping at Crate & Barrel. They're made from thick, textured cotton and are quite oversized — perfect for when I accumulate no fewer than three different drinking glasses around my laptop during the workday. The geometric pattern will easily disguise marinara stains, too.
I never thought I'd string together the words "good hand feel," but that is exactly what I said to the sales associate who helped me try out these teaspoons. Before I purchased a set, I had several cheap and somewhat sharp spoons that filled me with a certain kind of dread every time I picked one out of my flatware drawer. Now I am only surrounded by spoons I love.
Ambar Pardilla, writer
It's sort of sweater weather now — temps have been up and down — but most of my sweaters are already out of storage. Some look a little better than others. My once dependable defuzzer broke down on me and I decided to get this version from Conair this month. It works even better than the last one, pruning off sweater pills just like a hedge trimmer (except much more delicately, of course). It has single-handedly saved a few sweaters I was thinking of tossing. There are two versions to choose from — battery-operated and rechargeable — I went with the battery option out of sheer laziness (I'd hate to reach for the rechargeable only to realize it wasn't charged and I have to leave in five minutes). A word of caution: Always be gentle with any sweater shaver to avoid an accidental hole (I learned this the hard way in the past).
Crystal Martin, senior editor
Somehow this simple, stark white ladder shelf has helped me cozy-up my bathroom. Yes, it's very well made and sturdy (and was easy to put together). And yup, I use it for storage. My towels, washcloths and dozens of beauty products reside on its lower shelves. But its also provided a home for whimsical bits: cranberry-scented owl and fox-shaped soaps, a bundle of tiny dried roses and an empty sake bottle featuring a snowman.
Emma Wartzman, kitchen and dining writer
I have been in desperate need of some bottle stoppers for a while now. The only one I had was this completely adorable piece from Areaware which, while I love it, makes it impossible for certain bottles to fit in my fridge because of its height. Anyway, I finally got around to ordering this set of four from Rabbit, which are very affordable, come in nice colors, are easy to rinse off, and seal my wine perfectly well.
It officially got colder in New York this week, which prompted me to re-up on my favorite toner. My skin gets so much drier and more irritated in the fall and winter, and this super-gentle rosewater one becomes a part of my everyday routine, spritzed on my face post-shower, pre-moisturizer. It hydrates and soothes, and just feels nice when you spray it on.
Jenna Millliner-Waddell, writer
I couldn't have bought this any quicker. I got the email about the bonnet drop at 7:16 a.m. on launch day and my order confirmation came at 8:10 a.m., which is shocking as I was asleep for most of that hour. I didn't put much thought into the order, as this is just the latest of many Nappy Head Club purchases I've made in the last year. Like the others, this did not disappoint. It's cute, fits my waist-length box braids and never slips off my head in the middle of the night.
I spent some time this month, with the help of my green-thumbed friends, revamping my plant setup. The small ones used to line my window sill, which started to get annoying with my blinds. I bought this stand and now have a dedicated plant corner. It sits below my DIY mirror and next to my large new rubber tree. I also bought a grow light for the area in hopes that it helps with the transition and that my rubber tree stops losing leaves.
Chloe Anello, writer
I paid off my student loans this month (sorry, needed a moment to brag), so I didn't really buy much. However, my oven is very off, which makes cooking or baking anything extremely difficult because it's a constant guessing game. My dad suggested I just get an oven thermometer to put me out of my misery, which for some reason never occurred to me to buy. Turns out, my oven runs hot by about 30 degrees. For lots of reasons, that's pretty terrible, and there's not much I can do about it. But at least I'm aware of it now, so I can adjust.
Jessica Silvester, contributing editor
In a previous Strat Haul I wrote about my adventures in gear-shopping for my son, who attends an outdoor preschool. The adventure continues as we head into colder weather: Since the ground is very wet this time of year even when it isn't raining, he is required to wear rain pants every day, which means I had to find ones that were (a) comfortable enough that he would actually agree to wear them every day, and (b) affordable enough that I could buy multiple pairs. I placed a bet on these Amazon pants — and have proceeded to get them in all three of the four color offerings, the pumpkin shade being my favorite. They have a more tapered fit than your typical billowy rain pants, which is great, because my Goldilocks-ian child will simply not tolerate any oversize (or undersize) clothing. They've withstood all his rugged play so far, and have held up well in the washer and dryer, too.
When I read Chloe's interview with Alan Cumming this week, I decided I probably needed that hooded-caftan thing of his, but wasn't sure I was a year-round caftan person. Chloe sent me a link to an alternative option, which is "within the same vein," she wrote, "but fleece lol." And, "it's only $60." The "nap" dress hasn't yet arrived, but in my mind I'm already living in it — pairing it with cozy socks while I work from home and then shearling boots when I head to school pickups. And as Chloe pointed out: "My thought was that I could wear it to take my dog out in the early mornings when I don't want to get out of PJs."
Kitty Guo, junior writer
Not to brag, but I have excellent thermoregulation — I don't really run hot or cold. Or at least that's what I thought, until the temperature began dropping precipitously this month and I realized I could no longer skate by on just T-shirts. I'm from California, so I've never had to master the art of layering before. In search of some close-fitting, long-sleeved base layers, I eventually settled on this black and white two-pack from Negative Underwear. They're so soft and lightweight and comfortable, they're pretty much fused to my body now; I wear them to bed and just throw on a sweater when I get up.
I almost regret becoming enlightened to the existence of giant pasta, because now I have to live with the knowledge that I've been eating boring, plain, regular-sized pasta for 23 years when I could've been eating FUSILLI GIGANTE. I promise you, once you experience the sheer delight of chewing on these irresistibly oversized curlicues, there's just no way you can go back.
Karen Iorio Adelson, senior writer
A few Sundays ago I was browsing Madewell in Soho without much intention of buying anything but this supersoft, flecked henley sweater caught my eye and I couldn't resist. It turned out to be a pretty good impulse purchase because I've been wearing it a slightly embarrassing number of days since then. It's a perfect layer for these crisp fall days (I've paired it with both leggings for hanging around the house and jeans for venturing out in the world) and it has all the coziness of a sweatshirt but looks just a bit more polished.
I already have a pair of these tights in black and I just ordered these green ones in preparation for winter running. I love that they're flattering, have plenty of storage space (two zip pockets on the sides and an envelope pocket on the back waistband, all big enough to hold a phone), and are warm enough for all but the absolute coldest winter days (when it drops below zero, I might opt for Athleta's fleece-lined Altitude tights instead). As a short person, I also appreciate how Athleta offers petite sizing so that these are the perfect length, no alterations needed.
Louis Cheslaw, associate editor
There's nothing like the first week of cold weather to make you panic about your winter wardrobe. Mine was lacking a pair of boots I could wear not just through drizzle, but through snow, mud, and showers, too, and Blundstone felt like the obvious solution. Their boots feature on our site all the time, I see people wearing them whenever I'm out in the rain, and styles like the Walnut 550 are dressy enough to go with work outfits. I had expected them to be as comfortable as they are, but I've been impressed by how little break-in time they need, and how robust they feel.
I was also flattened by a two-week cold this month that I'm only sort of back from. Mercifully, these lotion-infused tissues kept my nose from getting chapped by constant blowing. They're so soft, I've even started rubbing new clean ones against my cheeks. (I might need some help.)
Lauren Ro, writer
These masks were recommended by parents in Augie's class, and I have to say they're quite good because he actually keeps them on. They're slightly looser than his standard accordion-style Old Navy ones and therefore not as constricting. That probably makes them less effective, but I'd rather him wear a loose mask than not wear one at all. It also helps that the nose part is contoured instead of being straight across. As far as quality goes, they're soft and well made, but I wish they came in more patterns.
I needed a new pair of running shoes and had been intrigued by Hokas ever since a few of my colleagues raved about them, so when I stopped by JackRabbit fully expecting to get some, I was surprised to find that I actually hated all the styles I tried on. They felt gigantic and loose on my feet and were fugly in a decidedly Not Cool way (sorry to my co-workers). So I went back to my trusty Brooks. This time, I wanted something that was good for both walking and running, and the sales clerk recommended I try the Ghosts (I wore Glycerins previously). I felt instant relief as soon as I slipped my feet into them. The bed was cushioned yet supportive, and the shoes just enveloped my feet, bunions and all, in the most comfortable way. Lucky for me, they happened to be on sale that day for $85.
Erin Schwartz, writer
I bought a grass-green vintage sweater by bygone Texas retailer Cheerleader Supply Co. from an eBay seller this month, and I have been pleasantly surprised at how warm, comfortable, and pill-free the half-decade-old sweater is. (The weight shouldn't surprise me — cheerleaders need to stay warm!) There are a handful of sweaters by the brand circulating on Etsy and eBay in the $50 to $60 range, their color alarmingly unfaded due to their composition of 100 percent Orlon acrylic, a synthetic fiber that ceased production in the 1990s. Many of the sweaters have name patches or insignias stitched on, which are easy to remove with a seam ripper but cute to keep if you want to carry a piece of cheerleading history with you.
I bought the yellow Hay faux-neon tube LED light last year, and while it performs great as a colored light (I've compared it to being inside of a warm egg yolk), it tends to slide around when positioned horizontally. I'd already thrown away the brackets that came with the light, so I bought these inexpensive pipe hanger straps from Home Depot. They're a great, quick solution for stabilizing it — designed for a one-inch pipe, the same diameter as the light, they keep the tube in place but aren't completely flush, so I wasn't worried about cracking the tube while installing them. I chose copper purely for aesthetic reasons, but galvanized steel works as well.
Arielle Avila, junior writer
October was Filipino heritage month, and after seeing this cookbook on writer Malaka Gharib's bookshelf, I rushed to buy it for myself. It translates classic Filipino dishes like adobo and sinigang, which typically require long cook times, into quick and easy Instant Pot recipes — an absolute win for someone who is both impatient and easily irritated in the kitchen. But what I love most about the book is that it's full of history about the origins of Filipino food and truly heartwarming recollections from the authors. I haven't tested out the recipes yet, but I'm sure it'll be put to good use come winter when I'm homesick and craving home-cooked Filipino comfort food.
Katherine Gillespie, writer
I'm going through a quarter-life crisis at the moment, a.k.a., buying a lot of vintage stereo equipment. But while my 1970s-era silverface Yamaha and old-school speakers look and sound great, not every moment calls for FM radio or a vinyl record — which is where my new Bluetooth gizmo steps in. Similar to a plug-in you might get for a car, this device allows me to stream Spotify from my phone through a vintage receiver designed by people who never could have predicted our insane, subscription-based musical future. I ordered it from B&H and have no complaints.
I have always struggled with tank tops: There's something vulnerable to me about showing off one's arms. These colorful cropped tanks from Arq have changed the game and emboldened me to go full Anjelica Houston. The stretchy, tight fabric is somehow so flattering — I think the cut, a modernized spaghetti strap style, helps. They are less androgynous than your Hanes-style tanks. I bought two, in green and blue, and have been wearing them out hiking in Harriman and to fancy restaurants, sometimes with a cardigan over the top as the weather cools down. I cannot recommend them enough.
Gabrielle Cody, Strategist intern
Having tried a ton of other natural deodorants before like Tom's, Native, Schmidt's, and so on, I was a little wary when my mom showed me this deodorant she had been using. I didn't think this would be much different from the rest, but I gave it a try anyway … and oh was I wrong. With only ten or fewer ingredients (depending on which scent or unscented option you pick), this deodorant does the job. I sweat often and two swipes under each armpit lasts me the whole day. Let's just say when I need a deodorant, Each&Every is the one I reach for from now on.
Now that I'm more than halfway through the semester, classes have started to ramp up with research papers and final project deadlines. I knew I needed to find a way to keep up with the incoming influx of work. I've heard speakers, writers, and podcasters alike mention this must-read book. Life-changing? That's for you to find out. All I know is I'm halfway through the book and I've already applied a lot of mind-set shifts into my life. Atomic Habits is for all ages, because it's never too late (or too early) to start creating better habits for ourselves.
Tembe Denton-Hurst, writer
My origin story is a little complicated. My parents split when I was five and my dad moved to D.C. while my mom (and my sister and I) stayed in New York. We spent holidays, summers, and long weekends with my dad, so even though I lived in New York until I was 13, it felt like I was raised in both places. We left New York for D.C. when I was 13, and I lived there until I moved back here for college. I've lived here since then, so I like to call myself a born-again New Yorker. But D.C. is also home — so when I saw this Chocolate City pullover from OL New York on a friend, I knew I had to add it to my rotation. My crewneck is sold out, but the T-shirt, which I almost bought, is still in stock. The brand's founder created the collection as an homage to its two biggest influences —New York and D.C. — so it felt like it was designed specifically for me.
Dominique Pariso, writer
This month, most of my purchases went toward putting together my Halloween costumes (I bought not one, but two blonde wigs). But an old college schoolmate of mine recently published a graphic novel, so I scooped up a copy. It takes place at a hackathon where the characters are competing for the chance to design a silicone-based life form. It's super funny and weird and smart, and is the first book I've read in months that I actually wanted to finish.
I also bought this insanely soft Jellycat stuffed animal for my cousin's third birthday.
The Strategist is designed to surface the most useful, expert recommendations for things to buy across the vast e-commerce landscape. Some of our latest conquests include the best acne treatments, rolling luggage, pillows for side sleepers, natural anxiety remedies, and bath towels. We update links when possible, but note that deals can expire and all prices are subject to change.