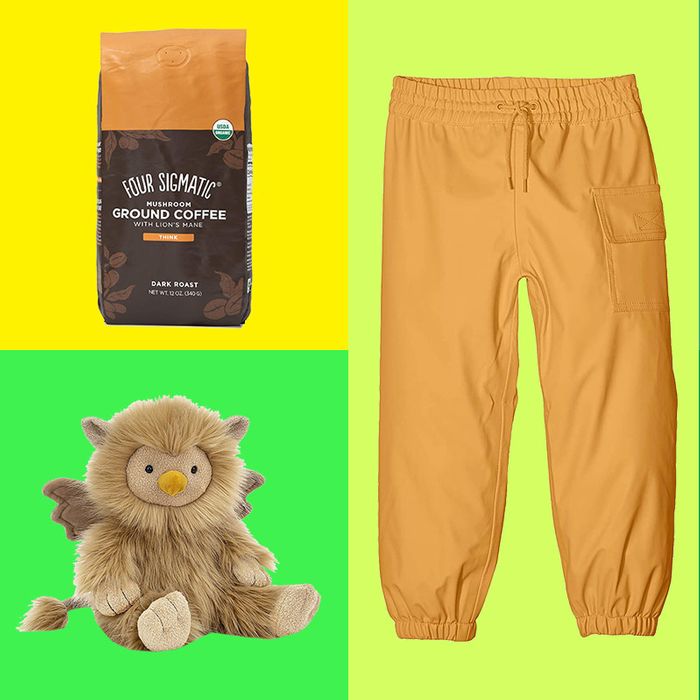 Photo-Illustration: The Strategist; Photos: Retailers
If you follow our monthly feature Your Shopping Cart, you know we have some eerily good intel on what you all are buying. Which led us to think that, as Strategist editors, we could turn the tables and highlight all the things we've been buying for ourselves. As you'll notice, it's both a blessing and a curse to be a Strategist editor; we're picky, but sometimes we just have to get on with it. (It's online-shopping expertise meets IRL needs.) Below, what we bought in October.
Maxine Builder, editor
Last December, I bought a little handheld milk frother from Bodum, and I still think it's a great little gadget in that it does the thing it's supposed to do incredibly well. The problem was me and my microwave: I couldn't reliably dial in the temperature of my oat milk. It'd either come out scalding or too cool, in which case I'd nuke it again until it was scalding, and I'd be left with a gross-tasting — but perfectly foamy — cappuccino. So I ordered this all-in-one milk frother from Amazon — the same model that Jordan bought earlier this year — to fix the issue. And it rules. All I have to do is pour milk into the machine, slap on the lid, and press a button to make perfectly foamed oat milk at a perfectly drinkable temperature, no microwave-watching or burned roofs-of-mouth required.
Liza Corsillo, senior writer
I have been doing a major closet purge this fall and finally retired a very loved but very ratty gray hoodie after years of wearing it. To replace it I bought this classic and slightly cropped Champion hoodie in the exact same gray as my old one. I have a few fancier sweatshirts, including one I love from Buck Mason, that are amazing but too nice to wear while hiking or gardening, in my opinion. This hoodie is cozy without looking sloppy and the fit is incredibly flattering. I brought it on a recent trip to Delhi, New York, and wore it almost every day. The material is thick so I know it will last, and the ribbed side panels make it easy to move in despite the slim fit.
While staying in an Airbnb upstate last week I made a big pot of this mushroom coffee each morning for myself and my travel buds. The bag I brought on our trip was sent to me but it was such a huge hit, so tasty and impossible to screw up, that I bought a new bag as soon as I got home. The rich and creamy brew doesn't taste like mushrooms at all but it does have a special indescribable something that separates it from the taste and caffeine high of other ground coffees. It's also a favorite of my parents — two people with very high standards. Next up I'm going to try the decaf.
Leah Muncy, deals writer
I've never been all that interested in place mats, but I couldn't help but stop and admire (and ultimately purchase) these woven ones while shopping at Crate & Barrel. They're made from thick, textured cotton and are quite oversized — perfect for when I accumulate no fewer than three different drinking glasses around my laptop during the workday. The geometric pattern will easily disguise marinara stains, too.
I never thought I'd string together the words "good hand feel," but that is exactly what I said to the sales associate who helped me try out these teaspoons. Before I purchased a set, I had several cheap and somewhat sharp spoons that filled me with a certain kind of dread every time I picked one out of my flatware drawer. Now I am only surrounded by spoons I love.
Ambar Pardilla, writer
It's sort of sweater weather now — temps have been up and down — but most of my sweaters are already out of storage. Some look a little better than others. My once dependable defuzzer broke down on me and I decided to get this version from Conair this month. It works even better than the last one, pruning off sweater pills just like a hedge trimmer (except much more delicately, of course). It has single-handedly saved a few sweaters I was thinking of tossing. There are two versions to choose from — battery-operated and rechargeable — I went with the battery option out of sheer laziness (I'd hate to reach for the rechargeable only to realize it wasn't charged and I have to leave in five minutes). A word of caution: Always be gentle with any sweater shaver to avoid an accidental hole (I learned this the hard way in the past).
Crystal Martin, senior editor