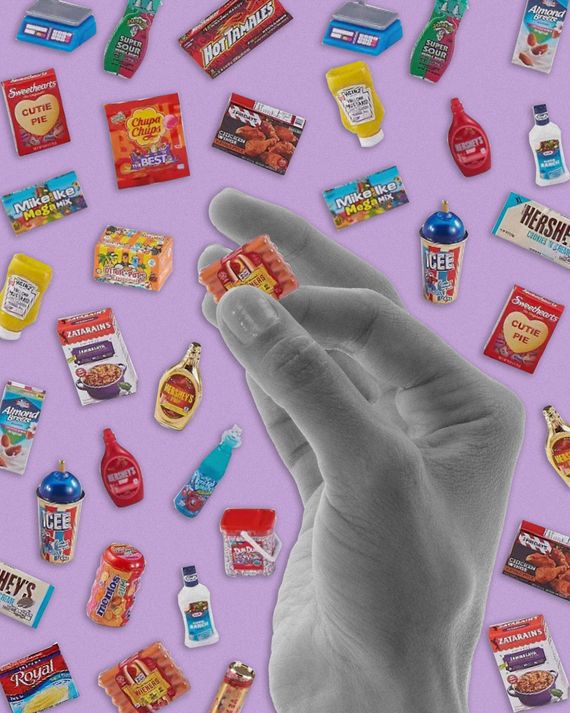 Photo-Illustration: by The Strategist; Photos (Hand) Getty Images; (Products) Retailer
You may wonder why anyone would have their heart set on a one-inch box of Royal-brand strawberry gelatin for Christmas, but the dollhouse-appropriate cardboard replica was one of the most in-demand toys of this holiday season — and one of the most elusive. It's from a toy line called 5 Surprise, a collection of plastic capsules that unfold to reveal all kinds of pocketable trinkets, from unicorn figures to monster trucks. The line's top-selling "Mini Brands" series made the Strategist's list of 2021's hottest toys and contains (among other things) miniature models of familiar household items including Skippy peanut butter, Wet Wipes, Tapatio hot sauce, and the coveted Royal gelatin.
These toys "have ridiculously wide appeal," said Marissa Silva, editor-in-chief of toy recommendation site The Toy Insider. They're recommended for ages 5 and up. "But college kids are unboxing them on TikTok. Every time I go to Target, the display case has one left. On Amazon, they're available, but a $6.99 toy is going for $39."
On TikTok, the #MiniBrands hashtag has 2.8 billion views. Kids love them because they get to play grown-up. Adults love them too, because they get to play kid; shrink a household's worth of banal necessities to the size of a snail and you can trick yourself into believing that there's whimsy in the daily grind. Of course, delight is in especially short supply these days. Production of Mini Brands is actually up from last year, but demand for the toys is so high that inventory is way down.
Zuru, the company that makes Mini Brands, said mini toys as objects aren't that complicated to make. But a number of factors beyond typical supply-and-demand cycles have converged to make 5 Surprise Mini Brands harder to find. Zuru says that while the plastic, cardboard, and foil used to make the miniatures weren't overly difficult to source in 2021, the cost of producing them has skyrocketed, thanks to a 20 percent increase in plastic prices, a 20 percent increase in paper prices, an 8 percent rise in fabric prices, and a 11 percent wage increase in Guangdong, China, where 5 Surprise toys are made.
To avoid passing these costs to the consumer, Zuru had to make sure its production process was flawless. But churning out the Mini Brands is complicated, and manufacturing glitches are high-stakes.
"We produce close to a million miniatures a day at full capacity across multiple factories," said Aneisha Vieira, global brand director for Zuru. These are made on bespoke machines built with specially sourced equipment that is small enough to do teeny-tiny printing and dry cuts. If a machine breaks, it's not simple to fix.
There's also the logistical feat of ensuring that individual minis are properly distributed, so that two 5 Surprise balls sitting side-by-side at Target contain completely different goods. Vieira ticked off some of the restrictions: "No more than x number minis of a particular style inside each ball, and the odds of collecting a super-rare mini are x, and you should always be able to get x number of plastic minis to cardboard minis." In other words, "the minis don't just get dumped into a bin" when they come off the line. "If you buy one for little Jesse and one for little Johnny, you have to make sure they're not getting the same thing," Vieira said.
This complexity is typical. But in 2021, a lot of things went wrong. 5 Surprise has a low purchase price and a high sell-through rate, which requires high-volume production to keep up with demand. This year the Chinese government began to ration electricity, forcing Zuru to keep the lights on via generator if it wanted to stay at maximum capacity. Predictably, many other factories tried the same work-around, which led to a shortage of generator materials. You couldn't simply order generators; you had to build them — and the buildings to house them — from scratch. "We bought electricity parts at many factories and were laying concrete," said Nick Mowbray, Zuru's CEO.
Production on some rarer minis was further slowed by specialized processes. The shine on "ultra-rare" rose-gold-finished minis, for example, is applied through a process called "electro-painting," which requires special environmental signoff in China. Those items had to go to different factories, which were also facing electricity shortages and generator struggles. "If you just paint them gold, they don't look as valuable," said Vieira. "The glimmer is part of the fun and the hype of it."
COVID-specific delays added another layer of difficulty. Because the Mini Brands items are licensed products, each one must be approved by the original company. This year, employees at Zuru's licensees were mostly working from home, but they often requested that samples of the miniatures be sent to their offices — for the one day a week they actually came in. "So if they're only going in on a Thursday and the package gets in on a Friday, they won't be able to review it for a week," said Vieira.
In cases where licensees weren't accepting packages at all, the Zuru team had to do virtual product checks — only to receive requests for changes once the licensees finally saw their minis in person. By then, some of the toys were already in production, forcing Zuru to halt the line and start over. "Some of our consumers might notice that there are two different sizes of a particular mini or there might be a change in pantone," Vieira said, because both the before and after versions are on shelves.
Then came the shipping woes we've all heard so much about. "It used to be that shipping was just something that happened," said Mowbray. "I never thought about it." This year, he was deeply involved in trying to solve for delays that stretched a 45-day process to 150 days. "Nearly 100 container vessels with our toys are sitting outside of Long Beach," he said.
Mowbray tried to get creative. He found a tiny port off the coast of Washington State near Canada that would take some ships. But then he couldn't find the truck drivers to long-haul the goods to their final destination: a distribution center in Washington, D.C.
And so three out of four entirely new Mini Brands series that were supposed to hit shelves by Christmas won't be available until January. The Zuru team is trying to keep things in perspective. "We sort of say to each other when things seem a bit dire, 'We make toys,'" said Vieira. "Not WMDs, not vaccines. Toys. And there will always be Christmas."
Despite all the challenges, Zuru's revenue is up — by 70 percent. "Could we have shipped more?" Mowbray said. "Yes. Are we out of stock? Yes, across all retail partners. But we are up because we have hot brand- and COVID-demand tail winds." (Although at the time of publication, you can still find a two-pack on Amazon for $14 and one-offs at Target for $7.)
Mowbray said he didn't know the Royal strawberry gelatin was especially hard to find, but he supposed there were some sitting unloaded in shipping containers. Maybe off the coast of Washington State.
The Strategist is designed to surface the most useful, expert recommendations for things to buy across the vast e-commerce landscape. Some of our latest conquests include the best acne treatments, rolling luggage, pillows for side sleepers, natural anxiety remedies, and bath towels. We update links when possible, but note that deals can expire and all prices are subject to change.