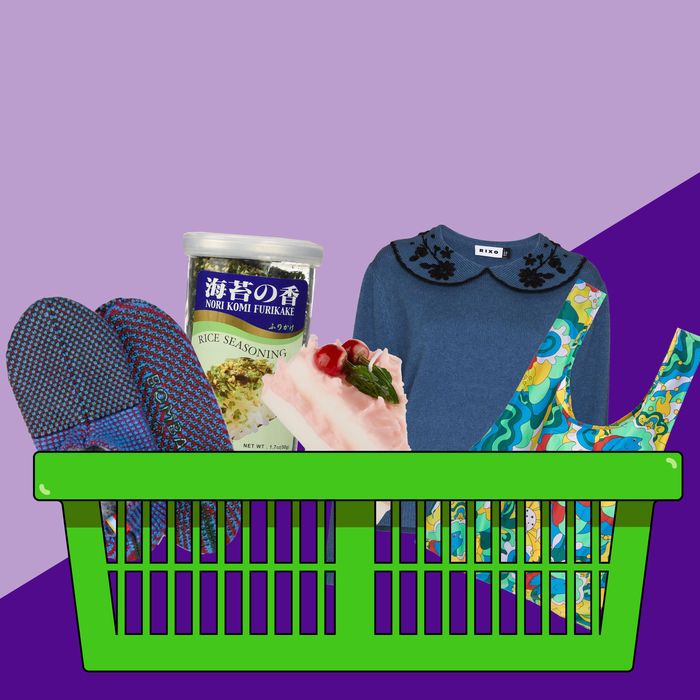 Photo-Illustration: The Strategist; Photos: Retailers
If you follow our monthly feature "Your Shopping Cart," you know we have some eerily good intel on what you all are buying, which led us to think that, as Strategist editors, we could turn the tables and highlight all the things we've been buying for ourselves. As you'll notice, it's both a blessing and a curse to be a Strategist editor; we're picky, but sometimes we just have to get on with it. (It's online-shopping expertise meets IRL needs.) Below, what we bought in December.
Emma Wartzman, kitchen and dining writer
I pretty much go through one pair of slippers a season. I've bought random cheap ones on Amazon, popular styles from go-to brands like Madewell, and even had a couple of pairs of UGG slippers over the years. But this year, I think I finally found my forever pair. It (somehow just recently) occurred to me that I want to wear my Birk sandals constantly — including with socks in the winter around the house. But I also don't like to trot around in my outdoor shoes because, you know, New York. So I bought a pair of these, which have been living on my feet every moment I'm in my apartment. They are super-warm and super-cozy, and they provide the classic support I know and love, meaning my feet feel good even after I've been standing in the kitchen cooking for a few hours.
Related to feet warmth, I bought a few pairs of these online and liked them so much, I ducked into a Uniqlo IRL the other day to buy more. They're super-plush and warm but don't make my feet sweat. I like the range of neutral colors and the ribbed part around the ankle — cute when they're sticking out of my Birkenstock slippers.
[Editor's note: These socks are currently out of stock, but you can sign up for email notifications for when they are back in stock.]
Daniel Varghese, associate editor
I fear buying clothes online. Nothing gives me anxiety like cross-referencing one brand's buried sizing chart with measurements pulled from another brand's sizing chart. But I have been looking for a perfect double-breasted navy blazer in vintage stores for months to no avail. So when I saw this suit on Grailed and confirmed that it was basically my size, I broke down and bought it, potential crisis be damned. I'm happy to report that it … kind of fits. The pants are cut a bit slim — a hazard for Ludlow suit wearers — and the jacket is a bit big. But for $51 bucks, I'll find a way to pull it off.
This year, I made a silly little resolution to wear more jewelry. Not only did I succeed, I crushed the assignment. Over the last few months, I've added rings, necklaces, and even a freaking anklet to my outfit rotations. As my collection has grown, the ceramic plate a friend gave me in college has become inadequate for storing it all. This little guy from the Container Store has helped make sure that everything stays separated and that I can drape myself in necklaces without having to first untangle them like a pair of wired headphones I had shoved into my pocket.
Ambar Pardilla, writer
I've been on a sort of sweater spree over the past few weeks. It's been a little weird to shop for clothes when all signs point to staying home quite often in the coming months. But I'm also at the point where I hate practically everything in my closet So, I'm looking for sweaters that are obviously well made and — important — look great on video calls.
London-based Rixo has been on my radar for years (all the cool Instagram girls wear it). When this jumper went on sale at Shopbop, I jumped at the chance to snag it. It's almost disgustingly well fitted. I always have trouble with sweater sleeves on account of my short arms, but these hit my wrists at exactly the right spot. The body is just tapered enough. Somehow, the sweater looks like it was made for me. It's knit entirely of wool, but not the itchy kind. And the embroidered collar adds just enough flair to seem dressed up for virtual meetings. Well worth it.
Impulse purchases tend to be either ridiculously terrible or surprisingly great. This lip gloss falls into the latter category. I took advantage of Sephora's sale earlier this month to buy a couple of presents for my family (and myself). I liked the Magic shade of this gloss, which offers a barely there iridescence. It's decidedly not sticky like other glosses. And it only takes one coat to get a shimmery effect. Our resident beauty expert, Rio Viera-Newton tried it out, too. In her review, Viera-Newton called the gloss "hands-down one of the most unique, flattering formulas I've slathered on." Seconded. It feels like I'm not wearing anything on my lips. Plus the shimmer perks up my natural lip shade (and hides any chapped patches).
Chloe Anello, writer
My dog is too smart. He learns quickly, which is great for training, but he also gets bored quickly. I've bought so many puzzle toys, licking mats, and snuffle mats to keep him busy, but after a while, he loses interest because it's no longer a challenge. The one thing he never gets bored of is chewing. I tried Benebones for him before, but he didn't like them because they were much too hard, and he doesn't have a strong bite. These flavored Nylabones seemed a bit softer, plus he would do anything for peanut butter (and toast, but the brand doesn't make toast-flavored versions), so I figured that was a good one to start with. He loves them so much, and they keep him occupied for a long time, but unlike bully sticks, he doesn't go through them quickly. He even gave the bones the ultimate seal of approval by burying one in his crate, which he only does with very special items.
This brand gifted me a box of their pizzas, and I liked them so much, I bought more. Because I can't have gluten, ordering out — especially Italian — is kind of a pain. And restaurants usually charge extra to make a pie gluten free. These pizzas are amazing. My boyfriend and I save them for days when we're too tired or busy to cook. We split one pie and pair it with a salad. It's so low effort but actually a really great meal, and one of these pies is actually cheaper than my local Italian restaurant's gluten-free pizza, which is only so-so.
Maxine Builder, editor
For Christmas this year, I asked my fiancé to get me a bottle of perfume from D.S. and Durga, and since I wasn't totally sure which scent I wanted, we went to the store in Williamsburg together to pick one out. We secured what might have been the last known bottle of the now-discontinued Freetrapper along with two car fresheners for our station wagon. And though the perfume is great, I'm here to talk about the car fresheners. '85 Diesel is next level, and it makes me feel like I'm trundling down a beach road in my 1974 Ford Bronco even when I'm just attempting to parallel park my car next to McCarren Park. Fully endorse (and I definitely plan to give it out as gifts in the future).
Dominique Pariso, writer
The annual Strategist Secret Santa is a very serious affair (get a bunch of professional gift-givers in a room together and we're all bound to show off a little). This year, I bought my giftee this Catbird candle that was beautifully packaged (the company even threw in a free matchbook and notebook with purchase), and their response was pure delight. It's a wonderfully unique gift whether you're looking for a little something special for someone else or just yourself.
I bought these lights to string up around my apartment for the holidays, and now I'm thinking they'll be staying up all winter.
Erin Schwartz, writer
Photo: Retailer
I am a Dungeons & Dragons dice minimalist and have been using the same set for two years. These iridescent, candy-colored dice were the first thing I bought from the Dungeons & Dragons gift guide we published earlier this month and the second set of dice I've ever spent money on. They were recommended by actor Ally Beardsley, who gives them to friends they're trying to get into D&D; Beardsley described them as "the most beautiful object I've ever seen in my life," which I can second. Something about these cheap plastic dice inspires dragonlike avarice. "I want to eat them," I texted my D&D friend Meghan.
While gift-shopping this month, I went into a fugue state at McNally Jackson's stationery store, Goods for the Study, and emerged with this wrapping paper, which I used to wrap a Secret Santa gift for Strategist writer and fellow fancy-paper enthusiast Tembe Denton-Hurst. Carta Varese paper has been made in Italy since the 17th century, and it's printed with an offset process described by distributor Carta Pura as "elaborate" to produce dense, rich colors. Goods for the Study doesn't sell the paper on its website, but if you're in New York, going in person is worth it. (It costs $5 a sheet there.) Otherwise, you can find the brand on Etsy and at some online paper stores.
Sanibel Chai, junior writer
I wear contact lenses, and my eyes get uncomfortably dry in cold, windy weather, so in winter I try to never leave the house without sunglasses. I love that this gogglelike pair is scratch-resistant so I can throw them in my bag without a case. The tint and shape give early-aughts Paris Hilton in her shield-glasses phase. I wouldn't wear them skiing because they fog up pretty easily when I'm wearing a mask, but they're perfect for everyday wear.
In keeping with the hot-pink theme, I bought this neon puffer at the Gap (the color is technically "Sizzling Pink Fuchsia.") After I stacked discounts, it was under $70, and I can't resist a coat deal. It has roomy pockets and a deep hood, and I plan to blind people all winter by pairing it with pink jeans.
Jenna Milliner-Waddell, writer
Most of my spending was reserved for gifts this month. In November, I went to a wedding with my parents, and my dad wore this awful, ill-fitting, boxy, five-button suit jacket. It was very dated and very embarrassing. I took it upon myself to get him a more modern cut from Bonobos for Christmas. (My mom had the same idea as she gifted him a whole suit.) The style and price of the Daily Grind jacket was perfect. My dad loved the material so much he asked me to order him the matching pants. I got the jacket on sale when it was $100, and now it's even cheaper during the brand's post-holiday sale.
Arielle Avila, junior writer
I first read about Marlowe Granados's debut book in Vulture back in September, and it's been on my reading list since. I finally picked it up at Greenlight Bookstore this month, and it's as fun and glamorous as promised. The story follows two Holly Golightly–esque 20-somethings through a New York City summer filled with odd jobs, happy hours, and a cast of eccentric aristocrats and bohemians along the way. I'm about halfway through, and it's been an absolute adventure during a time when going out has come to a pause.
Chelsea Peng, senior editor
"Anti-capitalist shopping editor" sounds like an oxymoron, but boy, do I try. This mission becomes especially challenging during the holidays, so I quash the urge to buy, buy, buy by making something instead. In this case, the DIY project was a Hawaiian furikake snack mix whose main character is the nori-forward rice seasoning my family always had in the cupboard growing up. Namiko Hirasawa Chen's recipe calls for an entire bottle of the stuff — tossed with bags of Bugles, Goldfish, and whatever chaotic crunchies you like — for a shatteringly crisp, umami-sweet treat I distributed among friends and loved ones like a seaweedy Saint Nick. Regarding the MSG: I have time today, so anyone who wants to say something better pull up with citations.
After editing Chloe's story on the best thing she bought this year, I realized that the Portable Lamp Principle — in which a handheld object gives the illusion of greater ease than a larger, stationary version — could also be applied to my R2-D2–shaped mini-humidifier. Its design and small stature do release happy brain chemicals, as does its intermittent setting because the on-off hissing reminds me of an alien escaping the air lock (but more soothing). One charge lasts eight hours, so I can keep the mist aimed at my now less dry face for a variety of occasions: as I write this, as I do a Shona Vertue vinyasa flow (makes for an extra-zen experience), and especially as I recline after I've had an indeterminate number of roasted-buckwheat hot toddies at Palmetto the night before.
Louis Cheslaw, associate editor
My aunt gave me these for Hanukkah this year, and I loved them so much I bought three more pairs to give to my siblings (and my brother's girlfriend) for Christmas. They're incredibly warm, they pack down flat for travel, and the rubber dots on the soles keep you from slipping as you run up and down stairs and from room to room.
I've worn the same pair of Anglo-Italian light-wash jeans for the past three years, and they've only become better (and received more compliments) with age. So this Christmas, I treated myself to the brand's dark wash, which felt more appropriate for the coming winter. While I purchased mine at Anglo-Italian's charming London shop, the company has shipped in two days to the United States whenever I've ordered online — and bizarrely takes 17 percent off ($53 in this case) as soon as you input a U.S. address.
Jessica Silvester, contributing editor
My 14-year-old cousin preselected this bright, weighty hoodie as her Christmas present from me. When I gave it to her at our family gathering, she put it on almost immediately over her black long-sleeved minidress and got a lot of jealous stares from the young people at the party. By the meal's second course, her little sister was asking me longingly where I'd found it, so I couldn't resist ordering one for her too (in her color choice of white) along with one for the preteen cousin seated next to her.
These zodiac editions of the classic Baggu tote were mostly sold out by the time I discovered them in early December at a shop in Hastings-on-Hudson, but I later ordered one online because I couldn't get it out of my mind as the perfect present for my kids' babysitter, who's very into being a Pisces. The totes will also be a go-to birthday gift for me in 2022.
The Strategist is designed to surface the most useful, expert recommendations for things to buy across the vast e-commerce landscape. Some of our latest conquests include the best acne treatments, rolling luggage, pillows for side sleepers, natural anxiety remedies, and bath towels. We update links when possible, but note that deals can expire and all prices are subject to change.